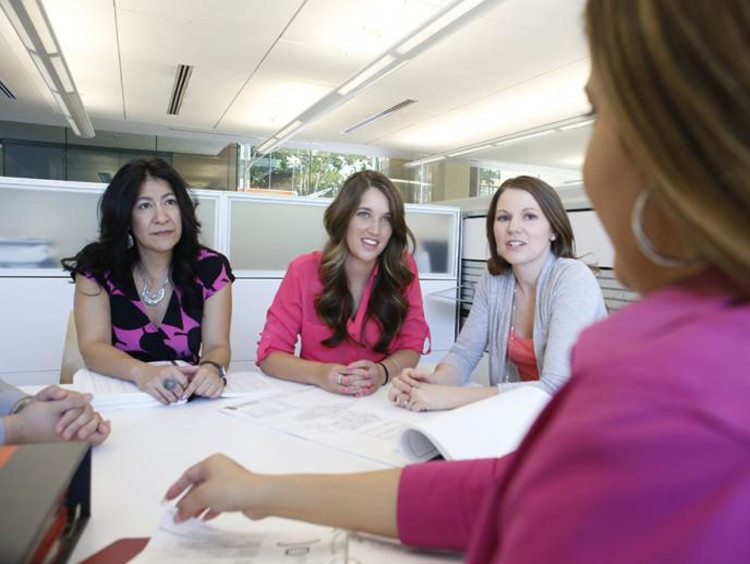 A Master of Business Administration (MBA) is one of the most sought-after graduate degrees in the country. Through a series of courses in areas like leadership, financial principles, economics, accounting and management, students develop the skills needed to become a business leader.
In the Colangelo College of Business, we offer an MBA program that helps you develop principles of servant leadership, ethics and entrepreneurism, the pillars of our college.
What makes the Colangelo College of Business MBA different from other MBA programs?
Through the MBA degree at Colangelo College of Business at GCU, students learn business theory and practical methods to improve the effectiveness of their companies.  Students grow in knowledge and skill, and prepare to advance in their careers. They also learn ethical approaches to achieve success in business and the importance of serving as leaders, managers and citizens in a diverse global society.
What type of student might be interested in this degree?
There are three types of students who will benefit from the MBA.
Students who are in the early stages of their careers will benefit by learning how to apply theory in entry-level positions in local and global businesses.
Students who are mid-level managers will benefit by extending their knowledge and interacting with career-minded fellow students in different industries.
Students who are entrepreneurs and are working in start-ups or seeking to start their own firms will benefit by learning theory and practices of successful small and large businesses.
How will an MBA help a student find his or her purpose?
I often hear these types of comments:
"I didn't realize that my company had marketing research on my company and industry. After the discussion in class last week, I talked to my boss and learned that we have information and resources that will help me improve job performance."
"We talked about a business principle in class last week. I went home and figured out how to apply this principle in my small business. I'm already seeing results."
"I didn't understand the ethical issues of advertising to vulnerable groups. Now, I'm more sensitive to the issues."
The experiences students have while obtaining the MBA help them become more self-aware and purposeful practitioners of business disciplines.
Prepare for advances in your career with Grand Canyon University's Master of Business Administration (MBA) program, offered by the Colangelo College of Business. To learn more about earning your MBA from Grand Canyon University, visit our website or use the Request More Information button at the top of this page.