Grand Canyon University Welcomes Highest-Caliber Incoming Class, Continues Campus Transformation
Engineering building, academic programs and soccer stadium among new additions
Grand Canyon University will mark the start of the 2015-16 school year with the largest and highest-caliber incoming class in its history, along with a bevy of new academic programs and amenities.

When the fall semester begins on Aug. 24, total enrollment on the ground campus will reach a record 16,000 traditional and cohort students, a 24 percent increase over 2014-15. Of those, 7,000 are new incoming students. The incoming GPA of traditional students is greater than 3.5, and approximately 60 percent of all students will be studying in science, technology, engineering and math (STEM).

"GCU has become a destination for students seeking a quality Christian education at an affordable cost," said Brian Mueller, GCU's president. "What's most encouraging is the number of students studying in academically rigorous programs like the natural sciences, engineering and technology. We have put in place a strong academic support system to help them succeed."

In addition to a growing student body, GCU continues to transform its burgeoning, 200-acre campus, adding new classrooms, laboratories and residence halls, additional programs of study and a state-of-the-art soccer stadium.

The most significant addition is the 80,000-square-foot building for GCU's College of Science, Engineering and Technology. The college houses eight laboratories and features nine program specializations in a collaborative, problem-solving environment.
"We are making STEM education more relevant by integrating math, physics, science, technology and engineering disciplines in a way that prepares students for the workforce," said Dr. Mark Wooden, dean of the college.

GCU also is expanding its academic offerings in the Colangelo College of Business, with the launch of a hospitality management, golf and tennis programs.

The hospitality program will combine general business studies with courses in hotel and restaurant management and practical experience at the nearby Grand Canyon University Hotel.

GCU purchased the 152-room property at Interstate 17 and Camelback Road last year and is planning to add a 200-seat restaurant, an expanded lobby, a resort-like pool and a 1,000-seat conference center.

Other notable campus additions include:
A 50,000-square-foot general classroom building that will house a new music recording studio for GCU's Center for Worship Arts. Under the leadership of MercyMe founder and lead singer Bart Millard, the Center for Worship Arts prepares students for careers ranging from songwriters and national recording artists to audio and lighting technicians and worship leaders at local churches;
Four six-story residence halls that will house approximately 3,000 students;
Lopes Way, a new restaurant row and outdoor dining pavilion. Replacing the all-you-can-eat cafeteria are a plethora of eateries, including The Habit Burger Grill, Slices Pizza, Panda Express, Subway, Chick-fil-A, Qdoba and Jamba Juice, along with comfort food and nutritious options, and a grocery store with grab-and-go salads, sandwiches and pastas; and
A 3,000-seat, state-of-the-art soccer stadium, plus six classrooms that can become team rooms during games. New coach Schellas Hyndman, the sixth-winningest coach in NCAA men's soccer history, is aiming to turn what is the only D-I men's soccer program in Arizona into a centerpiece of the university's fall athletics program. The stadium is scheduled for completion by the end of the year.
A stone's throw from campus, GCU also is upgrading the Grand Canyon University Golf Course, which will be the hub of the university's golf management curriculum and the home of the men's and women's golf teams. The golf course is being renovated by GCU under an agreement with the City of Phoenix and is expected to open in October.

As the campus grows, Mueller said GCU is creating an even greater sense of community. "That's important, because regardless of our size, we want parents and students who come to our campus to feel a sense of fellowship, friendship, kindness and compassion."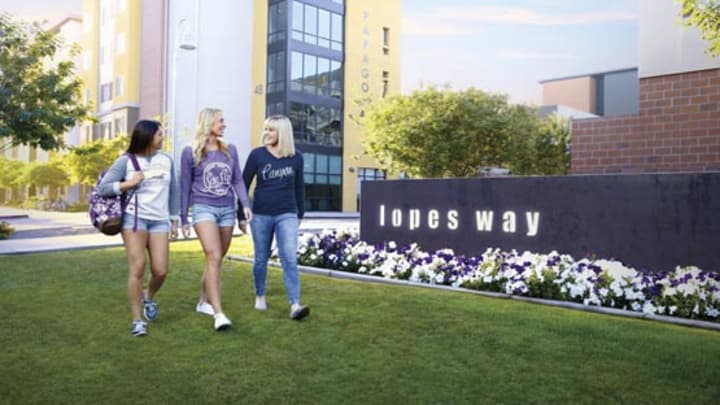 Contact
Bob Romantic
602-639-7611
---
Home / Press Releases / GCU Welcomes Highest-Caliber Incoming Class
---