Grand Canyon University Hopes to Renovate 700 Homes in Neighborhood
Scope of partnership with Habitat for Humanity believed to be largest in the country
In a collaboration believed to be the first of its kind, Grand Canyon University is uniting with Habitat for Humanity Central Arizona to renovate an entire community of homes in the surrounding neighborhood of its Phoenix campus. 

The Canyon Corridor Project, part of Habitat's Neighborhood Revitalization Initiative, is scheduled to begin in January. In addition to $700,000 in funding for Phase 1 of the project, Grand Canyon University is committing the talent and enthusiasm of students and employees who will serve as volunteers. Orientation and training has begun for volunteers who want the added responsibility of serving as team leaders. 

"Grand Canyon University has experienced tremendous growth and prosperity and has been blessed with a beautiful 180-acre campus," said Brian Mueller, president and CEO of GCU. "Between the strength of our 11,000 students on campus, our 55,000 students online and our 3,400 faculty and staff, we want to extend that prosperity into the neighborhood that surrounds us. 

"We have the ability to raise the necessary funds and supply the leadership and workforce that, together with Habitat for Humanity and our neighbors, can help transform this community. Coupled with our other projects involving neighborhood safety, jobs and lifting the capabilities of the public school system, this project can, over time, restore this community to the middle-class status it has been in the past." 

Habitat for Humanity has built, renovated and repaired more than 800,000 homes in 100 countries in partnership with families of low to moderate income since 1976. The Central Arizona affiliate, which serves Maricopa and Pinal counties, has been in existence since 1985 and celebrated the completion of its 1,000th home in June. It also is the first Habitat affiliate to build an entire subdivision. 

"This relationship and the investment in the GCU neighborhood are unique in scope and type," said Roger Schwierjohn, president and CEO of Habitat for Humanity Central Arizona. "It is extremely generous on GCU's behalf to provide significant funding. It is also one of the first of its kind, if not the first, across the country in which a university is partnering with a Habitat for Humanity affiliate to impact an entire community. 

"This new venture is perfect for Habitat's Neighborhood Revitalization Initiative, which focuses on home repair in low to moderate income communities. These two organizations working together will multiply the reinvestment in the neighborhood, engage a whole new generation of students in volunteering and make a tremendous impact in the community." 

About 700 homes in the local neighborhood are eligible for the program. 

"I want to thank Grand Canyon University and Habitat for Humanity for their commitment to the Canyon Corridor Project and west Phoenix," Phoenix District 5 Councilman Daniel Valenzuela said. "I believe that all Phoenix families should have access to quality affordable housing. This project is the perfect opportunity for Canyon Corridor residents, GCU students and faculty, and Habitat to come together to meet this need in our community." 

Through zero-interest loans and volunteer labor, Habitat works with families who are legal residents to help them upgrade their existing home or, if they are living in substandard or overcrowded housing, move up to a better one. Homeowners must work alongside the volunteers for a minimum of eight hours during a renovation. The organization's motto is that it's "a Hand Up, not a Hand Out." 

Team leaders lead the volunteers in completing tasks, which usually include landscaping, roof replacement, painting and structural repairs. 

Pastor Tim Griffin, Grand Canyon's dean of students, said the initiative fits in perfectly with the University's mission in several ways. 

"The common denominator for our faith-based community on campus is service. It obviously is a core value," Griffin said. "As a starting point, Habitat for Humanity provides a huge opportunity to meet that goal. You don't have to be an expert in faith to be involved, and it offers an opportunity to serve others in a physical way. It also provides a national connection to service programs that eventually will involve the entire GCU population, including online students." 

GCU volunteers are going door to door this fall to identify homeowners who want to have their properties renovated. Prospective team leaders are being trained at Habitat projects across the Valley and are expected to attend six such sessions.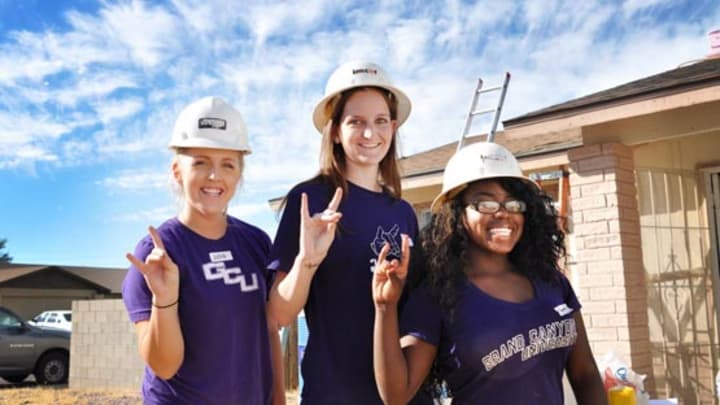 Contact
Bob Romantic
602-639-7611
---
Home / Press Releases / Habitat for Humanity
---