Majerle, Stankiewicz get new four-year coaching contracts with Grand Canyon University
GCU also inks five-year deal with apparel/footwear giant Nike
Grand Canyon University's rise in NCAA Division I athletics was further entrenched Wednesday with three major announcements surrounding the program. Men's basketball coach Dan Majerle and baseball coach Andy Stankiewicz each received new four-year contracts, while the university also signed a five-year deal with apparel and footwear giant Nike.
"We want to be a top-25 program in everything we do, and these contracts are an example of that," said Mike Vaught, vice president of athletics at GCU. "Dan Majerle and Andy Stankiewicz are perfect examples of what it means to strive for excellence -- both have already built established programs in our second year of transition to Division I. In addition, Nike is the gold standard when it comes to apparel and footwear. We are partnering with a brand that has world-wide appeal and credibility."
Majerle and Stankiewicz had contracts that ran through the 2017-18 season. Those were replaced by new four- year deals that run through 2019. Financial terms were not disclosed, but Vaught said both will become the highest-paid coaches in the Western Athletic Conference in their sports and among the upper end of coaches from mid-major conferences.
Their contract extensions follow a series of high-profile hires by the university. GCU has brought in sports icon Jerry Colangelo as a special consultant for Division I athletics (he is also the namesake of the university's Colangelo College of Business). It hired Vaught to head the athletic department. And it recently added Schellas Hyndman, the sixth all-time winningest coach in NCAA Division I men's soccer history.
"Dan Majerle and Andy Stankiewicz are coaches with high integrity and the work ethic that you want to build an athletic program around," said Colangelo, who has ties to both from his days as a professional sports owner. In 1988, Colangelo's Phoenix Suns used a first-round draft pick on Majerle, who went on to become one of the most popular players in franchise history. Later, as managing partner of the Arizona Diamondbacks, Colangelo signed Stankiewicz as a free agent for the team's inaugural year in 1998, where the infielder played the final season of his seven-year Major League Baseball career.
Majerle's teams have finished third and second, respectively, during their first two years in the WAC while regularly playing before sold-out crowds at GCU Arena. The team was 15-15 in its inaugural D-I season (10-6 WAC). This past season, the Antelopes went 17-14 (8-6 WAC) while playing a schedule that included Kentucky and Indiana, and a home win over New Mexico. Next year, GCU has games scheduled against perennial powers Louisville and San Diego State.
Stankiewicz is coming off a season in which the Antelopes won the WAC regular-season baseball championship with a 32-22 overall record (19-7 WAC) while defeating marquee programs such as Tennessee, UNLV, Cal Poly, Texas Tech, Kansas and Missouri Valley Conference champ Bradley. GCU finished second in the WAC (30-23, 19- 8) in 2013-14.
GCU is not eligible for NCAA postseason play until it completes the four-year transition period in 2017-18.
The five-year deal with Nike covers apparel and footwear for coaches and student athletes of all sports at the university. Eric Lautenbach, senior director of college basketball sports marketing for Nike, said his relationships with Majerle and Colangelo helped open the door for the deal with GCU.
"GCU has a longtime Nike athlete, and now coach, in Dan Majerle. And Jerry and I, on the heels of a 10-year relationship in the NBA and USA Basketball, have had numerous conversations about the growth of GCU," Lautenbach said. "I see the vision that this school has.
"Before Gonzaga was Gonzaga, Nike had a deal with them. Before Butler was Butler, Nike had a deal with them. Before VCU and Wichita State and George Mason were tournament teams, they were with Nike. One day I could be referencing Grand Canyon when I talk about our relationships with schools that set no limits on the championships they pursue."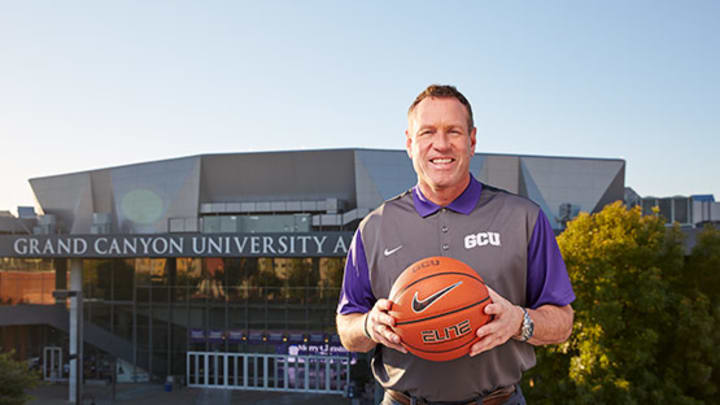 Contact
Bob Romantic
602-639-7611
---
Home / Press Releases / Majerle, Stankiewicz get new four-year coaching contracts with Grand Canyon University
---