Grand Canyon University Names Mike Vaught Vice President of Athletics
Former SMU, Rice Assistant AD expects to turn GCU into top-25 program at Division I level
Grand Canyon University has named Mike Vaught the new Vice President of Athletics as the school continues its transition to the Division I level of NCAA athletics.
Vaught brings to the Antelopes a wealth of Division I experience as an administrator, coach and fundraiser. As deputy athletic director at SMU, Vaught was involved in two key hires -- football coach June Jones and men's basketball coach Larry Brown - that brought the Mustangs' marquee programs back to prominence following a 25-year bowl drought in the aftermath of receiving the NCAA death penalty in 1987. With Jones at the helm, SMU made four straight bowl appearances from 2009-12.
Prior to his six years at SMU, Vaught was an assistant AD at Rice University, where he oversaw a football program coached by Todd Graham (now at Arizona State University) that reached its first bowl game in 45 years, while also raising approximately $5 million for the program in just 14 weeks. Vaught also spent 16 years as an assistant football coach at Arkansas, Missouri State and the U.S. Naval Academy, where he was offensive coordinator for the Midshipmen team that led the nation in rushing in 1999.
He spent the past two years as director of corporate sponsorships at AdvoCare International, a health and wellness company that he helped develop sponsorships with the Independence Bowl, Texas Bowl, FC Dallas of Major League Soccer, Roush Fenway Racing on the NASCAR Nationwide Tour, and the Texas Kickoff and Cowboys Classic football games.
"Mike Vaught has a vast amount of experience in the world of higher education and athletics," said Brian Mueller, president and CEO of Grand Canyon University. "He's also a prolific public speaker, has a robust track record in fundraising and shares a deep commitment to the Christian faith and values that we espouse at our university."
Vaught, 53, said he had not been looking to get back into higher education but became intrigued when he was approached about the opening at GCU, one of the fastest-growing private Christian universities in the country, which is in its second year of transition to the Division I level of NCAA athletics.
"It's a very special and unique place," Vaught said. "The leadership team is one that doesn't just tolerate athletics, but celebrates it. Our vision for the athletic department is to be top 25 in everything we do. We'll put a plan in place to get there and take the steps necessary to achieve that, whether that's how we cut the grass or have student-athletes winning championships.
"We'll have three goals for our student-athletes: graduate, win championships and be good role models. If we do those, we will produce future leaders for society, great husbands and wives, and moms and dads."
Sports icon Jerry Colangelo, a special consultant for Division I athletics at GCU and namesake of the university's Colangelo College of Business, said Vaught's experience at AdvoCare gives him unique insight into working with sponsors and donors and increasing revenue streams necessary for building an elite athletic program.
Most importantly, Colangelo said, "At every stop Mike Vaught has exhibited a complete commitment to student-athletes and ensuring they flourish on the athletic fields, in the classroom and in their spiritual lives."
What Others Are Saying About Mike Vaught
"I was so fortunate to have the opportunity to work in concert with Mike during my tenure as the Head Football Coach at Rice University. Mike is a talented administrator whose expertise will greatly benefit GCU. His background as a coach, fundraiser and executive in the private sector provide him with a broadly-developed leadership skill set. Mike is a person who is passionate about intercollegiate athletics and most importantly, the student-athletes and their collegiate experience. Penni and I welcome Karri and Mike to our fine community." - Todd Graham, Head Football Coach, Arizona State University
"Mike Vaught is a home run hire for Grand Canyon University. As both an administrator and a coach, Mike knows how to build and sustain winning programs. His vision, leadership qualities and interpersonal skills are an ideal fit for GCU." - Chris Del Conte, Director of Athletics, TCU
"Mike Vaught is a tremendous athletic administrator and will be a terrific fit at Grand Canyon University. His coaching background gives him a unique platform to help his coaches and student-athletes reach their full potential." - Fran Fraschilla, ESPN College Basketball Analyst
"Mike is the right man at the right time for Grand Canyon University. I worked with Mike when he was a successful football coach at the U.S. Naval Academy and later as a trusted senior athletics administrator at SMU. Add Mike's most recent success as a senior corporate executive at AdvoCare, and you have a multi-talented, proven leader to help guide GCU athletics as it grows into NCAA Division I." - Steve Orsini, former Director of Athletics, SMU and Univ. of Central Florida
"Mike Vaught has truly made a difference in the lives of U.S. Navy SEALs and their families through his tireless efforts with the SEAL Legacy Foundation. Grand Canyon University has hired an outstanding leader and patriot for its athletics department." - Mark McGinnis, U.S. Navy SEAL Commander and Managing Director of SEAL Legacy Foundation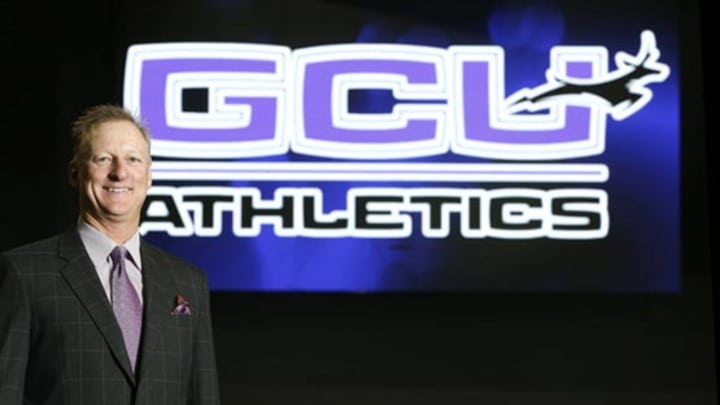 Contact
Bob Romantic
602-639-7611
---
Home / Press Releases / Mike Vaught
---