NEW ARIZONA CYBER WARFARE RANGE DEBUTS AT GRAND CANYON UNIVERSITY
Partnership between AZCWR, GCU, ACTRA Offers Real-time, Real-World and Real-Threat Training in the Fight Against Cybercrimes
A new cyber warfare range is putting Valley residents on the front lines in the fight against data breaches, identity theft and other cybercrimes.
The Arizona Cyber Warfare Range (AZCWR) has partnered with Grand Canyon University and the Arizona Cyber Threat Response Alliance (ACTRA) to open a cybersecurity facility in the new GCU Innovation Center at 27thAvenue and Camelback Road.
The 4,500-square-foot Arizona Cyber Warfare Range – Metro Phoenix, stocked with laptops, servers and a variety of other equipment, is open to the public at no cost and will help anyone interested in developing or enhancing their cybersecurity skills with practical cyber defense training in areas such as cracking passwords, cloning keycards, breaking into computer systems, and more.
"The idea is to strengthen the cybersecurity landscape and build a strong cybersecurity workforce," said Brian Mueller, president of GCU.
That's important "because the threats are real and growing," said Frank J. Grimmelmann, president/CEO and intelligence liaison officer of ACTRA, a non-profit organization that collaborates with the FBI, the Arizona Counter Terrorism Information Center and the U.S. Department of Homeland Security. ACTRA's public and private member organizations comprise the critical infrastructure for cybersecurity in Arizona.
Cyberattacks are increasing in size, sophistication and cost, according to Cybersecurity Ventures, a leading researcher and publisher of the global cybereconomy. On average, one in three Americans is hacked and 4 million records are stolen each day, resulting in lost money and productivity, along with the theft of personal and financial data.
As the threat of cyberattacks continues to grow, so does the demand for cybersecurity workers. Currently, there are 7,200 open positions in Arizona and approximately 300,000 nationally, according to data from Cyberseek. Globally, there is expected to be a shortage of 2 million cybersecurity professionals by 2019, according to ISACA, a nonprofit information security advocacy group. The median pay for a cybersecurity analyst is $92,600, according to 2016 statistics from the U.S. Bureau of Labor Statistics.
Arizona Cyber Warfare Range has been at the forefront of the fight against malicious cybercrimes since 2012 when it opened its first facility in Mesa. AZCWR – Metro Phoenix is the second location for the non-profit range. GCU provides the facility infrastructure while AZCWR in collaboration with ACTRA provides the technology and hardware, as well as numerous volunteer cybersecurity experts who provide leadership and manage the operations.
"It's all part of our commitment to creating an exceptional experience in science, technology, engineering and math (STEM) education and becoming a destination for cybersecurity training," Mueller said. "Having a facility like this where students in our cybersecurity programs can apply their skills outside of the classroom is a tremendous opportunity."
GCU offers a bachelor of science in information technology with an emphasis in cybersecurity, as well as one of the few cybersecurity master's degree programs in the nation.
But the Cyber Warfare Range is a resource to the entire community, which is why it is free to anyone in the community interested in learning more about cybersecurity.
"We are grateful for the facility and the access it provides to the GCU students and the residents in Metro Phoenix, as well as the entire West Valley," said Brett Scott, co-founder of the Arizona Cyber Warfare Range. "The most significant aspect of the Range is the collaborative learning-by-doing environment, the sharing of expertise, and the breakthroughs that will emerge through this partnership for ongoing mitigation of cybersecurity risk in our state and beyond."
AZCWR – Metro Phoenix is open from 5 am to 1 am. Monday through Saturday. Please be sure to check the calendar prior to visiting AZCWR to ensure volunteers will be present.  Additional information, including the Range Calendar, can be found at www.azcwr.org or by calling 623-300-2002.
---
About Arizona Cyber Warfare Range: AZCWR is a non-profit, volunteer-based, live-fire cyber warfare range actively involved in community, state and national cyber security defense on a daily basis. Created to augment current cyber security resources in Arizona and develop a highly capable cybersecurity workforce, AZCWR continues to drive innovation in cyber security techniques, technologies, and training across the United States. AZCWR is free to anyone who desires to develop or enhance their cyber security skills, stay up-to-date with current cyber threats or needs assistance with current cyber security issues affecting their home or business.
About Grand Canyon University: Grand Canyon University was founded in 1949 and is Arizona's premier private Christian university. GCU is regionally accredited by the Higher Learning Commission and offers more than 220 academic programs, emphases and certificates for both traditional undergraduate students and working professionals. The University's curriculum emphasizes interaction with classmates, both in-person and online, and individual attention from instructors while fusing academic rigor with Christian values to help students find their purpose and become skilled, caring professionals. For more information, visit gcu.edu.
About ACTRA: Arizona Cyber Threat Response Alliance, Inc. serves as the hub for collaborative cyber information sharing in a neutral environment of trust where partners from industry, academia, law enforcement and intelligence come together, leveraging cross-sector resources to more effectively analyze critical, real time intelligence and respond to emerging cyber threats to Arizona's critical infrastructure and key resources. For more information, visit azinfragard.org.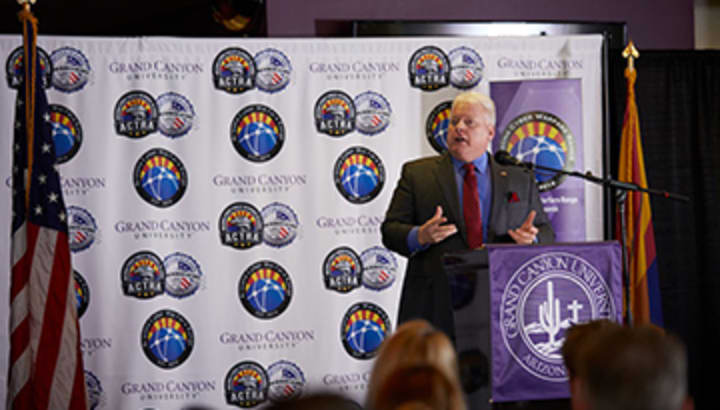 Contact
Bob Romantic
602-639-7611
Terri Tobey, Arizona Cyber Warfare Range
805-392-9093
tt@azcwr.org
---
Home / Press Releases / New Arizona Cyber Warfare Range Debuts
---