Grand Canyon University Brings in Elite Men's Soccer Coach
Hyndman ranks 6th all-time in NCAA Division I victories, was also MLS coach of year
Grand Canyon University's athletic program took another major step forward today with the announcement of Schellas Hyndman as its men's soccer coach. Hyndman comes to Grand Canyon as the sixth all-time winningest coach in NCAA Division I men's soccer history with 466 wins, as well as being a Coach of the Year in Major League Soccer. 

"Schellas Hyndman is one of the best collegiate coaches in the history of men's soccer," said Brian Mueller, president of GCU. "His hiring is just another step in the evolution of our athletic program. From bringing in Jerry Colangelo, hiring Dan Majerle as men's basketball coach, adding Mike Vaught as vice president of athletics and Jamie Boggs as deputy director of athletics, we're committed to turning this into a top-25 program in NCAA Division I athletics." 

Mueller also announced that a new 2,800-seat stadium will be built in the heart of campus and will be ready for play for the 2015 soccer season. The grandstand, which will feature chair-back seats, will be covered by an awning and will stretch from goal line to goal line. The other three sides of the stadium will have grass berm seating, bringing the total capacity to 6,000. The new stadium will also be used for GCU rugby and lacrosse. 

Additionally, Hyndman has named Brent Erwin as an assistant coach. Erwin has served as an assistant with Hyndman for seven years. 

Hyndman brings with him extensive head coaching experience, including 31 years of collegiate experience -- 24 years at Southern Methodist University and the remaining seasons at Eastern Illinois. Hyndman has compiled a record of 466-122-49, which marks the 12th-highest winning percentage in Division I men's soccer (.770). 

Hyndman most recently served as the head coach for FC Dallas of Major League Soccer from 2008-13, taking Dallas to the MLS Cup Final in 2010, when he was named Coach of the Year. 

"The hiring of Schellas Hyndman at Grand Canyon is an incredible day for both the university and the Hyndman family," said Kevin Grimes, men's soccer coach at University of California. "Schellas is already one of the all-time great coaches in the history of college soccer. His hiring immediately puts Grand Canyon on the national soccer map." 

Nelson Rodriguez, managing director of U.S. Soccer, said Hyndman "is a proven winner with irrefutable integrity. Schellas will not only bring a new level of success to the men's soccer program but will also prove to be a valuable mentor to its student-athletes." 

Hyndman took over the SMU men's soccer program in 1984 and produced winning seasons in each of his 24 years at the school, finishing with a 368-96-40 record. With Hyndman at the helm of the men's soccer program, SMU made 22 NCAA Tournament appearances, advancing to the quarterfinals 11 times and the College Cup twice. Additionally, SMU won six conference tournament championships and nine regular season conference championships, while Hyndman won eight conference Coach of the Year and five regional Coach of the Year honors with the Mustangs. 

Hyndman coached a Hermann Trophy Winner, two NSCAA Players of the Year, and 21 All-Americans, including 10 first-team honorees, at SMU. 

Prior to his tenure at SMU, he was named the 1981 National Soccer Coaches Association of America (NSCAA) Coach of the Year while serving as the head coach at his alma mater, Eastern Illinois. That season, Hyndman's team finished third in the NCAA playoffs in its first year at the Division I level. Hyndman was inducted into the EIU Hall of Fame in 2001 after taking the Panthers to the NCAA playoffs in each of his seven seasons. 

In 2001, Hyndman was selected to serve as a member of the NSCAA Executive Committee and served as president of the organization in 2005. He was awarded with the NSCAA Director of Coaching Emeritus title in recognition of outstanding coaching achievements in 2003, becoming just the fourth coach in the history of the organization to achieve the title. 

Hyndman played for the Cincinnati Comets of the American Soccer League in 1975. 

A four year letter winner at Eastern Illinois who started for the 1969 NAIA championship team, Hyndman earned a bachelor's degree in physical education in 1973. He then completed his master's degree in physical education and recreation from Murray State in 1975. Hyndman added a degree from EIU in guidance and counseling in 1977. 

Erwin served as the head coach at SMU for five seasons, beginning in 2007, before joining Hyndman as an assistant coach with FC Dallas in 2013. He also served as the head coach of the SMU women's soccer team from 2007-12. Erwin was an assistant coach under Hyndman for six years at SMU. 

Prior to his tenure at SMU, Erwin was the head coach at the University of Central Florida from 2005-07. 

Adding to his coaching experience, Erwin spent time as an assistant coach at IMG Soccer Academy in Bradenton, Fla., and worked with the U-17 Men's National Team and Region 3 Olympic Development Program. 

Erwin graduated from Texas Christian University with a bachelor's degree in General Studies. He was a three year starter for the Horned Frogs. Following his TCU career, Erwin trained with Leeds United of the English Premier League and the Dallas Burn (now FC Dallas) organization.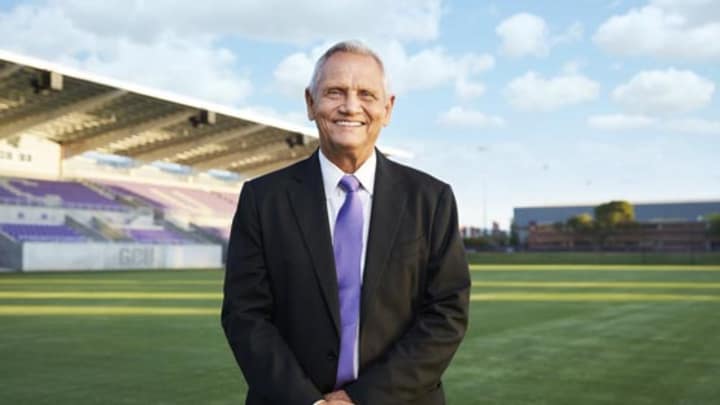 Contact
Michael McNally
602-639-7153
---
Home / Press Releases / Schellas Hyndman Announced as Men's Soccer Coach
---