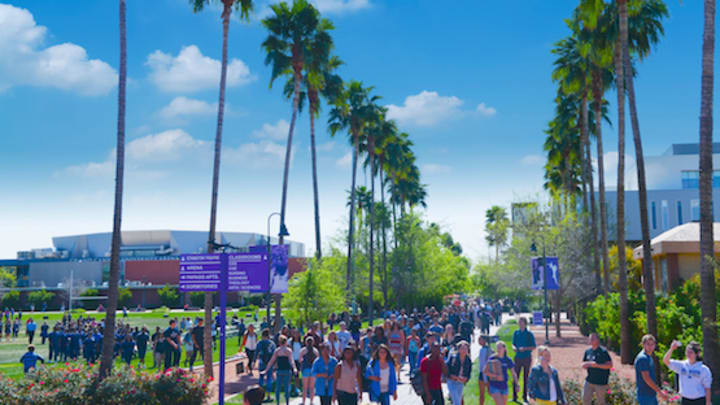 November 9, 2017
As tuition increases force families to dig deeper into their pocketbooks, Grand Canyon University has redoubled its commitment to making college accessible and affordable.
---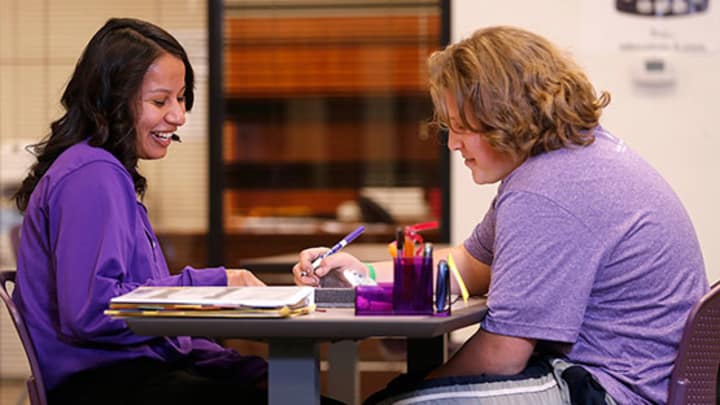 November 7, 2017
The first of 100 students from high schools in Phoenix and Glendale will receive the surprise of a lifetime when Grand Canyon University awards them with full-tuition scholarships at a special ceremony at 6 p.m. Nov. 7 at GCU's west Phoenix campus.
---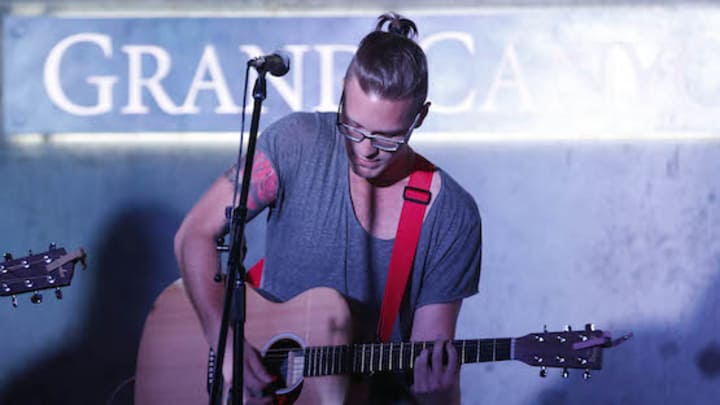 October 16, 2017
With 11 original songs reflecting the Christian music movement of the modern era, students from Grand Canyon University's Center for Worship Arts have released their second full album, Canyon Worship 2017, on iTunes.
The album is a collaboration between the university's students and guest producers Billy Smiley, formerly of Whiteheart and The Gaithers, and Geoff Hunker of Satellites and Sirens.
---
September 20, 2017
An American sports and business icon will be honored with a museum that bears his name.
Grand Canyon University has opened the Jerry Colangelo Museum on its burgeoning west Phoenix campus to tell the story of a leader who has cemented himself in Arizona's sports and business history, while becoming one of the most influential figures in all of professional sports.
August 22, 2017
The atmosphere that makes the campus at Grand Canyon University among the top 10 in the nation will be on full display as the school welcomes back students for the start of the 2017-18 school year.
The school year kicks off with Welcome Week from Aug. 21-27, including GCU's spirited Move-In process in which 1,500 student volunteers spend the entire week helping their fellow students move into their residence halls. GCU was recently ranked No. 8 among college campuses by niche.com, and Move-In exemplifies the atmosphere that students experience at the university.
---
June 16, 2017
Accreditation for the Colangelo College of Business programs at Grand Canyon University has been reaffirmed by the Accreditation Council for Business Schools and Programs (ACBSP).
Accreditation by the ACBSP Baccalaureate/Graduate Degree Board of Commissioners certifies that the teaching and learning processes offered through CCOB meet the rigorous educational standards established by ACBSP. Established in 1988, ACBSP is the only organization offering specialized business accreditation for all degree levels, from associate to baccalaureate to doctoral degree programs.
April 25, 2017
When the army of children wearing gold cancer-fighting superhero capes crossed the finish line at Grand Canyon University Foundation's Run to Fight Children's Cancer last month, onlookers greeted them with cheers, tears and high-fives.
The celebration continued last week when organizers announced the seventh annual race hit a major milestone: more than $500,000 in funds raised for lifesaving treatments and research, along with financial and social support for families battling the disease.
---
April 11, 2017
In a groundbreaking program designed to raise academic achievement at Arizona schools, Grand Canyon University will award 100 inner-city high school seniors full-tuition scholarships at a special ceremony at 5 p.m. April 19 on its west Phoenix campus.
The Students Inspiring Students Scholarship program is a collaboration among Grand Canyon University, the GCU Scholarship Foundation, schools, and business and philanthropic leaders to improve K-12 education.
April 11, 2017
Grand Canyon University Vice President of Athletics Mike Vaught announced the hiring of Nicole Powell as head coach of the women's basketball team on Tuesday. Powell returns to her hometown, where she starred at Mountain Pointe High School from 1996-2000.
---
March 13, 2017
Grand Canyon University's accreditation has been reaffirmed by the Higher Learning Commission after a comprehensive review of the institution's academic offerings, governance and administration, mission, finances and resources.
GCU demonstrated that it met all core components during an HLC site visit on Nov. 14-16, and the accreditation was reaffirmed by the HLC's Institutional Actions Council at its meeting on Feb. 28, with no requirements for any monitoring or interim reports. The comprehensive review occurs every 10 years, along with a mid-term report in Year 4.
February 15, 2017
On the bustling northeast corner of 27th Avenue and Camelback Road, Grand Canyon University is turning an area plagued by crime and blight into a major commercial hub that is destined to change the face of the gateway to the West Valley.

The university has replaced a run-down hotel, adult shop, used car lot and swap mart with a newly opened 325,000-square-foot office complex, renovated hotel, new restaurant and a business/ economic/education innovation center that will pump an estimated $670 million into the state and local economy each year.
---
February 11, 2017
Appropriately timed with the next Serve the City project on Saturday, Grand Canyon University and Habitat for Humanity Central Arizona have reached a monumental goal: the renovation of more than 100 homes in the University's west Phoenix neighborhood.
With paintbrushes, shovels and rollers in hand, GCU staff and student volunteers will descend on 11 homes within walking distance of the university as part of the Canyon Corridor Project, the largest neighborhood revitalization project of its kind in the nation.
January 20, 2017
Brian Mueller has been named chairman of the Grand Canyon Education, Inc. Board of Directors after a vote of its members, and Sara Dial was appointed its Lead Independent Director.
The moves come after Brent Richardson, who had served as chairman, and Brad Casper, a director, both resigned from the board to pursue other interests.