Grand Canyon University to Manage, Renovate Maryvale Golf Course
30-year agreement is latest GCU partnership to revitalize west Phoenix
Grand Canyon University has entered into a 30-year operating agreement with the city of Phoenix to redesign and manage Maryvale Golf Course.

As part of the agreement, which was approved by the Phoenix Parks and Recreation Board on Thursday, GCU will completely renovate the public golf course with new greens, tee boxes, bunkers, extended fairways, updated practice facilities and a new 10,000-square-foot clubhouse.

"This is such a unique piece of property with great history," said Brian Mueller, president and CEO of Grand Canyon University. "With the changes we've got planned, we believe this will be one of the premier public golf courses in the state at very affordable rates."

The course, located just three miles west of GCU's campus at 5902 W. Indian School Road in Phoenix, will be shut down in January for renovations and reopen in October 2015.

Mueller said Maryvale Golf Course has a proud history dating back to its roots as a major public golf attraction and remains one of the most affordable, walkable parkland style courses of its type in Phoenix. Green fees, which are set by the city of Phoenix, will remain unchanged after the renovations.

"We want to make west Phoenix a golf destination," Mueller said. "This will just give people another reason to come to this side of town. Combined with our other public-private partnerships with the city of Phoenix on public safety, blight abatement and mentorship of K-12 students, in addition to the redevelopment of aging properties surrounding our campus, this just furthers the university's efforts to spearhead west Phoenix revitalization.

"Our intent is to make Maryvale Golf Course a tremendous community asset as well as a tremendous university asset."

The course, which will be renamed once it reopens per the agreement, will be lengthened from its current yardage of approximately 6,700 yards to 7,200 yards during the renovation.

Phoenix City Councilman Daniel Valenzuela, who grew up learning golf at Maryvale, said the course is in disrepair and is projected to lose more than $239,000 this year.

"The investment Grand Canyon University is prepared to make in the Maryvale Golf Course is another example of their commitment to our community," Valenzuela said. "The golf course will remain a public course for our residents to enjoy and will become even more of a tremendous asset to the city and state. I applaud the city's Parks & Recreation Board for their approval of this agreement and Grand Canyon University for further investing in our community. This truly is a win-win for Phoenix."

The Maryvale men's and women's golf clubs will continue to maintain tournaments and events at the course, and GCU plans to launch an extensive youth program.

The university will also use the site as the home course for its men's and women's golf teams, and has plans to launch a golf management academic program by the fall 2015 semester.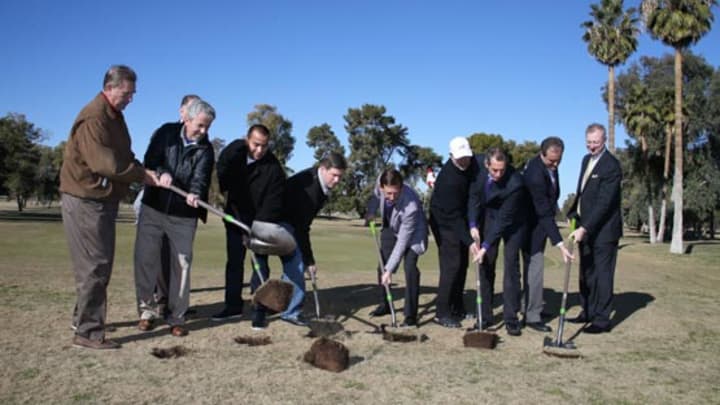 Contact
Bob Romantic
602-639-7611
---
Home / Press Releases / Maryvale Golf Course
---