Will Gonzalez, Chairman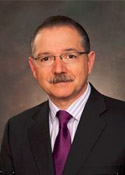 Will Gonzalez has been with the City of Phoenix Prosecutor's Office since 1996. His work as a community prosecutor has produced the largest court fine in the City of Phoenix Municipal Court's history against a slumlord in the amount of $377,500. In his assigned neighborhood of Palomino, Mr. Gonzalez assisted in developing a business alliance, inter-faith coalition, block watch and a neighborhood revitalization committee whose strategy brought about a $3.6 million Boys & Girls Club facility for the community. 
He has assisted other prosecutors, school districts and cities in developing community strategies for their neighborhoods, and has presented at state and regional conferences for the Arizona Department of Education, the State Bar of Arizona and the Arizona Prosecuting Attorneys' Advisory Council. He has also presented at national conferences for the Department of Justice, the National District Attorney Association and the National Organization for Victim Assistance.
Mr. Gonzalez is a two-time recipient of the City of Phoenix Excellence Award, an active member of the Latino Institute and founding member of the Maricopa County Regional Homeless Court Task Force. He is also a member on the Vision Team for the Arizona Department of Education 21st Century Community Learning Centers. He serves as chairman for the Community Board of Directors for GCU and also teaches for the Colangelo College of Business. He is also the co-chair for the Paradise Valley Community College President Circle for the Maricopa County Community College District. He attended Thurgood Marshall School of Law in Houston, TX, where he obtained his Juris Doctor. He is also a graduate of GCU's business college, obtaining a Master of Science in Leadership, and he attended the Thunderbird School of Global Management, obtaining a Certificate in Global Leadership.
Don Andorfer
Don Andorfer joined GCU in the spring of 2006 as interim president in the effort to help the university prepare for its accreditation review by the Higher Learning Commission in 2007. Under his leadership, the university expects to rise to new levels of excellence in its academic standards.
Prior to joining the university, Mr. Andorfer served as president of Indiana Institute of Technology in Fort Wayne, IN, for 18 years from 1985 to 2003 and served in various management positions since 1977. 
He continues to act as a consultant to his predecessor at Indiana Institute of Technology. From 1960 to 1970, Mr. Andorfer served as a full-time faculty member at the International Business College (Fort Wayne, IN), and then from 1970 to 1977 as dean and director of the International Junior College of Business (Fort Wayne, IN). Mr. Andorfer has actively participated as a consultant and evaluator for the Higher Learning Commission of the North Central Association for the past 15 years. During that time, he occupied a three-year term on the Higher Learning Commission's Academic Review Committee.
Mr. Andorfer and his wife, Mary Janet, continue to play an active role in their community. They recently chaired a capital campaign to raise $1.5 million with St. Aloysius Catholic Church for its elementary school and new community center. He has served on numerous boards and is the recipient of several honors and awards. To name just two, he received the Sagamore of Wabash Award (Indiana's highest citizen award) and another naming him the "Citizen of the Year" by the Fort Wayne Journal Gazette in 2003, along with two other university presidents. At the conclusion of Mr. Andorfer's service at the Indiana Institute of Technology in 2003, "Andorfer Commons" (the newest and largest building on the campus) was dedicated in his honor, remembering him as a man of character and excellence. Mr. Andorfer earned his Bachelor of Science degree in education and Master of Arts degree in education from Ball State University (Muncie, IN). In addition, he has completed graduate work in School Finance and Administration.
Peggy J. Chase
Peggy J. Chase is the President and CEO of Terros Health, a growing integrated, whole health care company providing services to Arizonans since 1969. Peggy leads more than 1,000 Terros Health employees statewide with a compassionate leadership style that seeks to mentor, coach and grow new leaders.
Peggy has been a progressive health care leader and innovator for more than 30 years. Her commitment to service leadership has positively impacted health care public policy through her participation on local, state, and national boards and committees.
Recognized as a health management expert, she is often called on by other health care leaders and state agencies for her expertise on how to achieve successful outcomes. Her contributions to Arizona's health care and behavioral health care systems include, but are not limited to, success in fiscal viability, policy development, service innovation, data management, and information systems development.
Peggy has served as the Chief Financial Officer and Chief Operations Officer of several companies and possesses extensive knowledge in finance and operations. Peggy cares deeply for people and has an understanding of the clinical work of Terros Health strengthened by her social work degree from Arizona State University.
Under Peggy's strategic vision and leadership as President and CEO over the last six years, revenues at Terros Health increased from $38 million to nearly $84 million, through the expansion of existing services, the addition and growth of primary care services, and three acquisitions of culturally and strategically aligned companies.
Peggy serves on several Boards including: Mental Health Corporations of America (MHCA), Arizona Alliance for Community Health Centers and Grand Canyon University as well as Arizona State University Advisory Council. She was recently named as the 2018 Outstanding Healthcare Executive and one of the Most Influential Women of 2018 by AZ Business Magazine. She was also listed on the 2018 Healthcare Power List by Phoenix Magazine and named one of The Most Admired Leaders by Phoenix Business Journal.
Dr. Lupita Ley Hightower
Dr. Hightower has worked in education for over 22 years in various roles. She has held positions as a teacher, mentor, assistant principal, principal, district level director and an assistant superintendent. Over the last eight years, Dr. Hightower has been the superintendent for the Tolleson Elementary School District 17. Dr. Hightower received her bachelor's degree with a bilingual endorsement from the University of Arizona. She then earned her master's degree in educational administration and supervision and her doctorate in leadership and innovation from Arizona State University.
Dr. Hightower served as executive committee member for the American Association of School Administrators (AASA) Superintendent's Association at the national level, representing over 50 million children in the nation. She is also a mentor to superintendents at the national level who enroll in AASA National Superintendent Certification Program. Additionally, she served as a past president for the Arizona Association of Latino Administrators and Superintendents and is a former board member for Arizona School Administrators.
Dr. Hightower is also a recipient of several awards. She was selected as the National Latino Superintendent of the Year in 2019. She was the winner of the Jane Romatzke Out-of-School Time Leader Award in 2014 and received the National Education Leadership Award from Jobs for Arizona Graduates (JAG) in 2015. Despite her many achievements, her greatest accomplishment is bringing more learning opportunities to students. She is especially proud to help provide students with educational growth. She considers herself a treasure hunter who searches for the talents, skills and intelligence that exist in all children and youth without exception. Dr. Hightower is grateful for her two daughters and the support of her husband.
Marion Kelly
Marion Kelly serves as Director for the Office of Community Affairs at Mayo Clinic. In this role, Mr. Kelly provides leadership for the organizations' efforts to build solid neighbor, civic and corporate relationships. "Community" in its broadest sense encompasses the entire Southwest region of the United States. In addition to providing leadership in Community Affairs, he is also responsible for institutionalizing diversity as a corporate objective within the strategic plan of Mayo Clinic.
Mr. Kelly's broad experiences are in both the educational and political arena. His experiences include teaching elementary education, working in the United States Senate and the Indiana University School of Medicine Administration. He also served as the Assistant Dean for Admissions and Student Affairs at Mayo Medical School. Mr. Kelly was an appointee in the former Bush White House administration as a Special Assistant for At Risk Youth Initiatives at the United States Department of Labor and as the White House Liaison for the Labor Department.
Dr. Fred Miller
Fred Miller, MD, PhD, CMD, is currently medical director at Arizona Priority Care in Chandler, AZ. He is a dynamic, results-driven physician with a proven background of 31 years of both clinical and administrative roles offering leadership and direction to design-focused, effective plans and strategies to support customer health care needs and organizational goals. He is a collaborative leader working closely with medical and legal professionals to resolve complex issues in the clinical, medical administrative and forensic services arenas. 
Also, Dr. Miller has achieved success increasing revenues and reducing overall costs, while mitigating and managing risks in high-risk environments.
Dr. Miller received his bachelor's from Knoxville College in Knoxville, TN, his PhD and Master of Science from Howard University in Washington, D.C. and his Doctor of Medicine from the University of Medicine & Dentistry of New Jersey in Newark, NJ. Dr. Miller's teaching experience includes being an assistant professor at Rutgers University in New Brunswick, NJ, and teaching at Paradise Valley Hospital in Phoenix and Middlesex Community College in Middlesex, NJ. During his more than 30 years of medical experience, some of Dr. Miller's experience includes being the chief medical director for Pima County, the medical director at Posada Del Sol and the director of the emergency department at Paradise Valley Hospital.
Dr. Jim Rice
Dr. Jim Rice is a retired superintendent of the Alhambra Elementary School District, a culturally diverse district serving more than 15,000 students in preschool through eighth grades. He has been in the district his entire career, serving as teacher, principal, assistant superintendent for academic services and assistant superintendent for human resources. Not only has Dr. Rice worked in Alhambra for nearly 36 years, he is a former student, graduating from eighth grade at Andalucia School.
GCU is so proud to honor Dr. Rice as the 2007 distinguished alumnus. Dr. Rice received his Bachelor of Science degree from GCU in 1971. His master's and doctorate degrees are from Arizona State University in 1975 and 1994, respectively. He has dedicated himself through servant leadership to educating the next generations. His work will allow children to dream and to aspire - leaving a legacy for the future that is endless in its possibilities. Dr. Rice has been recognized for his exceptional leadership including being named Arizona's Distinguished Administrator in 2002, receiving the Willis J. Ray Volunteer Award from GCU in 2003 and receiving an Award of Excellence for Contributions to Public Education from the Arizona School Public Relations Association in 2004. Dr. Rice was inducted into the ASU College of Education Hall of Fame in October 2005, received the ASA Administrator of the Year - Superintendent Division in 2006 and was most recently named Arizona's Superintendent of the Year in December 2006.
Dr. Rice has presented throughout the state and nation on strategic initiatives and significant topics in education. What makes Dr. Rice's contributions even more significant is his ability to lead the Alhambra district with its many challenges. Eighty-seven percent of Alhambra's students receive free or reduced-price food services. Fifty-one percent are English language learners, and 61 languages are spoken in this district. Despite these demographics, this top-rated district is known for its high expectations, exceptional student achievement and outstanding educational programs. Alhambra school district has received numerous state and national awards.
Brian Mueller joined Grand Canyon University (GCU) in July 2008 to usher in a new era for the institution - from an entrepreneurial venture to a market-supported private university. Taking the successes he experienced as a teacher and coach at the high school and small college level as well as his 22 years of experience at the Apollo Group (the parent company of University of Phoenix), Mr. Mueller transformed GCU from a financially troubled university into a $5 billion institution that has become a driving force in higher education today.
As the university's president, Mr. Mueller is progressive and anticipatory in an industry that is slow in adapting to change. Since Mr. Mueller joined GCU, the university has experienced unprecedented growth. Enrollment on the Phoenix campus has increased from less than 1,000 to 20,384, while online enrollment has improved from 12,500 to more than 80,124.
Mr. Mueller has also overseen a $1 billion expansion of the campus through new technologies, classrooms, laboratories, athletic facilities and student amenities, over the last 10 years.
These efforts to create a better educational environment have been accomplished at no additional cost to students or taxpayers in Arizona. By creating a hybrid education model that relies on operational efficiencies and fiscal responsibility on its ground and online campuses, Mr. Mueller has been able to freeze tuition on GCU's Phoenix campus for 10 straight years. This ensures one of his highest priorities as president - that a high-quality, private, Christian education is affordable to all socioeconomic classes. GCU awards approximately $200 million in institutional aid to students every year and remains among the most affordable private universities in the country. Academically, Mr. Mueller has led a reinvention of GCU's programs, aligning the school's curriculum with high-growth fields such as computer science, information technology, cybersecurity and engineering, among others, while continuing to produce graduates with the high character and servant leadership the university is known for. The university now has nine colleges and offers more than 220 degree programs.
Another emphasis for Mr. Mueller has been his five-point plan to revitalize west Phoenix by 1) Developing a STEM workforce that attracts businesses to the area, 2) Creating jobs for local residents, 3) Supporting K-12 education, 4) Making the surrounding neighborhood safer through a $1.6 million partnership with the Phoenix Police Department, and 5) Helping hundreds of homeowners in the community through a first-of-its-kind partnership with Habitat for Humanity.
Mr. Mueller's vision for Christian education draws from his own experiences as a student, teacher and coach in Christian schools. His passion is also seen in his inspiring Chapel service addresses, which draw standing-room only crowds at GCU Arena.
Prior to joining GCU, Mr. Mueller was CEO of the University of Phoenix Online when it grew from 3,000 students to 340,000 students in an eight-year time frame. He was eventually president of the Apollo Group, where the university as a whole grew to more than 450,000 students.
Mr. Mueller began his higher education career as a teacher and coach at Concordia University. He earned a Bachelor of Arts in Education and Master of Arts in Education from Concordia.
Mr. Mueller serves on a myriad of boards, including the Greater Phoenix Economic Council, Arizona Commerce Authority, and is executive director of the Joy Community Church Foundation.
Dr. Hank Radda
Provost
Hank Radda, PhD, joined GCU in December 2010 and currently serves as GCU's provost. He has extensive experience creating organizations and systems to educate and serve people, based on scholarship and best practices. He has worked with national private, public and not-for-profit organizations. Dr. Radda earned his Bachelor of Arts degree, as well as his Master of Science in community-school psychology from the College of New Rochelle in New York. He earned his PhD in clinical psychology from The Union Institute in Ohio. 
Dr. Radda has served on numerous boards, presented at a variety of conferences and events and has been published in academic journals. He is considered to be a strategic visionary skilled at establishing operational excellence. Previously, Dr. Radda served in senior management positions in both the social welfare system and in education as the co-founder of John Dewey Academy, a nationally recognized therapeutic college preparatory school for high-potential, at-risk youth.
Dr. Jennifer Lech
Executive Vice President of Academic Affairs and University Registrar, Accreditation Liaison Officer
Jennifer Lech, PhD, has been with GCU since 2004, but has worked in postsecondary education for 20 years. Dr. Lech developed the initial curriculum of the university as it began its transformation to avoid bankruptcy in 2004. She is now responsible for academic and institutional integrity through the departments she oversees, including the Office of Academic Records, Policy and Program Management, Accreditation, State Compliance, Academic Compliance, Student Disability Services, Office of Assessment, Academic Analytics and the Library.
She previously served as the Title IX Coordinator from 2013 to 2018 and the 504 Coordinator from 2006 to 2018. Dr. Lech also currently serves as a board member for Arizona State Board for Private Postsecondary Education and the Arizona-State Authorization Reciprocity Council (AZ-SARA).
Dr. Lech holds a Doctor of Philosophy in Applied Management and Decision Sciences from Walden University, Master of Business Administration from the University of Phoenix, and a Bachelor of Arts in Communications from Washington State University.
Dr. Joe Veres
Vice President of Student Success
Joe Veres, EdD, joined GCU in June 2013 to spear-head the university's ground-breaking program, the GCU Learning Lounge. Noted for his educational innovation and ability to maximize systems and efficiencies, Dr. Veres currently serves as Vice President of Student Success which oversees Strategic Employer Initiatives and Internships, Academic and Career Excellence, Non-Traditional Academic Support and K12 Outreach.
Previous to GCU, Dr. Veres recorded experience in public education as a teacher and as an administrator. Dr. Veres earned his Bachelor of Science in Education from Ashland University and his Master of Arts in Education with an emphasis in Administration and Supervision from the University of Phoenix. Dr. Veres holds a Doctor of Education in Organizational Leadership from Grand Canyon University.
Shanna Milonas
Assistant Vice President of Academic Compliance, Title IX and 504 Coordinator
Shanna Milonas joined GCU in 2007 as an administrator in the Office of Academic Compliance. Since that time, she has held multiple roles within Academic Compliance, most recently serving as Director, Deputy Title IX Coordinator and Lead Title IX Investigator. In her current role, she has oversight of compliance requirements for Title IX, VAWA, Section 504/ADA, including programmatic functions and institutional grievance procedures. 
She holds multiple certifications issued by the National Higher Education Risk Management Group (NCHERM), including those for Title IX Coordinator and Administrator, 504 Coordinator, and Civil Rights Investigator Levels One and Two. She is also responsible for oversight of the Office of Academic Compliance, Student Disability Services Office and the Resolution Team.
She earned a Bachelor of Arts in Psychology from Argosy University in 2006. Mrs. Milonas earned a Master of Business Administration with an emphasis in Leadership from GCU in 2010. She has over 15 years of compliance experience in the areas of higher education, health care and government.
Dr. Michael Berger
Dean, College of Doctoral Studies
Michael Berger, EdD, joined GCU in 2004. Previous to his role as dean, Dr. Berger oversaw development of curriculum and instructional material for GCU. His dissertation focused on instructional techniques that online faculty can use to better connect with their students. He has presented at numerous conferences on the subjects of higher education assessment, online learning and virtual doctoral education. Dr. Berger earned bachelor's and master' degrees from the University of Dayton, and he received his EdD in organizational leadership from GCU.
Dr. Randy Gibb
Dean, Colangelo College of Business
Randy Gibb, PhD, joined GCU in July 2014 and currently serves as the dean of the Colangelo College of Business. Dr. Gibb has 26 years of operational U.S. Air Force leadership and academic administration experience, as well as his own entrepreneurial endeavors. His background includes leading the U.S. Air Force Academy's Behavioral Science & Leadership Department, helping establish a human systems integration degree program at the Air Force Institute of Technology in Dayton, OH, as a senior military professor and serving at Arizona State University as an associate professor and chair of the Human & Environmental Systems Department. 
Additionally, he started his own consulting practice and is co-founder of a software-as-a-service start-up technology company. Dr. Gibb has extensive experience in leadership development, leading organizations and strategic change. He has published and presented in various academic journals and conferences on those topics. He completed his Air Force career in 2012 as a colonel and command pilot. Dr. Gibb, originally from Wisconsin, earned his PhD and Master of Science in industrial engineering - human factors from Arizona State University. He also has a Master of Arts from the U.S. Naval Command & Staff College in Newport, RI, and was a distinguished graduate from the U.S. Air Force Academy in 1986.
Dr. Kimberly LaPrade
Dean, College of Education
Prior to her current role, Kimberly LaPrade, PhD, served GCU as associate dean, College of Education (2008-10) and technology program chair and assistant professor (2007-08). Dr. LaPrade earned her Bachelor of Arts degree with a double major in English writing and sociology in 1990 and her Master of Education in secondary education in 2000 from GCU. She then completed her PhD in educational leadership from Capella University in 2008. Dr. LaPrade holds secondary teaching (7-12) and principal (K-12) certificates from the State of Arizona and was an educator in K-12 schools for more than 20 years.
Her areas of concentration include teaching English to urban high school students and technology to educators. Her areas of research interest include best teaching and assessment practices, instructional leadership, education administration and online learning. Currently, Dr. LaPrade's research focus is in the area of assessment and reflection in online instruction, where she is scheduled to present "Reflection from Multiple Lenses: Using, Teaching, and Assessing Reflective Practice in Small and Large Teacher Education Programs" at the American Association of Colleges for Teacher Education conference this spring.
Claude Pensis
Dean, College of Fine Arts and Production
Claude Pensis has been a faculty member at GCU since 1982 during which time he has also been theatre chair and artistic director. Mr. Pensis has also served for 1.5 years as a faculty associate for Arizona State University as their lighting instructor. He is a native of Wisconsin and received a Bachelor of Science degree in theatre from the University of Wisconsin - Oshkosh and a Master of Fine Arts in stage direction from the University of Wisconsin - Madison. As either a director or a light designer, Mr. Pensis has been involved in more than 400 stage productions and has received numerous local theatre awards and nominations. He is a member of the Stage Lighting category of the United Scenic Artists, Local 829.
Dr. Sherman Elliott
Dean, College of Humanities and Social Sciences
Sherman Elloitt, EdD, started with GCU in January 2011 as faculty member in the College of Education where he served for a year and half as chair of secondary education. Dr. Elliott then served as the assistant dean of the College of Humanities and Social Sciences prior to his appointment as dean. Before joining GCU, Dr. Elloitt held the positions of assistant clinical professor of secondary education and director of the Center of Civics Education at Arizona State University.
Dr. Elliott received his doctorate in teaching innovation and leadership in 2009 from Arizona State University. He holds a BA in government and an MA in theology from the University of San Francisco. Dr. Elliott has served as an executive board member for the Arizona Council of the Social Studies and serves as a leader reviewer for the National Council for Accreditation of Teacher Education and a judge for National History Day. Dr. Elliott's research interests include effective strategies for teaching religious studies objectives in social studies courses, Holocaust education and adolescent moral development.
Dr. Lisa Smith
Dean, College of Nursing and Health Care Professions
Lisa Smith, PhD, RN, CNE, served GCU as assistant dean of the College of Nursing and Health Care Professions prior to her appointment as dean. Previously, she taught for 10 years in a pre-licensure nursing program in South Florida. Before academia, Dr. Smith spent 20 years in hospital nursing, 15 of those years in managerial and executive leadership positions including chief nursing officer with a for-profit hospital system, Hospital Corporation of America (HCA).
Dr. Smith has been a registered nurse (RN) for 32 years, and has earned BSN, MSN and PhD degrees. She also holds national certification as a certified nurse educator (CNE) with the National League of Nursing. Additionally, Dr. Smith has two published articles on nursing simulation, one on the influence of virtual world and high fidelity simulation when teaching critical skills, and the second article on "Substitution of Clinical Experience With Simulation in Prelicensure Nursing Programs: A National Survey in the United States."
Dr. Mark Wooden
Dean, College of Science, Engineering and Technology
Mark Wooden, PhD, earned a Bachelor of Science in wildlife conservation biology and a PhD in biology with a focus on integrative and comparative environmental physiology from Arizona State University. In addition to previously serving GCU as the dean of the College of Health Sciences and the dean of the College of Arts and Sciences, he has held a variety of administrative positions at GCU, including department chair of math and sciences.
Dr. Wooden possesses experience teaching in the field as professor of biology, adjunct faculty, teaching associate and guest lecturer at several universities in Phoenix. His vast knowledge has afforded Dr. Wooden the opportunity to teach an array of fascinating biology classes such as human anatomy and physiology, endocrinology, pathophysiology and developmental biology.
Dr. Jason Hiles
Dean, College of Theology
Jason Hiles, PhD, joined GCU in 2013. He is a graduate of the Milwaukee Institute of Art and Design where he received a BFA in sculpture in 1998. He also earned an MDiv from Southwestern Baptist Theological Seminary in 2001 and a PhD in systematic theology from Southeastern Baptist Theological Seminary in 2008. Upon graduation from Southeastern, he was appointed assistant professor at Louisiana College and later named associate dean of the Caskey School of Divinity. Dr. Hiles is a member of the Evangelical Theological and Evangelical Philosophical Societies.
Dr. Tim Griffin
Vice President of Student Affairs and Dean of Students
Tim Griffin, EdD, joined GCU in 2010 and currently serves as the dean of students, university pastor and vice president of student affairs. Dr. Griffin has a Bachelors degree in Theology, a Master of Arts degree in Ministry and a Doctorate in Organizational Leadership. Dr. Griffin has a professional background that includes public speaking, leadership, fundraising and resource management. He has served for more than 25 years in clergy positions, ranging from being a pastor and chaplain to university minister. 
Brian M. Roberts
Chief Administrative Officer, General Counsel and Secretary
Brian Roberts has been serving as Grand Canyon University's general counsel and secretary since 2012. Roberts is also a director of GCU Community Fund. For nearly 10 years, he was employed by iGo, Inc., a publicly traded developer of electronics accessories, which included serving as general counsel and secretary responsible for all legal functions. Between 1998 - 2003, Roberts was an attorney with the law firm of Snell & Wilmer L.L.P. He received a Bachelor of Science in Business Administration and a Juris Doctor from the University of Kansas.
Junette C. West
Vice President of Business and Finance
Junette West joined GCU in August 2018 as the University's Vice President of Business and Finance. Mrs. West graduated from Grand Canyon College with a Bachelor of Science in Accounting and has earned an MBA. She has also maintained her CPA license for over 30 years. Mrs. West's experience is primarily in the higher education sector. She has held various finance and accounting roles such as Controller, VP-Finance for International Operations, VP-Corporate Treasurer, VP-Financial Operations and VP-Enterprise Risk Management.
Chris Linderson
Senior Vice President of Student Financial Aid Compliance
Chris Linderson joined GCU in 2009, having spent the prior 25 years in various financial aid administrative, managerial and executive positions. As Senior Manager of Business Process Outsourcing and Director of Regulatory Compliance with Arthur Andersen/ACS she led multiple engagements assisting new clients with outsourcing of their financial aid processes, helping to create efficiencies and cost savings while ensuring compliance with all federal regulations.