Colangelo College of Business
The Colangelo College of Business offers leading-edge degrees that address the demands of contemporary business environments. We nurture the startup spirit, propelling your entrepreneurial visions on a powerful platform with opportunities to help you thrive. Our philosophy is Lopes First, which means that we embrace a student-centric culture with an emphasis on higher purpose, conscious capitalism and academic success. We remain committed to providing students with a values-based education centered on Christian principles, known as One Foundation.
Servant Leadership. Ethics. Entrepreneurism. These are the pillars that guide our student experience, challenging you to become a values-driven business leader. GCU's Christian worldview guides our educational approach, instilling within graduates the professional ethics necessary to benefit both industry and the global community.
The Colangelo College of Business challenges and inspires students to be servant leaders with the business skills and values necessary to drive organizational success and positively impact society.
CCOB is the premier Christian business school for servant leaders and innovation based upon ethics, purpose and stakeholder integration to help communities prosper and flourish.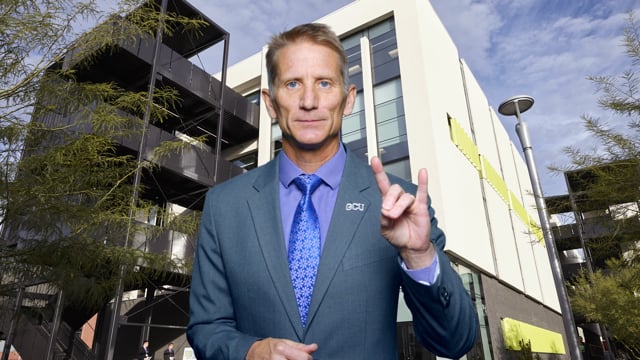 With a depth of on-campus and online business college degree programs, our strong Christian identity informs the education you receive, preparing you to apply values-based principles within the business arena. From an undergraduate bachelor's degree in business information systems, to an online MBA with an emphasis in sports business or an MSN-MBA Dual Degree option, our business school programs encompass specializations to help today's students become tomorrow's leaders. 
Look through our bachelor's and master's business degrees and find what is right for you.
Business Minors
Offering a variety of minor degree options, GCU helps you build skillsets relevant for tomorrow's workforce while learning the principles of servant leadership and entrepreneurism. Explore our minor degree programs.
Jerry Colangelo is one of the most influential and caring sports entrepreneurs in American history. Colangelo has delivered top athletic teams to Arizona, with more than 50 years of experience in sports business management and franchise ownership, as well as dozens of other business organizations. 
Among his many accomplishments, Colangelo has owned the NBA Phoenix Suns, built two state-of-the-art sports facilities, won an MLB World Series title with the Arizona Diamondbacks and led USA Basketball to four consecutive gold medals in international competition. Colangelo's achievements in Arizona, professional sports and the study of leadership are remarkable. As a dynamic community leader and committed Christian, his activities transcend the world of sports and serve as an inspiration for future generations.
Colangelo Scholarship
The Colangelo College of Business is proud to offer the Colangelo Scholarship. Available to incoming freshmen, this scholarship recognizes students who have dedicated themselves in service to others through volunteering and entrepreneurship, while meeting ethical and academic standards. For more information and how to apply, visit our scholarships and grants page.
"Jerry Colangelo represents the best of what it means to be a Christian university from a standpoint of conducting business with strong character, integrity and servant leadership. We want to instill those same characteristics into every one of our students. If an employer gets a Colangelo College of Business graduate, they will know what they are going to get."