Christian Identity and Mission
At Grand Canyon University (GCU) you are encouraged to find your purpose and shape your own perspective by embracing a distinctive Christian worldview. This means that we not only integrate faith in our curriculum, but also in our actions we take to positively impact our community.
A new commandment I give to you, that you love one another: just as I have loved you, you also are to love one another. By this all people will know that you are my disciples, if you have love for one another.
GCU distinguishes itself as a Christian university by instilling a sense of vocational calling and purpose in our students, faculty and staff. As a member of our community, you are encouraged to live out that purpose in ways that honor God and serve others. You'll find many opportunities to live out your faith alongside others.
Chapel and The Gathering
GCU offers weekly Chapel and The Gathering services during the school year — an opportunity for staff, faculty and students to come together to worship, hear God's Word and connect with one another. Chapel can be streamed live each week from our YouTube channel.
GCU Hope
GCU Hope provides spiritual direction and encouragement through various mini messages and videos. Our hope is to provide you with daily inspiration and resources that help connect you with the GCU community.
Life Groups
GCU offers weekly student-led small groups called Life Groups that offer you a place to form relationships, build community and grow spiritually through studying the Bible. The Life Group program is overseen by GCU staff who train and support student leaders, called Life Leaders, to facilitate small groups.
Local and Global Outreach
Participate in numerous GCU outreach initiatives — both local and global — that allow you to minister and give back to your community while living out the gospel.
The GCU campus is a really special place to not only live, but to go to school and grow as a person. The people on campus truly care and want to uplift and impact you in a positive manner.
A Christian University in Arizona That Serves
A missional community is a community of people strategically united in carrying out a mission that centers on following Jesus Christ in word and in deed, and in sharing the love of Christ generously to all who participate in the life of the community. As a Christian university in Arizona, GCU's Five-Point Plan has sparked a transformation of West Phoenix through several public-private partnerships and initiatives.
We encourage students to find their purpose within a world that displays the wisdom and glory of God. This provides unique opportunities to develop knowledge, skills, self-awareness and depth of character. This educational strategy enables thoughtful people to understand Christian beliefs and Christian believers to become more thoughtful. As a result, graduates of Grand Canyon University are prepared to engage the world with a sense of vocational calling and purpose.
GCU's Mission
GCU is a missional, Christ-centered university with an innovative and adaptive spirit that addresses the world's deep needs by cultivating compassionate Christian community, empowering free and virtuous action and serving others in ways that promote human flourishing.
Through academic excellence, the university equips students with knowledge of the Christian worldview, instilling in them a sense of purpose and vocational calling that enables them to be innovative thinkers, effective communicators, global contributors and transformative leaders who change their communities by placing the interests of others before their own.
Since GCU's founding in 1949, the university has been a faith-based institution. It is the university's position that academic quality and integrity are the primary purposes of the university as evidenced in our mission statement:
The manifestation of the mission throughout the institution is much deeper, so the following mission explanation articulates the university's purpose, values, plans and institutional priorities featuring students at the center. These explanations demonstrate GCU's mission application to academics, co-curriculum and community.
One who works to master clarity and logic in thought by asking questions and pursuing knowledge to avoid delusion and blind acceptance of ideas, to reduce vulnerability and to work to find innovative solutions through sensitivity, adaptability and concern for others.
Academic: GCU's basic strategy for developing students' critical thinking skills centers on the concept of a worldview, which refers to the complex network of assumptions that shape thought and practice. Befitting the degree level, students demonstrate their ability to think critically through analytic reasoning, critical evaluation in the curriculum and/or synthesizing current or creating new research to promote a culture of scholarship and engagement. 
Co-curriculum: The university is committed to the pursuit of understanding and affirms that genuine knowledge may be derived from a wide variety of sources, including human reason and introspection, scientific investigation and divine revelation. The university community engages in critical thinking through governance opportunities aimed at dealing with current challenges and planning for the future, participating in scholarly events meant to challenge the community's current ideas and analyzing data for continuous improvement in student learning, adaptive strategies, operational efficiencies, student engagement and student affairs.
Community: GCU participates in thinking critically about the role higher education institutions have in the world with regard to their effect on individual students, families' welfare, the knowledge collective and the economy. GCU engages with regulators, the mayor, governor and Arizona Legislature on higher education issues and strives to advocate for student access, choice in degrees based on traditional academia as well as current/future market conditions and the importance of all institutional types. To support these efforts, GCU offers opportunities in which the public can engage in events that evoke critical thinking around the community and academic discourse like lecture series, competitions and town halls. Through these venues, the university goes outside its physical and virtual walls to create a constant exchange of information with scholarly peers, external communities and the public.
One who works toward perfecting his or her professional communication skills, is cognizant of how communication impacts others intellectually, emotionally and spiritually, and is challenged to understand and ethically employ traditional and innovative modalities as a means of contributing to flourishing for all. 
Academic: Communication depends substantially on clarity of thought and the ability to present ideas logically, coherently and compassionately. But effective communication requires a capacity to interact with others in a way that accounts for the complexities of human nature and interpersonal relationships. GCU urges students to emulate this basic strategy when engaging others' ideas and understandings with civility and sensitivity. Students demonstrate their ability to effectively communicate through writing effectiveness and writing mechanics across the students' chosen program. Students use technology to demonstrate competence in mediated communication, connect globally to present an "e-self" that is sensitive to audience and context, and analyze and interpret visual rhetoric.
Co-curriculum: GCU regards humility to be a crucial virtue and the appropriate starting point for effective communication. Faculty, staff and students are encouraged to engage one another in accordance with the wisdom of the New Testament which teaches that one should be quick to listen, slow to speak and slow to become angry (James 1:19). GCU provides internal community members the opportunity to participate in the governance of the university and for their respective viewpoints to be heard; ensures there are multiple channels through which the university apprises its internal constituencies of academic and operational policies, processes and updates; and provides support through venues and resources for civil academic discourse.
Community: As a university, we strive to communicate the essence of the institution today and the vision of its future. GCU is committed to respectful dialogue and charitable engagement in all matters including engagement in conversation with the larger academic community by sharing ideas and best practices; to transparent communication of current status, student learning outcomes and goal achievement of the university; and to ongoing discourse about the important role the university plays in the local and national economy as well as in the public and common good.
One who learns with empathy, avoiding self-centricity and ethnocentrism, embracing the reality that people are different with different perspectives on history, religion, value-systems and many other aspects of life and living. Global citizenship means that by understanding others one can better understand more about oneself. Robust global awareness enables graduates to contribute substantially to their communities as they become more self-aware, culturally-sensitive, compassionate and cognizant of the needs of others.
Academic: Becoming global citizens entails emphasizing the value and dignity of others as well as the need to bear personal responsibility for the flourishing of the larger global society in which we live. Students develop their awareness through examination of the many facets of global society, working to relate to, understand and communicate with cultures that are different from their own. Selected artifacts in general education and the program major demonstrate students' competency in global citizenship.
Co-curriculum: The formation of global citizens begins with a campus-wide commitment to live out faith within the context of a community marked by mutual respect and concern for one another. Students learn to work together to serve the needs of the less fortunate in the surrounding community and around the world. GCU students, faculty and staff participate in global missions to developing countries, welcome and support international students in the campus and online communities and engage sister communities around the world when appropriate.
Community: The university is committed to modeling the responsible citizenship it expects of its student body and alumni. As a university, this calling shapes the ways we think and act within academic disciplines and within both diverse local and foreign communities. GCU's role in a multicultural society is demonstrated through discipline-specific efforts in impoverished nations, such as nursing missions as well as the university's local efforts to positively impact the community, such as tutoring individual students and thus improving the rating of public elementary and high schools in the surrounding neighborhood. 
One who is grounded in the reality of the world, accepts the responsibilities of individual and community choices and leads selflessly to serve others by empowering them to meet their highest potential above themselves. 
Academic: The university embraces the traditional Christian conviction that education relates to the whole person — heart, soul, mind and body — and should assist individuals in finding and leading with purpose. Consequently, GCU strives to produce graduates who are committed to living and leading in ways that bear a transformative influence on the families, organizations, businesses and communities in which they are members. 
Co-curricular: GCU prepares students with the knowledge, skills and virtues necessary for service as servant leaders within their respective vocations and within the larger society. Through responsible leadership, faculty, students and staff support each other academically, spiritually, emotionally, physically and financially through opportunities to lead and learn in mentorship programs, living and learning communities, ministry and health and wellness programs. 
Community: In order to model responsible leadership to its students, as an institution GCU has distinguished itself in the ways it wisely manages, distributes and employs the many resources God has provided. This can be seen in university efforts to hold tuition to affordable levels so the larger society can access higher education, to create well-paying jobs not only for students but for those in the expanded community, to care for community resources that contribute to public good, to provide opportunities for the free exchange of ideas and to give charitably from the heart. 
Academic: The university educates students from a distinctively Christian perspective and prepares them for careers marked by kindness, service and integrity. Students show their understanding and expression of Christian worldview through the general education curriculum and student learning artifacts throughout the major. 
Co-curricular: As an institution, GCU values every student and employee entrusted to its care. As a missional campus, GCU welcomes students from all walks of life to seek truth and to find their purpose in an environment shaped by Christian love and compassion. Students have rich co-curricular discussion with other students, faculty and staff through scheduled campus ministries, services, spiritual life opportunities and Life Groups or through informal mentorships and peer relationships. 
Community: The university endeavors to create an environment characterized by love for neighbors and concern for the world we live in. The internal GCU community demonstrates this commitment through local and global outreach such as student-run ministries, GCU sponsored ministries, college missions and co-curricular opportunities. 
These critical attributes have been determined to be essential to student success throughout their educational journey and after graduation; they are measured annually through GCU's mission-critical assessment as well as programmatic and co-curricular assessment initiatives. At GCU, we attend to the scriptural imperative: "Do nothing from selfish ambition or conceit, but in humility count others more significant than yourselves. Let each of you look not only to his own interests, but also to the interests of others," (Philippians 2:3-4).
One of the Largest Christian Universities in the United States
GCU is a private university founded in 1949 that has become one of the largest Christian universities in the United States, generating an average 13% annual growth in enrollment from Fall 2008 to Fall 2021. GCU's students come from many different religious backgrounds, representing over 13 religious affiliations.1
When you earn your degree at GCU, you not only learn applicable skills and industry best practices, but will also learn to become a servant leader, understand the principles of conscious capitalism, and serve others in ways that promotes human flourishing. No matter if you're looking to earn your bachelor's, master's or doctoral degree, whether you prefer to take classes online or in person, you can find your purpose at GCU.   
An Inviting University with a Christian Identity
Over 80% of Grand Canyon University's students that were surveyed identify as Christians, with 86.8% of traditional campus students and 80.5% of non-traditional students identifying as Christian.2
Integration of Faith, Learning and Work
As a student at GCU, you are introduced to the Christian worldview from the start of your programs of study. By thinking from a worldview perspective, you will learn to reflect carefully on the underlying assumptions, motives and intentions that shape views of yourself and the world. You will be challenged to consider the practical implications of your personal perspectives and to refine understandings on the basis of investigation, reflection and dialogue. You are encouraged to consider the needs and interests of others in addition to your own, and to embrace the Christian values of love and service as you prepare to enter the workforce.
This is not to suggest that all students are required to personally embrace the Christian worldview. You are free to do so, of course, but you are also free to embrace other views of the world. Christians believe that God grants common grace to Christians and non-Christians alike, a grace by which all truth and all that is excellent in our work may be considered good, regardless of an individual's beliefs. Faith is a matter of conscience that cannot and should not be forced upon anyone who is unwilling or resistant to embrace it for any reason.
As a Christian university, we aim to be persuasive in our presentation and practice of the Christian worldview, but renounce all forms of coercion and compulsion. Faith, when genuine, is a voluntary response to the person and work of Jesus Christ. As a matter of loving others as we love ourselves, we are committed to respectful dialogue and charitable engagement in all matters, especially matters of faith and conscience. GCU invites students from all walks of life to seek truth and to find your purpose within a context marked by Christian charity and compassion. We welcome all who genuinely seek truth to join the conversation.
The culture is amazing at GCU. When I first started, I noticed right away that everybody opens the door for each other. Everyone's so nice. You can really feel the Christian aspect. You see it throughout GCU all the time.
One Foundation
Our faith-integrated foundation is built from our Christian convictions, Christ-focused curriculum and a faith-based service. We call this One Foundation, which serves as the bedrock for our community. This foundation guides us toward faithfulness, excellence, and a service to God and our neighbors with an intention to welcome all individuals on campus and in the classroom, no matter their background or what they believe.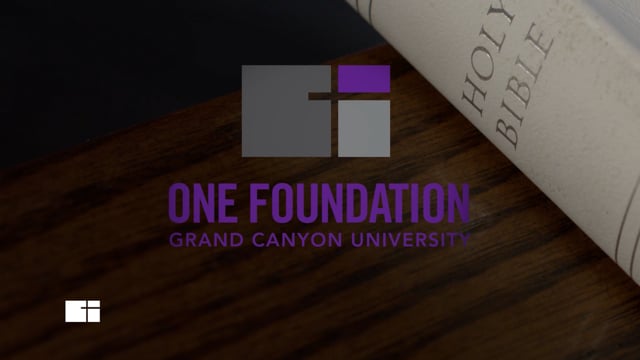 How One Foundation is Implemented Into GCU's Curriculum
No matter what you're studying at GCU — whether you're working to become a nurse, a teacher, an engineer or a business owner, each of GCU's nine colleges uniquely integrate our One Foundation ideals into the curriculum. Click on your college below to find out how.
1 2021 Integration of Faith, Learning and Work Survey Results    
2 2021 Integration of Faith, Learning and Work Survey Results. Results are based on the students that were surveyed and do not represent all GCU students.
GCU's One Foundation is woven into the fabric of our community and curriculum. Gain a new perspective as you learn alongside a diverse student body.