For over 60 years, Grand Canyon University (GCU) has proudly maintained its rich heritage as a prestigious teaching college, both on campus and online. Our College of Education continues to prepare policymakers, school administrators and educators who strive to deliver quality education and help enrich lives across a variety of academic and community settings.   
While GCU's College of Education is committed to nurturing your development as an educator, our dedication to your education extends beyond the classroom. We teach the spirit of servant leadership, innovation and service into each program through One Foundation, our Christian worldview.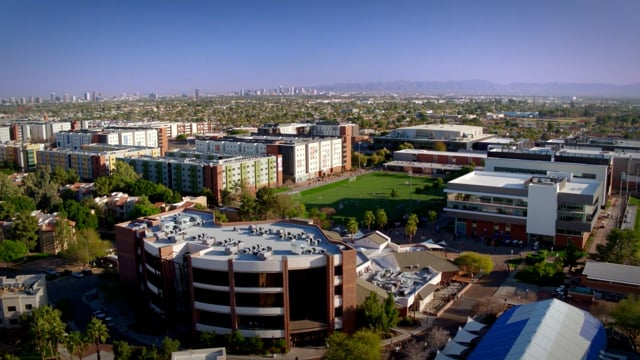 The College of Education inspires excellence in pedagogy and scholarship; advances reflective, innovative and collaborative teaching practices to maximize student learning and achievement; promotes servant leadership in educational communities; and engages a diverse and global community of learners with purpose and passion.
Education Scholarships Now Available
You may be able to offset tuition costs with a GCU scholarship.
View Scholarships
The Canyon Center for Character Education (CCCE) at GCU, supported by The Kern Family Foundation, aims to build a national movement around character education. The College of Education at GCU uses a vast network of students, faculty, alumni and partners to promote school cultures that encourage human and societal flourishing through virtue formation. By embedding character education competencies in our education programs, the CCCE hopes to cultivate future leaders and educators equipped to serve their students with character formation. Through partnerships with all schools across the nation (pre-K-12 public, private, charter and faith-based schools), the CCCE aims to support educators in implementing character education initiatives.
To access resources created by the CCCE, visit their page on the Student Success Center.
Pathways to Teaching With an Education Degree
Education degree programs that lead to licensure in the College of Education are approved by the Arizona Department of Education.
Why do future educators choose GCU?
GCU's College of Education offers initial teacher preparation options for bachelor's and master's education degrees.
Field experience, exam preparation and student teaching are part of your learning journey.
The curriculum for our education and teaching degrees online and on-campus align with national standards.
Canyon Teacher Residency Pathways
GCU's Canyon Teacher Residency Pathways can develop and enrich your teaching career. The College of Education can equip teacher candidates with the skills to work toward a career in the field as substitute teachers, tutors, teacher aides or paraprofessionals while working toward teacher certification and degree completion. These incredible hands-on residency pathways provide real-life experience that can help in your own classroom one day.
Continuing Education Credits for Teachers
GCU is an educator's preferred choice for continuing education credits. If you are seeking recertification, licensure, endorsements or looking to grow your teaching career, GCU's College of Education offers timely and affordable continuing education courses online or on campus to fit your schedule.
Accreditation
The College of Education aligns its curriculum with the standards set by the Higher Learning Commission, national accreditors and professional affiliates. These standards help us produce credible, qualified teachers and professionals through our education and teaching degrees online and on-campus.
Admission Requirements
For more information on the requirements for admission and the steps needed for the application process, visit our Admissions Requirements page.
Integration of GCU's Christian Identity in Curriculum
GCU curriculum ensures that spiritual and ethical values are woven into the educational experience, fostering a holistic approach to learning. This initiative aims to nurture not only academic growth but also the development of character and values within students.
Through intentional communication and thoughtful actions, education faculty integrate the Christian identity and mission into the curriculum through dynamic engagement with students in the classroom. In turn, students can live out their faith in pre-K-12 practicum field experience and student teaching.
Students in an education program can directly benefit from GCU's mission by becoming an educational innovator that can adapt and change to successfully serve the deep needs of communities. This takes place through innovative, faith-integrated curriculum, high-quality instruction and engaging, hands-on learning opportunities such as practicum field experience and student teaching. Students can contribute to GCU's mission by engaging in active learning through courses taught by knowledgeable education faculty and demonstrate their learning both in the classroom and out in the field.
Education students can experience GCU's One Foundation principles through an integration of faith into the curriculum. This is demonstrated by the education faculty who strive to model virtuous behavior and the integration of virtues into the curriculum, which are found in the College of Education's Professional Dispositions of Learners, as well as the nationally recognized Model Code of Ethics for Educators (MCEE).
The education program at GCU uniquely promotes the principles of human flourishing by successfully equipping students to go into the field of education to serve the needs of their communities. This is accomplished through a wide variety of education-based program offerings that are innovative and adaptive to the current educational climate. These programs are taught by faculty who seek to help all students flourish in their chosen program and future profession.
As a Christian university, Grand Canyon University and the College of Education take a proactive approach to developing students' servant leadership skills and growth of our alumni in educational settings. While the college's accredited programs are designed to prepare and equip students for a career in the field of education, we (faculty, staff and college leaders) understand the unique opportunities and challenges a career in education might present. We strive to assist all College of Education graduates who need additional support or who are experiencing challenges in an educational setting; and since 1984, we have upheld this promise. Support might include content-area teaching materials, certification testing resources, course curriculum assistance or faculty mentoring. To honor this promise, the College of Education asks graduates to pledge to uphold a high level of excellence in their educational setting.
Learning
We believe that all students can learn and that educators who inspire excellence engage in best practices and maximize student learning achievements. Effective educators are typically highly experienced and skilled communicators who are dedicated and compassionate, ensuring all students are provided the tools needed to learn to the best of their ability.
Leading
We believe education is a powerful tool to purposefully transform and uplift communities. As our candidates find their purpose and calling within education, the college aims to support candidates to reach their God-given potential and fulfill their passion in education by helping them lead with a keen focus on addressing the world's deep needs.
Serving
We believe in the spirit of servant leadership and are committed to serving all candidates by empowering them to become global contributors who change their communities and the world. As faculty, staff and candidates, we believe in serving educational communities with an innovative and adaptive spirit. Leading with a strong dedication to professional conduct, ethics and respect for the diversity of others, excellence for all is achieved.