College of Nursing and Health Care Professions
The College of Nursing and Health Care Professions has a nearly 35-year tradition of preparing students to fill evolving healthcare roles as highly qualified professionals educated in direct care, management, health education and administration. Grand Canyon University's (GCU's) College of Nursing and Health Care Professions' online nursing programs were ranked the third most popular online nursing program nationwide in 20211 and they help prepare tomorrow's healthcare leaders.
Grand Canyon University's (GCU) nursing programs use in-class and online environments to advance critical thinking, professionalism, accountability and ethical decision-making by applying science, health and nursing theories. This is all fulfilled within our Christian identity and mission, known as One Foundation.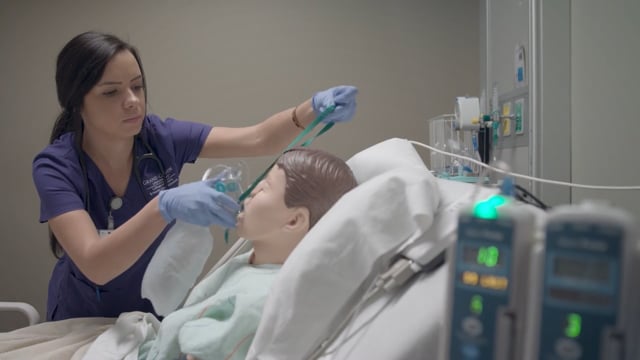 The mission of the College of Nursing and Health Care Professions is to develop professionals using systems- and evidence-based practice to promote health, wellness, safety and quality care for individual patients and populations. It is supported by an academically rigorous liberal arts education reflecting Christian values.
RN to BSN Tuition Reduction
Now $340 per Credit
GCU just lowered the price of our RN to BSN program by 30% to help make college more affordable
Part of why GCU's online nursing program ranked among top three most popular nationwide in 20211 is because GCU offers a wide range of programs. Options range from both pre-licensure and post licensure BSN nursing programs, bridge pathways to BSN or MSN, as well as a Master of Science in Nursing (MSN) and Doctor of Nursing Practice (DNP). We offer a variety of online nursing programs, undergraduate healthcare degrees and healthcare management programs that help prepare you to lead in your field. Explore GCU's nursing, healthcare and athletic training degrees to learn more.
Minors Offer Advantages
If you are a traditional campus student who would like to add another credential to your primary degree, explore how adding a minor to your program can help you gain a competitive advantage.
Nurses who have earned a Bachelor of Science in Nursing (BSN) are highly valued by healthcare employers. GCU helps prepare those looking to begin their nursing career.
Acceptance into the Bachelor of Science in Nursing Pre-Licensure program is competitive. Not all students will be admitted into the clinical coursework, which begins in the junior year. Acceptance is determined by a stack-rank according to the nursing admission criteria and the availability of clinical spaces. You are also required to take the HESI A2 exam for admission into the program. Exam dates are available on GCU's campuses at different times during the year.
At the end of the program, students are expected to take the NCLEX–RN to become a licensed nurse. GCU's commitment to equipping students for the NCLEX is revealed in the testing scores. Grand Canyon University's overall NCLEX first-time pass rate for 2020 was 96.17%, while the Arizona Board of Nursing's pass rate was 91.44% and the national first-time pass rate was 86.58%.2 Speak with your admissions representative or visit BSN Requirements for more information.
Students who currently hold an RN and who intend to seek their master's degree can choose one of two efficient paths to their advanced degree. Our fast track and online bridge pathways that allow you to plot a faster course from your RN to MSN.
Are you looking for an RN to MSN program to help you take the next step in your nursing career? An MSN augments your skill set and provides greater application of theory to solve real-world health challenges. At GCU, RN to BSN candidates who are interested in earning an MSN can accelerate their nursing education and career through a fast track option.3 Both the BSN and MSN degrees can be earned in as little as 30 months, offering you two valuable career credentials in less time and for less overall cost. For more information, fill out the Request Info form on this page.
GCU's Accelerated Bachelor of Science in Nursing (ABSN) program equips students to graduate in as little as 16 months by leveraging their prior education.4 If you desire to become a nurse, the ABSN program offers you a swift and direct route to earning your nursing degree while gaining key skills. The hybrid format of the program offers the flexibility of an online program while still providing hands-on experience at our Sun City and Tucson locations. For more information on our Accelerated BSN program, visit the ABSN page.
BSN-prepared nurses looking to become leaders in the field may be considering a DNP program. This program is designed for nurses looking to further their education and pursue nursing leadership positions. Learn more about this program by filling out the Request Info form on this page.
The mission of the GCU athletic training program is to prepare you to become a superior quality athletic training professional while teaching you to become a global citizen, critical thinker, effective communicator and responsible leader. The objectives of the program are to provide student athletic trainers with exceptional learning experiences to gain the knowledge and practical skills required to be a highly competent, functional and well-rounded athletic trainer.
Acceptance into the athletic training program is competitive and takes place during the spring semester of the first year. Not all students will be admitted into the clinical coursework, which begins in the sophomore year. Specific prerequisite courses must be taken prior to applying for admission, and clinical course requirements must be met in order meet CAATE accreditation standards and guidelines, as well as liability and health precautions. For more information about this program, call us at 855-GCU-LOPE.
Requirements differ based upon your intended program. Find more information and speak with a university counselor today on what is needed for admission into GCU.

GCU offers students and who hold a bachelor's degree in another field and those enrolled in the Maricopa County Community College District nursing program a faster way to their BSN or MSN degree. View more information about our Concurrent Enrollment.