Grand Canyon University's (GCU) College of Theology serves the broadly evangelical community, "teaching what accords with sound doctrine" (Titus 2:1). Our college of theology reaches an array of like-minded Christian congregations and organizations, embracing various evangelical denominational traditions and nondenominational churches, reflecting a celebration of the unity we have in Jesus Christ. 
It is our conviction that the Bible is the true and authoritative Word of God. We embrace and support GCU's commitment to educate students from a distinctively Christian perspective that is rooted in a rich evangelical heritage. This conviction shapes all that we do and provides One Foundation, our Christian worldview and our commitment to living out God's calling.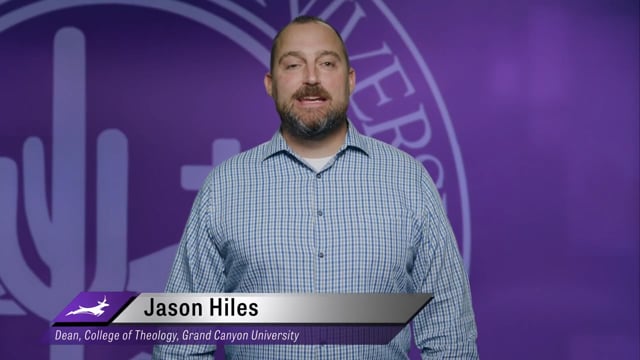 College of Theology Mission
GCU's College of Theology exists to educate students to communicate the gospel effectively, serve the church faithfully and minister with integrity at home and abroad.
Gospel Centered

At the core of the College of Theology's mission is the powerful message that Jesus, the Son of God, gave His life to reconcile men and women to the Father. The college offers a deeply focused theological education that is grounded in the biblical truth that God loved the world so much that He sent His one and only son who died to save all who believe in Him (John 3:16).

Church Focused

The gospel of Jesus Christ empowers those who follow Him to live with one another in a community characterized by faith, hope and love. The College of Theology trains leaders to faithfully live the message they teach and preach.

Missions Oriented

The driving concern of the College of Theology is to engage the world outside the walls of the church as salt and light, just as Jesus commanded. The life-giving message of Christ is the most precious gift we can offer to those we encounter in life and in ministry. This is why we share the gospel in our neighborhood and across the nation and world – training our students to do the same.
Barnabas Scholarship Now Available
Complete your bachelor's and MDiv program in as little as 5 years.
Get Started Now
Faculty in the College of Theology embrace GCU's identity as a missional, Christ-centered university that is firmly committed to historic, biblical Christianity in word and deed. We align coursework for majors and minors with the university's identity and mission and intentionally guide students toward active engagement through the local church and other ministry contexts as a means of embodying and expressing the truths of the gospel.
We believe that faithfully following Jesus entails more than mere knowledge of sound doctrine. Sound doctrine and clear moral vision are vital to Christian life. However, authentic Christianity also requires active engagement, grace and humility of the sort that addresses the needs of the larger world through compassion and service. As the Apostle Paul reminded his protege in the early church, we must watch our "life and doctrine closely" (1 Timothy 4:16). One cannot be neglected without diminishing the other, for the faithful Christian must consistently embody the faith.
Most of our students are preparing for ministerial roles in which they will need to communicate the gospel effectively, serve the church faithfully and serve with integrity. Thus, faculty strive to speak truth in love and emulate the way of Jesus in order to prepare graduates for a lifetime of faithful ministry. It is our prayer that our graduates gain a clear sense of purpose and vocational calling that equips them to transform their communities by placing the interests of others before their own.
Theology students regularly benefit from GCU's commitment to follow Jesus in word and deed in ways that enable them to become a transformative presence within their communities. Within the college, we believe that the role of pastor or minister must be shaped by the teaching and example of the Good Shepherd, Christ Jesus. Thus, theology students are formed spiritually, academically and professionally with deep concern for the physical, mental, emotional and spiritual lives of those they lead and serve.
We are convinced that the message of Christ can transform individual lives and the broader society when the message is not only spoken but also embodied. In practical terms, this conviction inclines faculty and students toward action and engagement, addressing the deep needs within the communities where we live and work. On campus, students lead Bible studies in their dorms, coordinate worship services in chapel, encourage their peers and participate in prayer gatherings. They gather for worship and fellowship, study God's Word together and scatter throughout the university to serve as "salt and light" within the larger campus community.
In many cases, theology students serve alongside other students in local neighborhoods through partnerships with local churches and ministries. They also apprentice under seasoned ministers within the context of internships and supervised ministry experiences in order to augment classroom learning with real-world ministry experience.
Theology faculty provide a strong biblical basis for the thousands of students who take Christian worldview courses at the university each year. The central purpose of these courses is to guide students through the process of investigating and evaluating personal worldview commitments while exploring the basic tenets of the Christian worldview.
Christian worldview coursework provides foundational understandings that help students find their unique purpose in Christ. We believe that finding your purpose begins with a clear understanding of yourself and your worldview. We also believe that exploring the Christian worldview helps students fully understand their convictions as well as the implications of their convictions.
Some students deepen their knowledge of theology, ministry, philosophy and biblical studies through majors, minors and electives offered within the College of Theology. But for all students, Christian worldview provides a foundation upon which students are able to build as they gain a clear sense of calling and vocational purpose that prepares them for various majors and career pathways. In these ways, all students are encouraged to consider the needs and interests of others in addition to their own and to embrace the Christian values of love and service as they prepare for life beyond the university.
As a College of Theology, we are committed to preparing students to communicate the gospel effectively, serve the church faithfully and minister with integrity at home or abroad. We are also committed to serving the needs of the larger student body, other colleges and departments and the broader campus community in ways that deepen our ability to promote the biblical vision for human flourishing. In some instances, this commitment requires biblical analysis, theological reflection and support in the application of Christian worldview principles across disciplines and departments. In all instances, this commitment requires careful listening, gentle coaching and support, unceasing prayer and encouragement as we serve the needs of students and colleagues.
During the medieval era, European theologians sometimes referred to theology as the "queen of the sciences" (regina scientiarum). Within that era, the phrase was intended to describe the ways that various branches of knowledge ultimately culminate in the knowledge of God. Knowledge gained through observation and experimentation within nature (creation) along with knowledge available through divine revelation (the Bible) were synthesized through theological dialogue and reflection. While this model remains compelling with respect to epistemology, the underlying metaphor of "queenship" may imply a lack of humility that does not resonate with those living in a more skeptical, secular age. In the modern world, biblical literacy is limited, and respect for theology has waned. Indeed, Christian theology has been pushed to the periphery in many academic institutions or has been absorbed by more nebulous disciplines such as religious studies.
By God's grace, theology remains vital to academic experience and scholarly dialogue at GCU. Nonetheless, an alternative metaphor may be more central to the ways in which GCU's College of Theology envisions its role within the life of the university and its unique institutional calling before God. Just as Jesus came "not to be served, but to serve" (Mark 10:45), the college envisions its unique contribution to the university as a matter of service, with a focus on empowering and equipping the broader community for ministry. We remain committed to the vitality and significance of theological dialogue and reflection with the final goal of knowing God, his will, his world and his plans for our lives. We also recognize and embrace the opportunity before us to embrace humility, meekness and the way of Jesus in our efforts to promote human flourishing by focusing on the needs of others, whether they are emotional, physical, intellectual or spiritual. Our role as a college, in the words of Ephesians, is to equip the saints for ministry on campus and beyond so that they are better able to "maintain the unity of the faith and the knowledge of the Son" (Ephesians 4:13). We work together, each according to his or her calling, as the entire community matures and grows up into the fullness of the Lord Jesus.
For every point along your path, GCU's theological degrees abound. Undergraduate theology degrees like the Bachelor of Arts in Christian Studies, available on campus or as an online degree program, examines the historic faith and offers an excellent foundation of biblical and theological knowledge. Grand Canyon Theological Seminary is home to our master's degree programs, including our Master of Divinity (MDiv) which incorporates an immersive Residency program. Examine our degree offerings and find the degree that is right for your calling to service.
Accelerated Undergraduate Degree to Master of Divinity
Enrich Your Degree
GCU and the College of Theology offer a variety of minors to give you a well-rounded education within a more specific subject area that may be of vocational interest.
Barnabas Pastoral Program
For those who have thought and prayed about how to become a pastor, GCU offers the Barnabas Pastoral Program. This formal program instructs young people on the necessary requirements and biblical teachings in order to serve in local ministries wherever they may be called. The program is supported by the local pastoral community from which students will receive sound training and mentorship throughout the length of the program.
Students who can demonstrate their sense of calling, express their mentality and leadership abilities and provide pastoral and character references will be considered for this pastoral program. It requires an additional commitment to uphold the moral values of GCU and the covenant that the College of Theology maintains. This program offers the Barnabas Pastoral Program Scholarship during the fifth year of study.
College of Theology Covenant
The College of Theology Covenant outlines the principles a student at the college is expected to embody and embrace. It describes a lifestyle that is consistent with GCU's doctrinal commitments. The Covenant underscores the vital connection between Christian faith and Christian life.
Together with the Doctrinal Statement, the Covenant highlights and celebrates biblical, theological and moral bases for cooperation, under the clear biblical mandate to live a life worthy of the gospel of Jesus Christ  (Philippians 1:27).
All of our students and faculty in the College of Theology are asked to sign the Covenant in addition to the university's Doctrinal Statement.
Read Our Covenant
I understand and embrace GCU's commitment to be a distinctively Christian institution characterized by devotion to the Lord Jesus Christ. Therefore, in agreement with the university and its College of Theology, I commit to love the Lord with my whole being, to love my neighbors as myself and to obey Christ and His word in accord with the following principles:
I will seek the Kingdom of God and His righteousness before all things. I will labor to embody the qualifications for ministry outlined in Holy Scripture (1 Tim. 3:1-13, 4:6-16; 2 Tim. 2:14-26; Titus 1:5-16) so that I am qualified to minister within the church of the Lord Jesus and so that my example will glorify Christ and commend Him to others.
I will commit to growing in the knowledge of Jesus Christ through the study and application of Holy Scripture and sound theology.
I will maintain consistent involvement with a local church by regularly worshipping, serving and studying God's Word with a body of believers and will cultivate unity with fellow Christians, seeking reconciliation and resolution when conflicts arise (Matthew 18). I will seek to demonstrate the love of Christ, with gentleness and respect, to those who do not yet know Him as Lord and Savior.
I will conduct myself as a faithful disciple of Jesus Christ by treating people with love, grace and respect. I will strive to keep my mind and body pure and will seek to be above reproach, undefiled and virtuous in every way and will avoid all activities that violate GCU's conduct policies.
GCU is an accredited university that holds both college-specific and program-specific accreditations. Learn more about accreditation and why it is important.
If you wish to apply to GCU, learn more about our simple registration process and the requirements needed for entrance into GCU.
Recent years have witnessed significant transformations in Christian worship, which have led to a pressing need for a new breed of leaders in churches across the nation. For those interested in the exciting world of worship leadership, performance and production, we are proud to introduce the Center for Worship Arts.
The Center for Worship Arts has been a collaborative achievement for GCU. A blend of industry experts, instructors and seasoned worship ministers contribute to the learning experience in this integrative program. As the next step for a high school graduate, the center provides the following relevant theology degrees to become a worship leader in a contemporary church or ministry setting. Find out more about the Center for Worship Arts.
Center for Worship Arts Degrees
Center for Worship Arts Auditions
Leading corporate worship gatherings requires a balance of musical talent and biblical wisdom. Join the next generation of worship leaders to impact churches around the world. Vocalists and instrumentalists, learn more about auditions for entry into our Bachelor of Arts in Worship Arts with an Emphasis in Worship Ministry. Call 855-GCU-LOPE for more information