Grand Canyon University Serves the Military Community
With honor, Grand Canyon University (GCU) proudly serves military service members, veterans, Department of Defense personnel and their dependents. The demands of military life, with deployments and irregular schedules, can make school complex. In addition to traditional campus classes, GCU offers flexible online and evening degree programs to help you enhance skills, and gain a competitive edge in military and civilian markets. Forge your path at GCU, one of the nation's top military-friendly colleges.
Service members with questions for the university's certifying official, please click here.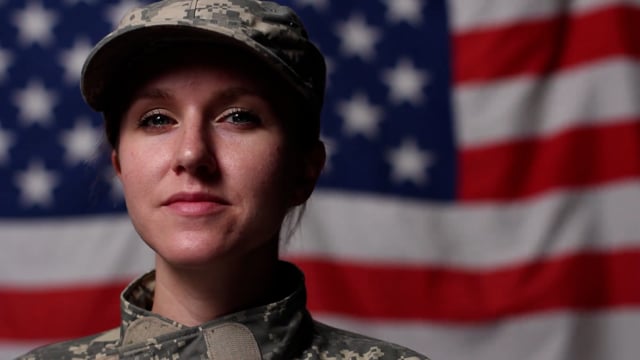 Military Tuition Assistance and Costs
Eligible members of the Army, Army National Guard, Navy, Marines, Air Force, and Coast Guard may use military TA benefits at GCU. We also offer a special military rate per credit hour to support active service members and their spouses, in addition to scholarships for other military members and their dependents.
Benefits Processing
GCU follows military policies and processes for the Tuition Assistance (TA) program and other military benefits. Get started on your benefits process by speaking with your military university counselor. Call 855-GCU-LOPE for more information.
Dedicated Military Division
GCU offers dedicated advisors and military benefit liaisons who can help you learn how to use your benefits to earn your degree at GCU. Explore your benefits and learn the steps to apply.
For service members and veterans, choosing the right college can be a difficult task. GCU aims to provide clear and concise information to aid in your research. Complete the College Financing Plan to estimate the financial investment to achieve your academic goals at GCU.
Military students (Active Duty, Active Reserve, Active Guard) with TA are eligible for a special military cost per credit hour in our GCU online and evening programs. This rate also applies to spouses of active service members. In addition, GCU waives the Learning Management System fee and Canyon Connect fee for these students, including spouses. 
Veteran students are granted a 10% scholarship off tuition for online and evening programs.1
Yes! GCU is proud to serve the military community as a military-friendly institution. We follow the American Council on Education guidelines when determining transferability. GCU provides a free pre-evaluation of the service member's Joint Service Transcript. We also provide a free pre-evaluation of Air University credits for Air Force service members. This is in addition to evaluating any other college credits earned.
To start your path toward a degree as a student veteran, contact GCU at 855-GCU-LOPE and ask to speak with a military counselor. For questions on military benefits and tuition visit our Military Tuition Assistance page.
Is GCU a Yellow Ribbon school? GCU is a Yellow Ribbon school. This allows GCU to provide agreed upon VA education benefits. For more about the Yellow Ribbon program, visit our VA College Benefits page.
Yes, GCU is a military friendly school and offers many benefits for current military members as well veterans and their dependents.
Benefits Rank High Among Military Students
GCU offers degree programs in today's high-demand fields, such as accounting, business, counseling, justice studies, education, leadership, nursing and more. As a leading military university, we understand you need convenience and balance. We offer a large variety of online programs to support your path toward higher education.
With small classes taught by industry experts and rigorous curricula, we prepare you to become a critical thinker, effective communicator and responsible leader. For questions about enrollment or benefits, call 855-GCU-LOPE and ask to speak to the military university department. GCU also offers the following benefits to members of the military community:
A Dedicated Military Team
From guiding you through the enrollment process to assisting with benefits, we are honored to serve you. Our dedicated military university team, comprised mostly of veterans, serves as a knowledgeable resource for military students and their families.
Flexible Academic Residency
Transfer credits from another university or from the military to help you earn your degree. Complete 30 credits of your undergraduate program at GCU to satisfy our residency requirement. GCU does not require those 30 credits be the last 30 credits of your degree.
Credit for Military Training and Non-Traditional Learning
GCU supports the Executive Order on Establishing Principles of Excellence for Educational Institutions Serving Service Members, Veterans, Spouses and Other Family Members, and follow the American Council on Education (ACE) guidelines in awarding credits for military experience.
Transfer Military Credits
Military members and veterans may have earned college credits through military training and experiences. Explore the resources available to help you determine how your experience can transfer to your GCU degree program.
Military Benefit Forms
Students eligible for an online military tuition scholarship must complete and submit the appropriate memorandum of understanding (MOU) during the admissions process. Contact your military university counselor at 855-GCU-LOPE to obtain a copy of the MOU.
Lopes Credit Evaluation
Save time and money attaining your degree by requesting a free LOPES Credit Evaluation. At GCU, military students may transfer up to 60 credits from training (up to 30 military credits, plus 30 alternative transfer credits), as well as approved certificates or national exams.
Military Spouses
Military spouses and child dependents of active military members and veterans can take advantage of special scholarships off tuition and a special military rate per credit hour. Call 855-GCU-LOPE to speak with a university counselor and learn more about this opportunity.
GCU's Veterans Center provides resident, commuter and online military students with personalized assistance tailored to veterans. The Veterans Center is a hub for GCU student veterans and their families to network and study. The on-campus center is staffed with a veterans resource coordinator who can assist you with questions or concerns about your military education benefits. You will also have access to Wi-Fi and a textbook exchange. Our objective is to link you with the resources you need to meet your academic goals. Explore our Veterans Center to learn more.
1 This scholarship will be applied at the same time the tuition charges occur. You must meet the minimum requirements of maintaining Satisfactory Academic Progress throughout your program as defined in the University Policy Handbook, and maintaining eligibility for your military educational benefit. The scholarship is only valid for applicants who are a veteran and veteran spouse of the United States Armed Forces or a child dependent utilizing a VA educational benefit and submit a complete application. This scholarship excludes MDiv programs.