GCU Student Testimonial: Shelby Langston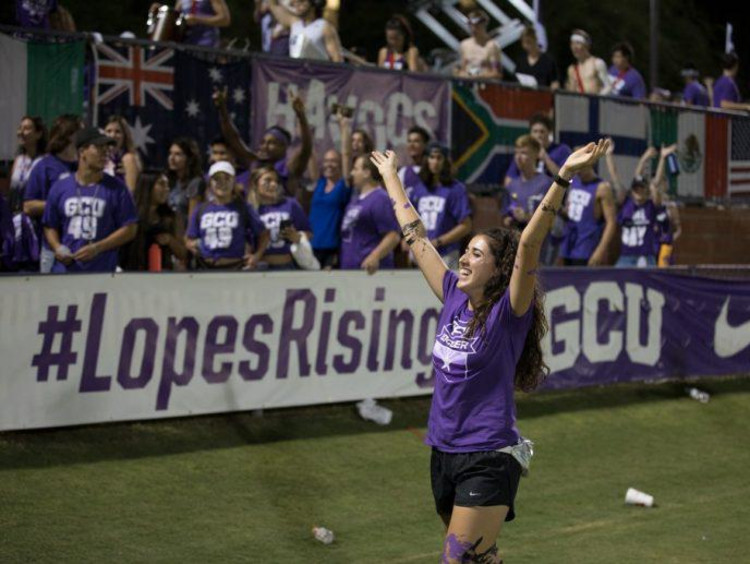 Meet Shelby, an undergraduate marketing student at GCU's Colangelo College of Business. In addition to her marketing and business studies, Shelby is also a part of GCU's Honors College. She feels that the honors program goes more in depth than regular classes, and that she's given the opportunity to learn class concepts through a more thorough curriculum.
Within her freshman year, Shelby joined GCU's infamous student section for all of its Division 1 sports, the Havocs. The Havocs have been named the best student section in the nation and Shelby was glad to be part of such an amazing and high-energy group. As a Havoc, Shelby sees it as her duty to give everyone an enjoyable and memorable game day experience.
The Havocs also provide a great opportunity for Shelby to blend the marketing knowledge she's learned from her degree with the intense school spirit that she and the Havocs have, to produce even more hype on GCU's campus! She utilizes social media to promote the game day experience and advertise GCU's sports team. These are marketing tactics she's learned in the classroom applied to real life situations. Though she's thrived in her marketing program, Shelby is unsure of what she wants to do in the future. She is sure, though, that whatever it is, she will be well-prepared because of GCU's incredible programs.
Lastly, Shelby believes that GCU is creating a state-of-the-art campus, but is also creating a distinct and specific campus culture. Coming to GCU is not just about earning a degree, it's about developing students into passionate and motivated people. If you are looking for friendship and community, GCU is the place to go!
Watch the full student testimonial video on Shelby below.
If you are interested in joining the amazing Colangelo College of Business and building friendship and community, Grand Canyon University may be the right choice for you. Visit our website or click the Request More Information button on this page to get started on the journey to find your purpose!
Written by Allison Richmond, a professional writing major at GCU.