Advance Your Nursing Education, Advance Your Nursing Career
By Tammy McGarity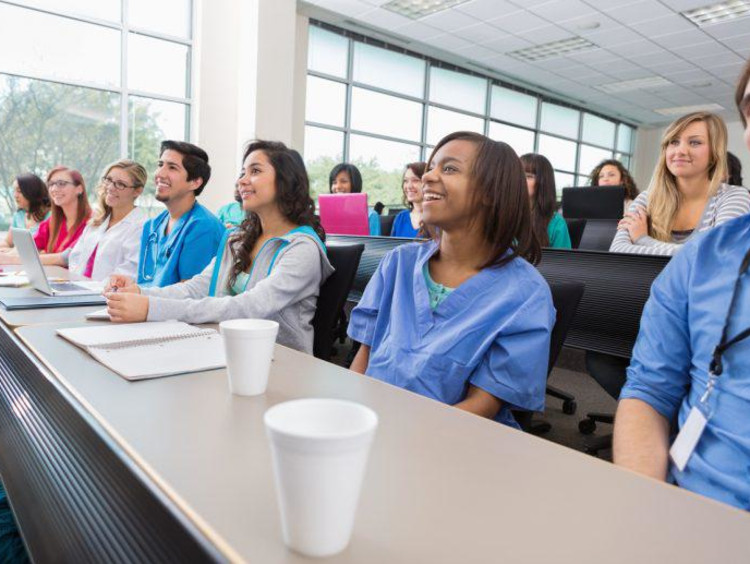 My name is Tammy, and I am the director for the Center for Clinical Excellence at a Magnet hospital. I am responsible for researching, implementing and standardizing best evidence-based practices in our healthcare system. Grand Canyon University's Doctor of Nursing Practice (DNP) program, with its focus on implementing research and best practices in nursing, prepared me to question the status quo, think outside of the box, research the literature and implement best practices.
How I Became a Nurse
My senior year of high school, a friend asked if I wanted to go with her to take the exam for nursing school. My aunt was a nurse and after thinking about it, I decided I would take the exam. So, we both took the entrance exam for the LVN program at Hendrick Medical Center.
We got in! We then signed a one-year contract with the hospital and went to school for free.
That was 35 years ago. Since then, I have earned my associate, bachelor's and master's degrees in nursing and most recently my DNP from GCU.
My Job at the Center for Clinical Excellence
Day to day, I lead a team of nurse educators and programs such as nursing orientation, nurse residency, Magnet and frontline nursing leadership development. I assess current nursing practice, program curricula and patient outcomes to ensure we have the current best practices, education and programs in place. This requires ongoing literature, practice and standards of care reviews. Questioning the status quo and implementing change are required daily.
The best part of my job is that I get to ensure patients get the best care needed every day. Illness and hospitalizations are many times difficult and trying for patients and their families and at times are low points in lives. Working to make their care and situations better during these trying times is what I love most about my job.
Earning My DNP at GCU
I enjoyed my entire experience at GCU, but one of the things I liked best was that I only took one class at a time and new classes started every eight weeks. This allowed for in-depth study in each class, without having to deal with competing class assignments and study. One class at a time made the schedule of the program more doable with a full-time job.
My experiences in the program from the College of Nursing and Health Care Professions, such as participating in weekly discussions, helped me to look at questions and scenarios differently. This practice helped me to develop more in-depth and expanded research and probing skills. Sharing experiences with other classmates and learning about their experiences gave me an expanded worldview. With the input of faculty, we were encouraged to look beyond our current knowledge and develop greater questioning and research skills. Using these skills in my position, I am developing the educators who work with me to press their current boundaries and drive improved practices, skills and knowledge.
Is Advancing Your Nursing Education Worth It?
Starting out as an LVN, I have never questioned the time or expense I invested in my education to take me to the next level. I have had fantastic positions and worked for remarkable companies. There are no limits in healthcare for a nurse who is willing to invest time and expense for education.
I currently work for a Magnet hospital as a director, teach in a nursing program and own a consulting company. I have several nurses and clinicians who work with me on projects for different healthcare companies. Without my education, I would never have been able to own my own company or work in the positions I have. Advancing your education is definitely worth the time and money.
My Advice to Nursing Students
Healthcare is very rewarding and your options are endless. Students should be prepared to work hard and love what they do. If you are thinking about a career in healthcare, try to shadow several people to see what they do so that you have a good understanding of the job and requirements.
Also, develop your critical thinking skills. Nursing is not just about knowing the facts and having skills. In nursing, you must know the facts, have the skills and apply both while assessing the patient and the situation – and then act on all the evidence.
What Qualities Do Healthcare Employers Look For?
As an employer, I look for nurses who are professional and not just task-oriented. Professional nurses are interested in more than just working their shifts and collecting their paycheck. In our Magnet facility, we look for nurses who are willing to help develop practice, serve on committees, be part of solutions and act as change agents. Nurses have a professional responsibility to both patients and to the profession. We look to hire nurses who are invested in improving both.
If you are interested in learning more about GCU's College of Nursing and Health Care Profession and our nursing and healthcare programs, visit our website or click the Request More Information button on this page. You can also read student reviews of our Nursing programs at GradReports and US News.