Conscious Capitalism at GCU
Since its founding, GCU's Colangelo College of Business has provided students with a distinct view of business that pairs integrity with success and promotes profit with purpose for the greater good. It was on this ideal that GCU was founded in West Phoenix, with the goal to create a mission-minded university while transforming the community of West Phoenix. Therefore, GCU not only teaches the ideals of conscious capitalism, but implements them.
In 1951, two years after the Grand Canyon College's founding, the school transferred locations from Prescott to Phoenix, Arizona. In the years following its transition, GCU developed an ambitious five-point plan to revitalize West Phoenix. This plan not only sought to support the community through outreach, but with a powerful tool to help break the cycle of poverty: education.
GCU has initiated several partnerships with local schools to elevate the community and make higher education an obtainable goal. In an effort to raise up the community and use GCU's resources to advance others, GCU has:
Over 14,800 people employed by GCU and its partners
Over 150,000 hours of service provided by the GCU Learning Lounge 
Implemented a scholarship program for local students
This approach aligns with GCU's Christian mission and values. The biblical concept of stewardship translates into the idea of business as ministry. Through diligent leadership and a biblical concern for its neighbors, GCU has enacted conscious capitalism to increase the value of all stakeholders.
You can also elevate your understanding of conscious capitalism by enrolling in an individual course. Visit our single courses page below and search "BUS-476" or "Conscious Capitalism: Free Market Perspectives" for more information on this course.
Business as Ministry
Over the course of GCU's business programs, students are encouraged to view business as ministry. Students are challenged to become servant leaders, to integrate their faith everyday as they work and create a purpose-minded business. When combined, faith promotes ethical business practices that uphold the value of their employees as well as individuals via respect and appreciation.
Business as ministry upholds a biblical view of stewardship in terms of servant leadership that results in elevating humanity because everybody should be treated with dignity and respect. Students can graduate understanding that business can be used to lift people out of poverty, creating a force for good.
Ethical Business
The Colangelo College of Business is based on the pillars of servant leadership, ethics and entrepreneurism. Ethical business is at the core of conscious capitalism and GCU's business programs. Students learn the fundamentals of business and how to turn a profit, all while enacting servant leadership and ethical practices.
Without ethics, conscious capitalism cannot be sustained. Therefore, ethics must be reflected first internally through the leadership and staff and then out to all stakeholders to maintain a socially-responsible business.
The genius of capitalism is that it both creates incentives for solving human problems and makes those solutions widely available. And it is solutions to human problems that define prosperity, not money.
GCU's dedication to conscious capitalism extends into supporting opportunities for students to experience it firsthand. The Colangelo College of Business encourages an entrepreneurial spirit in students and provides avenues for students to participate. Some of the opportunities available to students include:
An on-campus marketplace for students to sell their products
Student business startup competitions
TEDxGrandCanyonUniversity
IDEA Club to fuel entrepreneurial ideas
Employment at GCU Enterprises
Employment through Canyon Ventures
Experience with Canyon Angels, a 501(c)6 investment organization
Canyon Challenge, the student business startup competition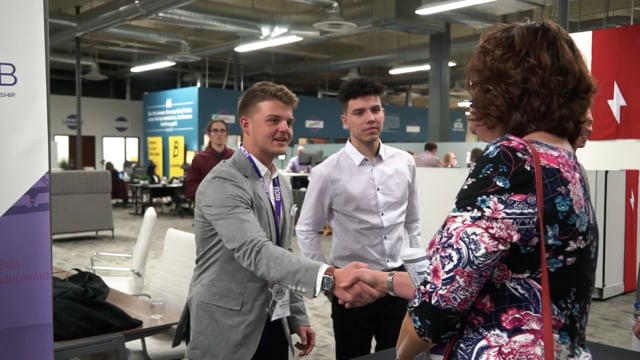 GCU Enterprises
In the spirit of entrepreneurialism, GCU has developed 10 local enterprises. These enterprises offer student worker positions, providing them with hands-on experience that directly supports their business degree. Students can become equipped for future business success while integrating ethical business practices in alignment with conscious capitalism. The profits of these enterprises are then reinvested back into the university to help keep tuition costs affordable and provide scholarship opportunities. 
The university, with support from Grand Canyon Education (GCE), has launched 10 business enterprises that employ nearly 500 people.
Grand Canyon Beverage Company (four locations)
Havoc House
Canyon 49 Grill1
GCU Golf Course
Canyon Promotions
Lopes Shop
Grand Canyon University Hotel1
Your entrepreneurial mindset will look at adversity and see opportunity, envision a way to pivot, improve, and leverage current conditions to help find a business solution, which in turn helps communities prosper.
Canyon Ventures
Canyon Ventures is GCU's outreach-driven startup initiative that serves as a business accelerator. Here, more than 30 local startups are given the resources they need for success with a unique co-working culture. Through Canyon Ventures, these startups receive mentorship, training and connections to foster an evolving and collaborative environment. 
Students are given the opportunity to see their entrepreneurial ideas come to life or support other ventures with their degree-related skills. Students receive the opportunity to hone their skills while utilizing their creativity in this entrepreneurial environment. 
The ventures provide openings across different industries including:
Technology
Marketing
Cybersecurity
Development
Product Ideation 
Through Canyon Ventures, local startups are supported while students are equipped to take their knowledge and skills into the community. This investment in the community provides a route to encourage local business which can then bring jobs and opportunity into West Phoenix.
Canyon Angels
Canyon Angels is 501(c)6, member-led organization that serves as a West Valley investor group and angel investment network. The Angels look for compelling entrepreneurial ideas that they can help fund. Companies from around the world can pitch to the Angels. Canyon Angels allows GCU students the opportunity to see the workings of an investment team, while gaining experience in pitching and due diligence work via a 1-credit course, ENT-495. This is another way that GCU seeks to support business that works for good, while providing students exceptional opportunities for growth.
Pair your business ambitions with integrity and servant leadership and learn the tenets of conscious capitalism by enrolling in a bachelor's, online MBA or Doctor of Business Administration program at GCU.
1 Operated by GCE for GCU Discover events.