Grand Canyon University Names College of Business After Sports Icon Jerry Colangelo
Colangelo College of Business defined by academic excellence, servant leadership
Jerry Colangelo, one of the most influential business and community icons in the country, will share that expertise with the next generation of leaders as the namesake of the new Colangelo College of Business at Grand Canyon University.
GCU, Arizona's premier private Christian university, announced the name change Thursday as it expands Colangelo's role and positions the college to become the nation's leading Christian-focused business school. Colangelo played a significant role in shaping the university's Colangelo School of Sports Business, and will extend that vision to an entire business college designed not only for academic excellence and real-world relevance, but also in developing values-driven business leaders.
"Having Jerry Colangelo's name associated with our College of Business will serve as an inspiration and a role model for our students for generations to come," said Brian Mueller, president and CEO of Grand Canyon University. "He represents the best of what it means to be a Christian university as a man of faith, a man of family, a man of character and a man of integrity. We want to instill those same qualities in every one of our students and set the expectation among employers that, when they hire a GCU graduate, they're hiring a sharp, values-driven future business leader."

Colangelo has been among the most influential people in Arizona since 1968, when he joined the Phoenix Suns as the youngest general manager in professional sports at age 28. He later led the ownership groups of both the Suns and Arizona Diamondbacks, becoming one of the most prominent businessmen in the NBA and MLB; helped bring hockey to the Phoenix area when the Coyotes moved here from Winnipeg; and has been director of USA Basketball since 2005, helping Team USA re-establish its dominance in international men's basketball. His fingerprints are also all over the redevelopment of downtown Phoenix, transforming that area into a vibrant business community.

The Colangelo College of Business embraces Colangelo's personal mission of servant leadership, innovation and entrepreneurial spirit. As an agent of change, Colangelo will play an active role as a mentor and consultant in helping evolve the college, sharpening its vision and functioning as a sounding board.

"Grand Canyon University has built a strong reputation for arming students with the skills and vision necessary to hit the ground running on day one," said Colangelo, who has also been involved with the university as a member of its board of directors and as an advisor in its transition to Division I athletics. "I am both excited and humbled to have the opportunity to help the university evolve its business program and offer our graduates the chance to take the local and national business community by storm."

While programs at the college are led by Dean Randy Gibb, Ph.D., Colangelo will apply a hands-on approach of leveraging business and community relationships to amplify the student experience within the Colangelo College of Business.

Programs at the college are designed to cultivate the highest level of critical thinking and analytical skills required in today's complex business environment. Presently, the college offers more than 25 cutting-edge programs that address the broader challenges of a contemporary business environment.

To mark the occasion, the university is launching a scholarship program for high school seniors who best exemplify the characteristics Colangelo exhibits - a commitment to academic excellence, impeccable character and integrity, and a strong sense of community. Like Colangelo's rise from humble beginnings in the "Hungry Hill" neighborhood of Chicago, the scholarship will provide educational opportunities to rising stars whose options may be limited due to financial or family circumstances.

About Jerry Colangelo: A member of the Naismith Basketball Hall of Fame, Colangelo has cemented himself in Arizona's sports and business history over the past five decades. He has been a successful team owner, both of the Phoenix Suns and the 2001 World Champion Arizona Diamondbacks. He was instrumental in transforming the Phoenix skyline, leading the charge of developing two state-of-the-art sports facilities that helped transform the downtown area into a vibrant business community. He is currently director of USA Basketball and is a principal partner of JDM Partners, a real estate development company. But his unparalleled track record of accomplishments transcend sports and business, as he is an active community leader who champions numerous causes rooted in education, family and leadership. A man of deep faith, he holds steadfast in his belief to trust in God, who will help lead people to the best opportunities to make the most significant impact on humanity.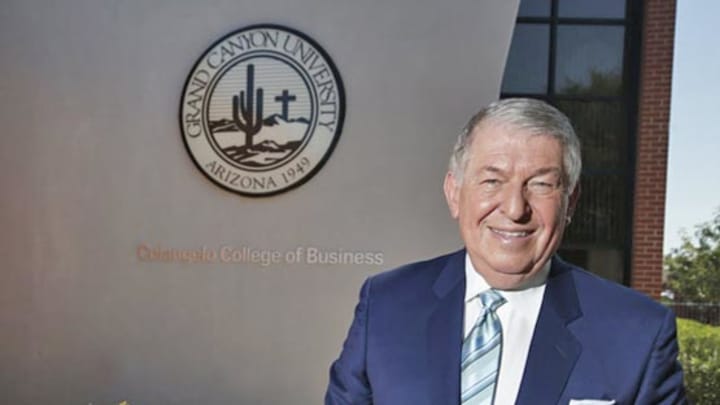 Contact
Bob Romantic
602-639-7611
---
Home / Press Releases / Grand Canyon University Names College of Business After Sports Icon Jerry Colangelo
---