Dr. Randy Gibb Named Dean of Grand Canyon University's College of Business
Dr. Randy Gibb, a former U.S. Air Force colonel experienced in operational leadership, academic administration, research and entrepreneurial endeavors, has been named dean of Grand Canyon University's College of Business.
Gibb comes to GCU from the Human & Environmental Systems department at Arizona State University, where he served as the department chair. He holds a Ph.D. and master's degree from ASU in Industrial Engineering – Human Factors, an MS from the Naval Command & Staff College, and was a distinguished graduate from the U.S. Air Force Academy.
"Dr. Gibb and his career truly embody all of the qualities that we look for in a leader at GCU," said Dr. Hank Radda, provost for the university. "He brings a well-rounded background and will no doubt work collaboratively with faculty, students, staff, alumni and supporters to take the school to the next level in a way that honors the college's three foundational pillars of servant leadership, entrepreneurship and innovation."
Gibb's background includes extensive experience in leadership development and strategic change as a department chair of the Air Force Academy's Behavioral Science and Leadership department, a senior military professor at the U.S. Air Force Institute of Technology, and as an entrepreneur. He is involved in human factors consulting and is co-founder of a start-up software-as-a-service company.
His goal is to make the College of Business diverse and influential in giving every GCU student access to internships and entrepreneurial experiences.
"This is not going to be a traditional business school with the standard curriculum. This is going to be tomorrow's college of business to serve the economic needs of our future," Gibb said. "The faculty at GCU's College of Business will help students in a multidisciplinary education founded on business principles as well as leadership, ethics and entrepreneurship to present a unique curriculum to foster innovation."
GCU offers bachelor, master and doctoral degrees with an emphasis in business. For more information, please visit the Colangelo College of Business.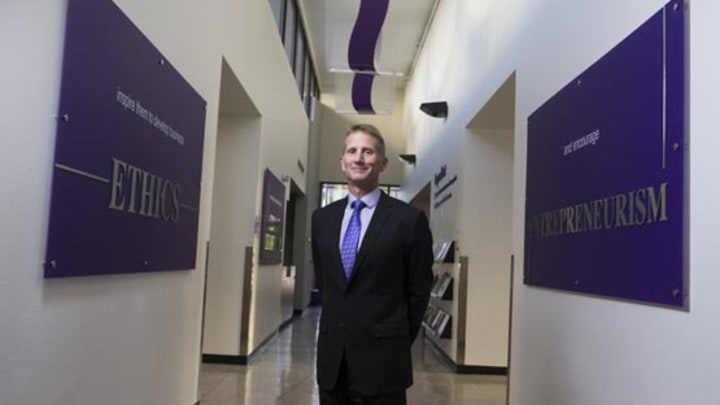 ---
Home / Press Releases / Randy Gibb Named Dean of GCU College of Business
---