Grand Canyon University Foundation's Run to Fight Children's Cancer Raises $83,400 for Local Families in Need
Children's Cancer Network, Phoenix Children's Hospital beneficiaries of fifth annual race
Grand Canyon University Foundation's fifth annual Run to Fight Children's Cancer raised $83,400 to help families battling a disease that kills more children than AIDS, asthma, diabetes, cystic fibrosis and congenital anomalies combined. 

Proceeds from the race will benefit Children's Cancer Network and Phoenix Children's Hospital to help Arizona families grappling with pediatric cancer. Funds provide support for families through many avenues, from research and counseling, to scholarships and gas cards. 

"Childhood cancer is one of the most overlooked and underfunded diseases, so to see the outpouring of support to help those families was truly inspiring," said Sussely Morales, Race Director of GCU's run. "Grand Canyon University genuinely embraces servant leadership and values giving back to the community. The Run to Fight Children's Cancer really widens the scope of who we can reach and the number of lives we can touch." 

The fifth annual festival-style event, which took place March 7, brought the total contribution amount to nearly $400,000 since it began in 2011. This year's run attracted 2,500 runners for the 10K and 5K races. Another 100 cancer survivors participated in the quarter-mile Cancer Survivor's Walk, which honors children who have beaten the disease, those who are still fighting, and those who lost their battle with cancer. 

"That is the most poignant moment of the day, watching those tiny survivors wearing their cancer-fighting superhero gold capes, triumphantly participating with their families and loved ones," Morales said. "All of those survivors are heroes, and we want the day to be all about them." 

One of those is 7-year-old Mia Bryant, who was chosen as the honorary race starter for the event. She was diagnosed with posterior fossa syndrome, for which there is no known cause, and is still undergoing treatment. 

"Unfortunately, Mia was in the hospital after undergoing chemotherapy the week of the race and still wasn't feeling well on race day, so her brothers – Jimmy, 11, and Jacob, 6 – filled in for her," Morales said. "That really underscores the reason we are all out there, supporting kids like Mia." 

According to the American Cancer Society, 12,000 children under the age of 15 in the United States are diagnosed with cancer each year; 1,300 of them will not reach adulthood. 

Grand Canyon University Foundation is an independent non-profit 501(c)(3) public charity whose mission is to embrace the generosity of the Christian spirit by making donations in the communities in which the students, faculty/staff and friends of Grand Canyon University live, work and serve. For more information about the run, visit www.runtofightcancer.com 

Children's Cancer Network is a 501c3 non-profit organization dedicated to providing assistance to Arizona families dealing with childhood cancer. Established in 2004, the organization lends financial support to families, promotes patient and family education about cancer-related issues, and sponsors activities that build the self-esteem of childhood cancer patients and their siblings. Children's Cancer Network is committed to helping children and families dealing with the stressful and uncertain times that begin with initial diagnosis and often continue for years thereafter. Visit www.childrenscancernetwork.org for more information. 

Phoenix Children's Hospital, ranked in U.S. News & World Report's Best Children's Hospitals, is Arizona's only licensed children's hospital, providing world-class inpatient, outpatient, trauma, emergency and urgent care to children and families in Arizona and throughout the Southwest. As one of the largest children's hospitals in the country with 465 licensed beds, Phoenix Children's provides care across more than 65 pediatric specialties. The Hospital is poised for continued growth in quality patient care, research and medical education. For more information about the hospital, visit www.phoenixchildrens.com.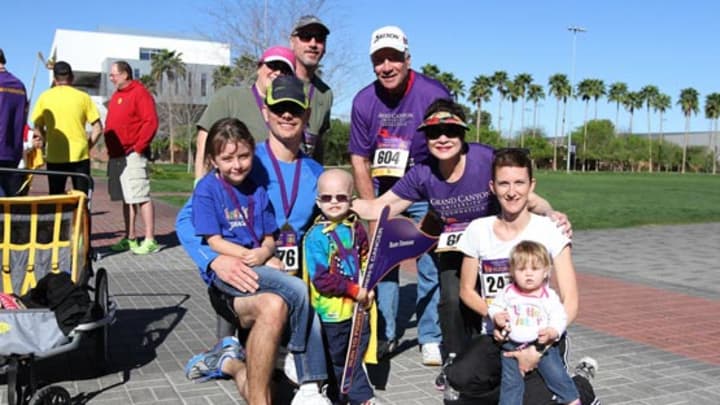 Contact
Bob Romantic
602-639-7611
---
Home / Press Releases / Run to Fight Children's Cancer 2014
---