Grand Canyon University Campus Visitation Programs
Choosing the right college can be exciting – and overwhelming! It's important to Grand Canyon University that students feel confident in their decision and happy about their choice. That's why we offer day, overnight and travel reimbursement campus trips where you can get the real Lope Life experience. Whether you're visiting from high school, another college or just beginning on your academic path, we want to make sure that you feel welcome and empowered to make an informed decision for your future.
Our campus visitation programs can give you an opportunity to personally experience what it means to be a student at GCU. From exploring the campus and meeting current students to learning more about our academic offerings, we want you to make an informed decision on whether GCU is the best fit for you.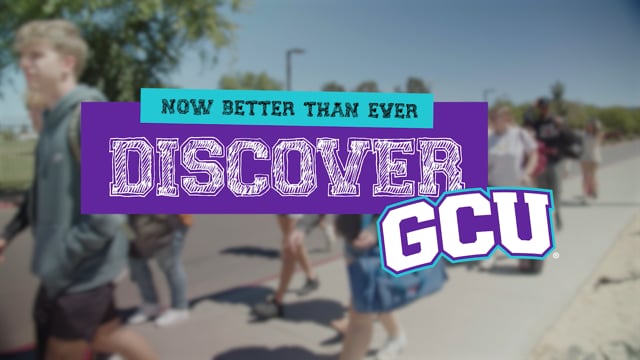 GCU offers day, overnight and travel reimbursement trips to campus. During your campus visit, you can:
Learn about your program of study
Observe and connect with the GCU community
Participate in hands-on academic activities
Eat at popular campus dining spots
See our sunny campus and resort-style living
Come experience Lope Life to see if GCU is the university where you can feel at home and have the opportunity to achieve your academic goals while preparing for your career. And if you're visiting from another university or community college, we make it easy to transfer credits and become part of our Herd!
GCU is just a great place to find yourself and discover what you like to do and who you want to be.
How to Attend
You must be admissible to GCU to be eligible to attend our all-expenses-paid1 on-campus experiences. A conversation between you and your university counselor and parent(s)/guardian(s) if applicable is required prior to approval of attendance and/or travel reservations. Your university counselor will lead you through the qualification and registration process.
Request more information or contact your university counselor today to get started!
Next Steps
Apply at gcu.edu/ApplyNow and upload your unofficial transcripts. No application fee!
Make an appointment with your counselor to review scholarships and programs.
Upon acceptance, visit our campus (all-expenses-paid1 programs available).
Register early to secure courses and on-campus housing.
Pack your sunglasses and move to Lope Country!
Why Are University Tours Important?
Visiting and touring campus is an opportunity to experience a university firsthand and get a real feel for the college environment.
During your campus visit, you can experience student life right on campus, tour our facilities and classroom buildings, gain perspective from current GCU students leading the tour, get valuable information on what it's like to be a Lope and be a part of the vibrant GCU scene. Afterward, you can reflect on your experience with your parent(s)/guardian(s) to decide whether GCU is the right fit for you.
1 Travel reimbursement is only available to accepted prospective traditional campus students, plus one legal guardian, from a student's home city/state to Phoenix, AZ. School/district/organizations staff, faculty and/or personnel are also eligible. To participate, the program requires a signed MOU by both the student and parent/guardian or personnel, approval of travel dates by GCU and receipts submitted per GCU requirements. Travel reimbursement thresholds vary based on location and education sector. Only one form of travel will be reimbursed, air OR ground. GCU does not reimburse hotel expenses, baggage costs, early check-in or travel insurance fees. Travel reimbursement usually occurs within 45 days.