A Message from GCU's Provost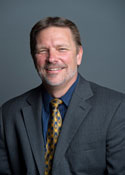 This is a very exciting time at Grand Canyon University (GCU). The rich heritage of the past still thrives in an atmosphere of innovation, energy and growth. Our mission focuses on providing quality academics while remaining a student-centered organization. We offer a wide variety of flexible and accelerated programs to serve both working adults and traditional students, from undergraduate studies to doctoral degree programs.
GCU is also dedicated to maintaining the academic integrity and rigor of our degree programs, which will challenge you intellectually and spiritually. We focus on student retention, accountability of learning outcomes and faculty development.
Dynamic Colleges
The curriculum and culture uniquely address each area of our mission statement, preparing you to become a global citizen, critical thinker, effective communicator and responsible learner. With our foundation as a teachers' and nurses' school, the College of Education and the College of Nursing and Health Care Professions have a long history of providing quality teachers, nurses and healthcare employees throughout the nation. Our Colangelo College of Business develops servant leaders through its many management, leadership and business degree programs. Our newest college, the College of Science, Engineering and Technology, has already added several dynamic degree programs in high-demand STEM fields.
During your time at GCU, you are encouraged to commit to your own academic growth and personal learning. GCU provides the framework to allow you to learn in a safe, non-threatening environment. Both students and faculty have an obligation to create a productive learning atmosphere.
Academic Integrity
We are fortunate to be living in a time with an abundance of high-quality learning materials which can be accessed quickly. However, the ease of access to information on the Internet has increased the concern regarding authenticity in academic work. It is more important than ever to be clear about authorship and citation.
As part of the commitment to your own learning, do not be afraid to ask questions about the expectations for your assignments. Focus on developing research and time management skills, which will help you to avoid taking dishonest shortcuts. The academic compliance website provides useful tutorials, APA and LopesWrite information and a variety of other helpful resources.
GCU has many resources in place to assist you on your academic path, but ultimately, the pursuit of learning is a personal one. I encourage you to thoroughly read the policies regarding academic integrity and student conduct. You are advised to speak with your instructors or academic counselors whenever there are questions about university policy. I encourage you to ensure that your work is guided by the standards of honesty, integrity and excellence that define GCU.
Finding Your Purpose
More than anything, our purpose is to help you find yours. GCU is a collaborative community of students, staff and faculty, all dedicated to one goal: developing innovative servant leaders in their varying fields of endeavor and equipping those leaders with the skills needed to make a tangible difference in their life, their work and their world.
We are dedicated to shaping leaders who have both courage and wisdom, who are not afraid of change and who have the foresight to see its effects and implications.
As your provost, I welcome each of you to GCU.
Use your time here wisely. Get involved. Catch the spirit.
Be a Lope.