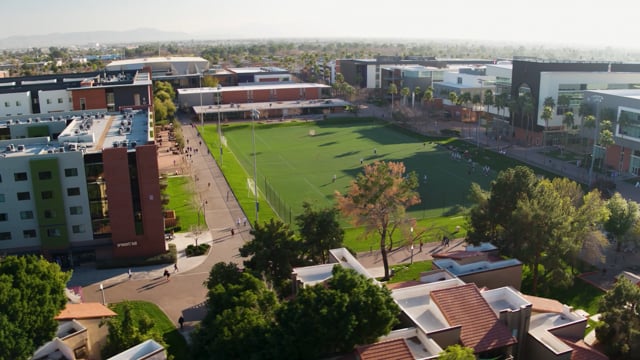 Take a Virtual Tour of GCU Campus
Be sure to take a virtual tour of the GCU campus from the comfort of your own home. You can take a GCU LIVE Tour that is led by a personal tour guide, or virtually visit campus via 360-degree views. This tour will take you throughout the campus showing you the highlights of what makes GCU one of the nicest college campuses in the country.
University Growth
GCU is growing rapidly with plans for continued expansion. Since 2009, we have invested millions into the university to improve the quality of academic offerings and student experiences. This infrastructure includes new classrooms, laboratories, libraries, student support centers, residence halls and recreational facilities. In fall 2016, we welcomed a record number of students to our Phoenix campus and we plan to expand our student population and campus facilities going forward.
Our university also continues to accommodate our growing online and evening student communities. We have tens of thousands of online students attending class from across the globe. In turn, we are constantly refining our digital platforms to deliver GCU's outstanding campus experience to virtual settings. We are also building additional campus locations to help full-time and evening students attend class closer to home.
"New" is infused throughout GCU's growing campus. In fall 2016, we finished construction on a 173,447-square-feet, state-of-the-art engineering building, designed to accommodate our growing number of students studying in STEM majors. We also opened three new on-campus apartment buildings for upperclassmen. As part of our initiative to add 10 new sports facilities to campus in the next two years, we unveiled the brand new, 6,000-seat GCU Stadium in fall 2016, home to our NCAA Division I soccer teams. In 2017, we also proudly unveiled the Jerry Colangelo Museum, honoring the accomplishments of sports icon Jerry Colangelo with photos and mementos.
This is the college experience I dreamed about. I'm in the program helping me work towards my dream career, and I am surrounded by people who are caring and very open within a Christian campus. I would recommend Grand Canyon University to my friends because of the quality of the programs, scholarships and how family oriented this University is.
Student Experience at GCU
At GCU, you'll find everything you need to enjoy a full college experience, from NCAA Division I athletics to suite-style residence halls, popular dining options, fun events and clubs and organizations. Traditional, online and evening students are equally valued members of our community and receive full access to GCU's campus resources and events. Explore our campus by taking a free tour or signing up for Discover GCU.
Grand Canyon Education, Inc. Partnership
Grand Canyon University has selected Grand Canyon Education, Inc. as a partner to support the university's students, faculty and staff. This partnership furthers the mission of the institution by providing opportunities to increase efficiencies by utilizing resources strategically that further the teaching and assessment of student learning, as well as the overall student experience. Grand Canyon University Board of Trustees selected this partnership based on the aligned goals of both organizations, as well as the integrity and ethics of both organizations. For feedback regarding this partnership, please contact resolutions@gcu.edu.
GCU Athletics & GCU Club Sports
GCU is home to 21 NCAA Division I athletics teams, including basketball, soccer, baseball, softball, track and field, golf, volleyball and more. Our mission is to develop good Christian role models who embody the highest standards of excellence in all aspects of their lives, from the classroom to the court. In addition to our Division I teams, we offer other athletics programs, including intramural sports as well as dance and cheer. Follow our teams and learn more about our Division I athletics programs by visiting gculopes.com
GCU also proudly offers a variety club sports teams for men and women, including ice hockey, lacrosse, rugby, tennis, soccer, golf and more. Our club sports teams offer a competitive alternative to our Division I athletics teams while still competing at the national level. Learn more about club sports by visiting clubsports.gcu.edu
Grand Canyon University is committed to excellence - striving to help students become global citizens, critical thinkers, effective communicators and responsible leaders. By elevating higher education and making a private education affordable, we create new opportunities to make quality education accessible and contribute to the future.
At GCU, we think about the future every day. Ours is an atmosphere of constant transformation and innovation. We offer more than 200 academic programs across nine colleges and next-generation online learning platforms. Our visionaries collaborate with industry leaders to develop programs in high-demand fields such as STEM, business, education and healthcare. Unique degree specializations also provide opportunities to help students gain a competitive advantage in tomorrow's workforce. To further uphold our excellence, our executive leadership and faculty members are academic professionals committed to helping you get the most from your education.
As GCU's programs expand, our thriving campus continues to grow rapidly. We expect our campus population to grow to 25,000 students within the next five years and have invested approximately $1 billion in campus and academic infrastructure, such as top-ranked residence halls and resort-style swimming pools, a new high-tech engineering building and labs, GCU Stadium, Brazell Field at GCU Ballpark and more. Our successful Division I and club athletics are also a major draw for students, alumni and members of the greater Phoenix metro area.
Within all of our offerings, our faith remains our cornerstone. GCU's Christian worldview is integrated into all we do, both in the classroom and beyond. We invite students to grow spiritually through our worship services and take part in local and global outreach opportunities. We promote an open dialogue on faith to challenge students to adopt principles of service, morality, compassion and generosity. Academic integrity is also at the heart of our values. We help our students develop practices that support and embrace integrity as a personal, lifelong commitment.
Throughout your experience with GCU, I encourage you to ask insightful questions, explore ideas and produce original work that demonstrates your level of competence and understanding. Make a lasting commitment to professional ethics and achieving honest, well-deserved success. Apply our principles wherever life takes you and add to the value of your GCU degree.
Wishing you the best in your academic endeavors,
Brian Mueller
President
Grand Canyon University
Our Leadership
Our executive leadership and faculty members are academic professionals committed to helping you get the most from your education.
Locations
The Lope spirit stretches beyond Phoenix. Discover our other campus locations.
GCU Campus Map
GCU's main campus is located in the heart of Phoenix.