College of Science, Engineering and Technology Rankings and Statistics
The College of Science, Engineering and Technology at Grand Canyon University (GCU) honors a higher education system that helps you find the right school for you. To achieve this goal, GCU focuses on hands-on quantitative measures, lower student-teacher ratios, dedicated faculty and providing educational practices that give students the opportunity to leave with acquired practical knowledge and experience.
As of Fall 2022, GCU's 162,653 square foot engineering building offers a variety of hands-on experiences to its students via 21 labs that are paired with their scheduled classes and an additional nine labs that can be used by students outside of their classes.
Over 1,000 GCU Honors College students were part of the College of Science, Engineering and Technology in Fall 2022.
Parents often send their children to college with the hopes of them walking away with a solid job and prepared to pursue a rewarding career.2 A hidden gem within the science, engineering and technology programs is our Lopes Live Labs. These labs provide an open-maker space accessible at all times to all students on their first day at GCU.
Students in science, engineering and technology programs at GCU feel the impact of the GCU experience on their first day of class, freshman year.
Our degree programs are designed to provide the skills and credentials to help you position yourself for possible career advancement. Find a degree that aligns with your career goals.

According to Engineering Expectations, two of the top 10 factors students consider when choosing which engineering college to attend are the internship opportunities and campus clubs.3 GCU understands the weight this has on a student's decision, which is why we offer over 1,000 student leadership opportunities, including 106 specific student engagement opportunities during the 2021-22 academic year.
Joining the GCU Technology Club at GCU changed everything for me in my college experience — from being involved with the school to getting real-world experience and skyrocketing my knowledge around cybersecurity. Another great opportunity for me was the Cyber Center of Excellence where they host free events throughout the year to practice cybersecurity skills. They have a bunch of servers set up for the specific purpose to be hacked into — that's their whole deal! It's so cool.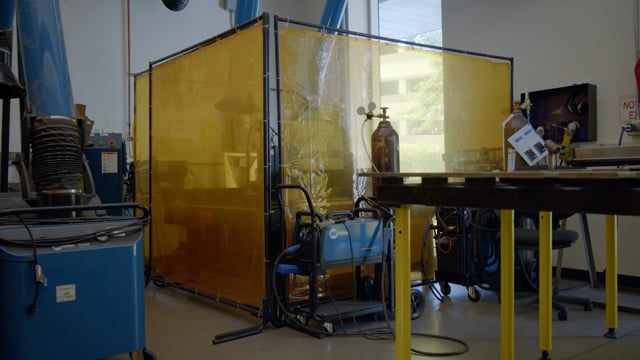 Accessibility of hands-on labs, clubs and engineering-related Research and Design Programs (RDPs) are key strengths of GCU's mission with a goal to prepare you to graduate as innovative and entrepreneurial leaders. Our faculty places a strong emphasis on research but an even stronger emphasis on teaching. You won't find brick and mortar research professors in the College of Science, Engineering and Technology at GCU.
Teaching professors at GCU operate with a mindset of using their expertise and ability in a particular field to teach, rather than teaching based on their research accomplishments. Faculty at GCU place greater value on keeping their office hours open, helping you understand the content being taught and sharing their wisdom with upcoming engineers. Professors at GCU strive to make it easy to build relationships, see your goals and help you envision where you want to end up after graduation.
Someone is always there to help you learn specific machines and equipment, whether it's faculty or experienced students who work in the labs. From the STELLAR program helping fine tune skills to Research and Design Programs to getting students connected outside the classroom, students can learn to apply themselves through hands-on research.
GCU programs are awesome. They're new, innovative, growing and supportive. I feel like 40% of my decision to attend GCU was based on the support you receive from faculty, students, ACE center, career center, clubs, etc. You never feel like you're alone.
Internships, Career and Job Opportunities
In addition to learning from the college faculty connections and their ability to help you build your resume through hands-on experiences, GCU also has resources available to you through Career Connections. Here you'll find information about resume tips, internships, networking and job listings.
Right after my freshman year, I interviewed and got a job in the engineering shops at GCU. You get to work with students on their projects and see them progress while learning the machines yourself. It's been a lot of fun being part of the shops because you get to experience engineering in a very different way. You get that hands-on experience that you don't get in the classrooms."
Showcase and Awards
At GCU, we think it is important to acknowledge the successes that our students, faculty and staff have achieved. Here are just a few of many accomplishments of the College of Science, Engineering and Technology.
GCU faculty member Zachary Ziegler published a manuscript titled "Impact of Wildland Firefighting on Arterial Stiffness and Cardiorespiratory Fitness" in the journal Archives of Environmental and Occupational Health in May 2021. His co-authors include three former GCU students: Joe Sol, Payton Greer, now a student in the AT Still University Physical Therapy Program and Laura Verduzco, now enrolled in the ASU Master of Science in Physical Activity and Health program.4
Dr. Janet Brelin-Fornari, retired associate dean in GCU's College of Science, Engineering and Technology, was recognized by the Society of Women Engineers with the Distinguished Engineering Educator Award, presented to women who have made substantial contributions to engineering education.5
Based on the Bachelor of Science in Information Technology: Cybersecurity degree, the National Security Agency and Department of Homeland Security awarded GCU the National Center of Academic Excellence in Cyber Defense Education (CAE-CD) designation. This designation ensures GCU meets rigorous national standards and gives university students the right to participate in virtual career fairs and other places where the Air Force Civilian Service and the NSA, amongst others, recruit for employment.6
GCU's robotics team, Thunderbots, won the Judges Award at the 2019 VEX U Fall Tournament at Embry-Riddle Aeronautical University in Prescott, Arizona. The award recognized the team's overall efforts and outstanding character at the tournament.7
Trevor Baines, the founder of Arcane Security, established the GCU Technology Club as a student in 2021 with Diego Briceno taking over the GCU Technology Club in 2022. By pooling their talents, these students were able to create Arcane Security as it is known today. Arcane Security is dedicated to providing reliable and affordable security consulting to businesses and people that need it most. These students achieved their goal of creating a company with innovative, transparent, accessible and flexible offerings that allow clients to have a security solution tailored to their needs.8
1 Labs include GCU's metal shop, wood shop, 3D printing areas and La Bell labs. This does not include labs in classroom environments.

2 Dimeo, Jean (2021, April 8). Survey: 45% of Parents Want More Options Than College for Their Children. Route Fifty. Retrieved on May 26, 2023.

3 Engineering Expectations (n.d.). 10 Factors for Choosing the Best Engineering College for You. Retrieved in January 2023.

4 Zeigler, Zachary. Sol, Joe. Verduzco, Laura. Greer, Peyton (2012, May 3). Taylor & Francis Online. Impact of wildland firefighting on arterial stiffness and cardiorespiratory fitness. Retrieved in May 2021.

5 Society of Women Engineers (2021, Jan. 15). Administrative Leadership Roles in Academia. Retrieved on May 26, 2023. 

6 Cision PR Newswire (2019, Oct. 29). Grand Canyon University Awarded Designation From National Security Agency And Department Of Homeland Security. Retrieved on May 26, 2023.

7 Vacek, Rick (2019, Nov. 25). Thunderbots earn award at robotics tournament. GCU News. Retrieved on May 26, 2023.

8 Arcane Security (n.d.). Retrieved on May 26, 2023.