Residence Life and Housing Operations
Welcome home, Lope! Living on campus provides you with both convenience and the opportunity to enjoy a traditional student experience. Our goal in the Office of Residence Life is to provide a safe, comfortable space for you to live. Grand Canyon University offers suite-style residence halls and apartments for new and returning students.
Student Housing Selection
The housing selection process varies depending on if you are a new or returning student. If you are a new student, you will apply for student housing after enrolling at GCU and registering for classes. GCU begins enrolling new students up to two terms prior to their start date. Returning students select housing in the spring term of the academic year. This allows you time to understand campus housing and develop an idea of with whom and where you might like to live during the next academic year.
Housing Accommodations Through Disability Services
GCU may be able to accommodate specific housing requests made through Student Disability Services. If you require specific accommodations, contact Student Disability Services to find out more about our policies.
Student Housing Costs
GCU is committed to keeping housing costs low for students. Housing and meal plan costs are dependent on the accommodations you seek and the type of meal plan you select. Explore our room and board fees to learn more.
Student Housing Options
GCU student housing gives you the benefit of living with peers going through the same experiences as you. Check out the residence halls and apartment options below to see layouts and what is provided in each room.
Apartments
Enjoy your own individualized space with one of our apartment living options. Each on-campus apartment is unfurnished, but includes a fully equipped kitchen and an outdoor recreation area for student activities. There are multiple floor plans to choose from to best fit your needs. Find out more about all our apartment living options, including the housing costs, requirements and selection process.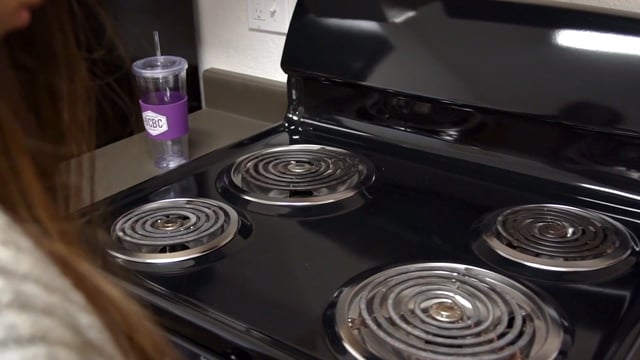 Residence Halls
Our fully furnished residence halls give you all the comforts of home in a safe environment. Each residence hall includes a floor plan of either double or triple occupancy (two students per room) and is co-ed by floor. Features include a laundry facility on each floor, breakout rooms for studying and spacious living room areas. Learn more about which residence hall option is right for you and the costs and requirements for on-campus living.