GCU Students Show off Business Skills at TEDx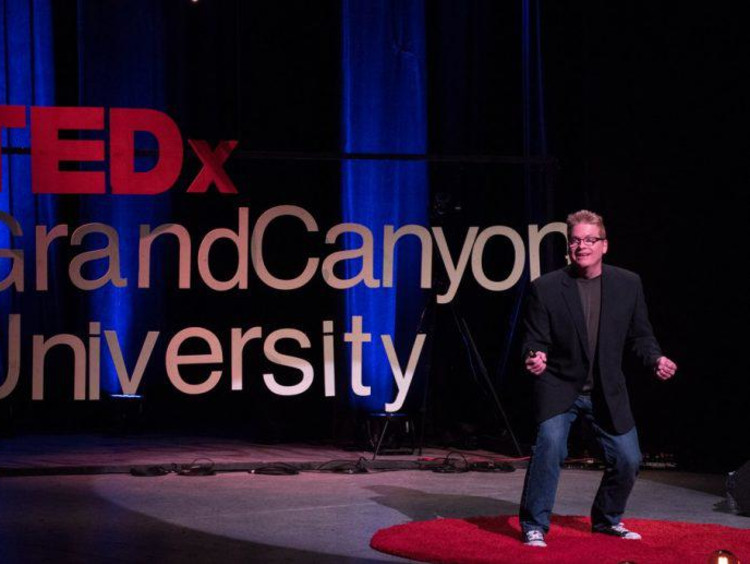 GCU students always bring their A-game and this past spring was no exception. In February of 2018, a group of students from GCU's Colangelo College of Business banded together to put on GCU's second annual TEDx conference. This committee of students include Dominic Pachuillo, Laura Arnold, Josh McGuire, Marco Burgarello, Julia Sena, Elijah Kattke, Brandon Orozco, Justin McLean, Emma Harris, Konno Bennet and Jedidiah Woods.
What is TEDx?
TED stands for Technology, Entertainment and Design and is a non-profit organization that brings people together to give and hear short, but powerful, talks on a variety of topics ranging from politics to bioethics and everything in between. TEDx was started in 2009 and focuses on bringing TED talks to local communities and universities. GCU students saw this as an opportunity for students and faculty to participate in speaking, as well as hear from many professionals.
The Process
This event at GCU is entirely student led. The student board comes up with theme and ideas for it, and then gathers all of the speakers.
After the first TEDx at GCU in 2017, students met again to discuss how they could make the event better the next year. Students were not afraid to make drastic changes for the benefit of the event.
They brought the number of speakers down from twenty to eight and shortened it from an all-day event to one that lasts about three and a half hours. They also changed the venue from the GCU Arena to Ethington Theater. While this past TEDx, was a bit smaller than the first year, the smaller attendance was an intentional decision that shifted the focus of the event to make it more professional.
Entrepreneurial Experience
While holding a TEDx event at GCU is a great accomplishment, what the student board really earned was entrepreneurial experience. Executing such an event mimics some of the same responsibilities that an entrepreneurial faces and involves practicing, learning from past mistakes and then moving forward.
One student, Dominic Pachuilo, president of the student committee, said of the spring 2018 TEDx, "We are running this year's TEDx like any other Fortune 500 professional-development event."
Being involved in this committee will be a great aid in the students' professional development and may increase their job opportunities post-graduation. According to Paul Waterman, the Colangelo College of Business instructor and student advisor, many students from the committee have gotten jobs because of their involvement in the TEDx committee.
The initiative these students have shown and their ability to grow professionally and entrepreneurially will give them a leg up in their future careers.
If you are interested in learning more about GCU's Colangelo College of Business and all of its different degree programs, check out our website or click the Request More Information on this page.
Written by Allison Richmond, a professional writing major.