Why is it Called the Colangelo College of Business?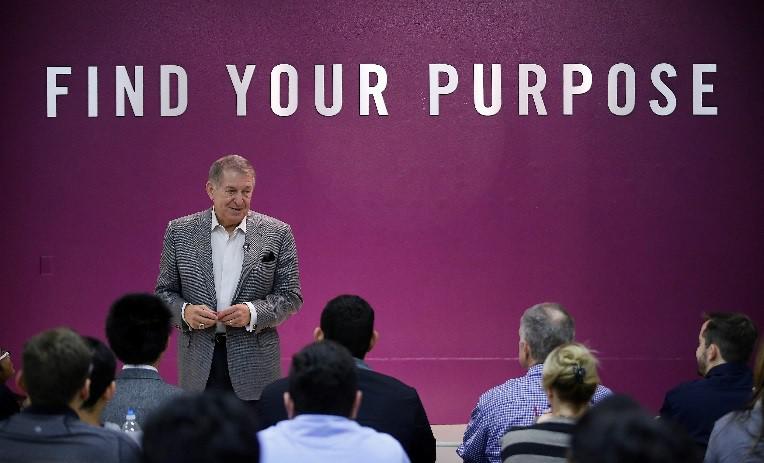 By Brian C. Smith, PhD
Assistant Dean, Colangelo College of Business
Posted on October 21, 2015
in
[ Business & Management ]
"Jerry Colangelo represents the best of what it means to be a Christian university from a standpoint of conducting business with strong character, integrity and servant leadership. We want to instill those same characteristics in every one of our students. If an employer gets a Colangelo College of Business graduate, they will know what they're getting." – Brian Mueller, President and CEO of Grand Canyon University
Jerry Colangelo is the namesake of Grand Canyon University's Colangelo College of Business and possesses over 40 years of sports business experience.
Colangelo was raised in a predominately Italian immigrant neighborhood in Chicago. He was a standout baseball and basketball player during his youth and received 66 college basketball scholarship offers. He originally chose to attend the University of Kansas, largely for the opportunity to compete for a national championship alongside Wilt Chamberlain; however, when Chamberlain left school early to pursue a pro career, Colangelo wound up transferring to the University of Illinois.
Colangelo earned a name for himself within the basketball community, and after college, he was eventually able to leverage that name recognition into an opportunity to help bring pro basketball to the city of Chicago. This marked the birth of the NBA's Chicago Bulls franchise. Just a few years later, Colangelo accepted a job offer to become the general manager of the NBA's newest start-up franchise: the Phoenix Suns. As the story goes, Colangelo and his family relocated to Arizona with a couple of kids, nine suitcases and $300 in his pocket.
Under Colangelo's guidance, the Suns quickly became one of the NBA's model organizations. For his efforts, Colangelo received the NBA's Executive of the Year Award an unprecedented four times. He eventually purchased the Suns franchise and assumed an ownership position; he was also the driving force behind the development of a new basketball arena that helped revitalize downtown Phoenix.
In addition to his work with the Suns, Colangelo also played an instrumental role in bringing Major League Baseball to the Phoenix marketplace. As managing general partner of the Arizona Diamondbacks, Colangelo helped build a state-of-the art ballpark and also led the team to a World Series championship in 2001, becoming the fastest expansion franchise ever to do so.
Since selling off his ownership stakes in the Suns and Diamondbacks, Colangelo has been directing his energy towards USA Basketball. In his current role as chairman, Colangelo has completely transformed the culture of USAB from top to bottom and reinvigorated fundraising efforts, all while leading the team to multiple gold medals in international competition. The upcoming 2016 USAB team that will compete at the Rio Olympics is widely anticipated to be one of the deepest and most formidable teams ever assembled in American basketball history.
Jerry Colangelo at Grand Canyon University
Colangelo's real-world experience is extensive, and he makes a point to regularly engage with GCU students studying within his college. It's clear that he cares. Colangelo visits classrooms, records video content, speaks to students, answers questions and shares knowledge.
He encourages, motivates and inspires. He delivers inspirational messages about faith, family, community and business. He stresses the importance of relationships and talks about how life in general is relational.
"Having Jerry Colangelo on our campus and interacting with students is an incredible resource for the entire university," said Randy Gibb, PhD, dean of the Colangelo College of Business.
"He represents servant leadership, a university pillar in everything he has done for the Phoenix valley. He will speak to a small class of business honors students about conscious capitalism and then a week later help the university secure a Nike partnership – he is everywhere."
Request more information about the Colangelo College of Business by visiting the GCU website.
About Colangelo College of Business
Business Buzz is a blog that features content written by faculty, staff and students from Grand Canyon University's Colangelo College of Business. In addition to profiles about events, students and faculty on campus, you'll also find insight and perspective on the ever-changing business discipline and current global business topics. Learn about the modern business landscape, and how business today continues to grow and evolve to meet the needs of organizations and consumers in the 21st century. Check in every week for the latest news from the business community and around GCU.
---
---