An Analysis of B Corporations by U.S. State
B Corporations are a modern kind of business that balances purpose and profit. To be a Certified B Corporation, a business must volunteer to be graded annually by the nonprofit B Lab to ensure they meet the highest standards of social and environmental performance, public transparency and legal accountability.
As of 2021, there are over 4,000 Certified B Corporations in 77 countries that are spread over 150 industries.1 This certification has become a global movement that's sparked change in the way corporations operate, urging them to act as a force for good while still making gains.
At GCU, we value ethical business practices in our business and management degree programs and see B Corporations as a force for change in sectors that need it the most. That's why we analyzed data on businesses from across the United States to determine which states have the most Certified B Corporations. We also uncovered the B Corporation with the highest impact in every state and which industries have the most B Corporations overall.
Methodology
Using publicly available data from Data.World2 and the official B Corporation1 website, we gathered company profiles on every Certified B Corporation in the United States. Using that data, we mapped out the states with the most B Corporations overall.
In order to determine the highest-impact B Corporation in every state, we manually filtered for and selected the company with the highest overall score, according to bcorporation.net. We also filtered this data by industry to determine which industries have the most B Corporations.
The U.S. States With the Most B Corporations
California took the top spot as the state with the most B Corporations overall, at 320 total certified businesses. California is home to a multitude of companies that are doing their part to remain environmentally conscious and ethically sourced.
Household names like Amy's Kitchen, Thrive Market and Patagonia all comprise this list. Not only is California leading the way in B Corporations, they also have more than double the amount of Certified B Corporations as the second state in the ranking.
That second-place state is New York, with 147 total B Corporations currently operating in the Empire State. Just below New York in the ranking is Oregon, with 139 B Corporations, followed by Colorado with 106.
The Highest Impact B Corporation in Every State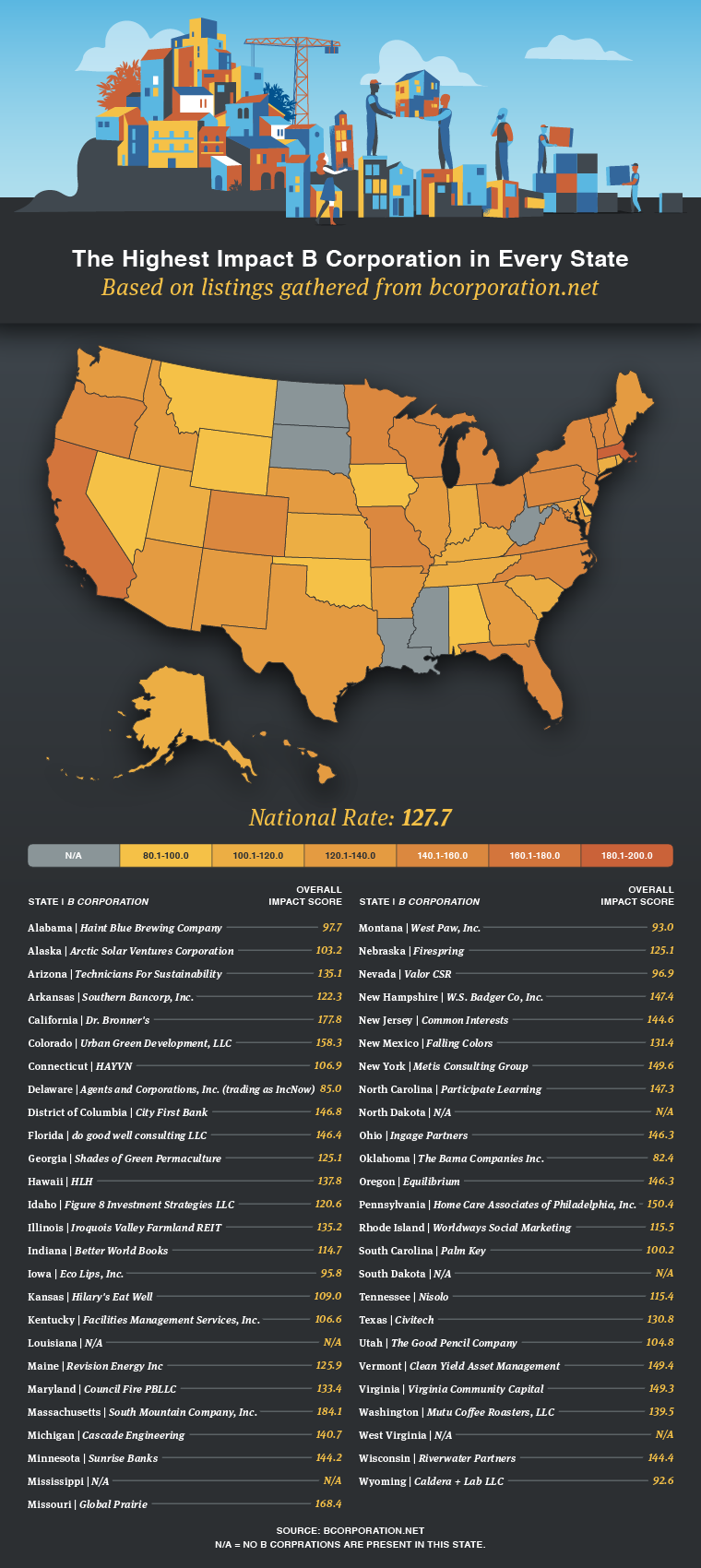 Although most states have at least several Certified B Corporations, not every one of these companies has the same level of performance. This is when we look at the B Impact Score.
In order to become a certified corporation, a business must complete the 200-question B Impact Assessment which is scored out of a possible 200 points.
According to the official site, the B Impact Assessment evaluates how your company's operations and business model impact your workers, community, environment and customers. B Corp Certification proves your business is meeting the highest standards of verified performance — from your supply chain and input materials to your charitable giving and employee benefits.1
Our team discovered the highest-impact B Corporation in every state by utilizing our state-by-state B Corporation data and then choosing the company with the highest overall score.
The Industries With the Most B Corporations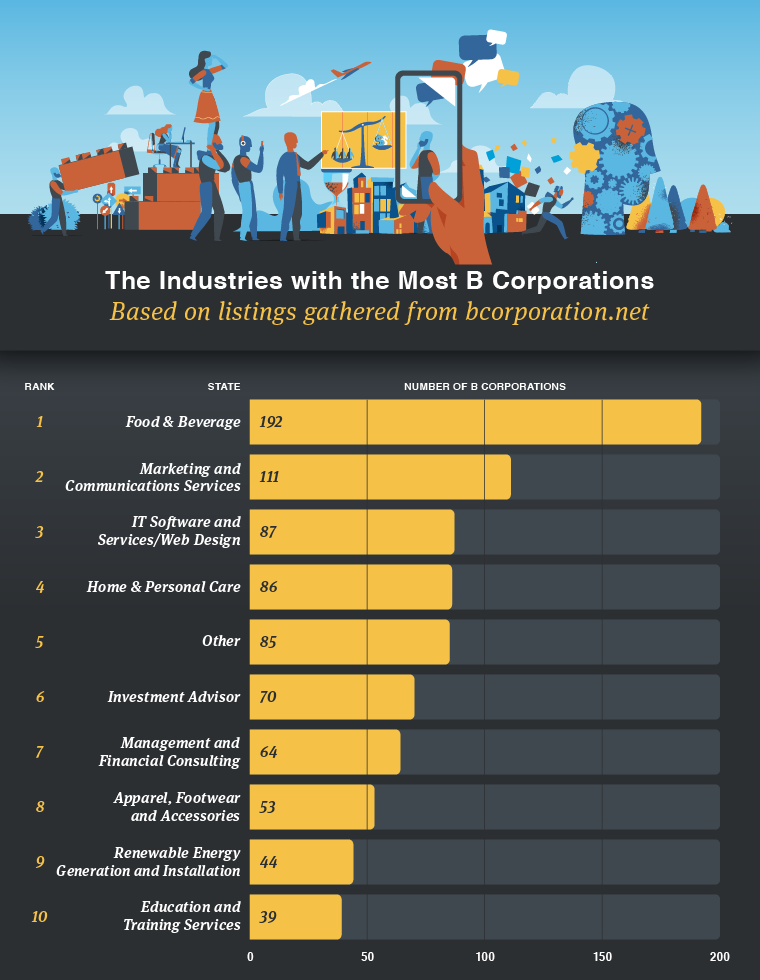 Although there are B Corporations in over 150 industries, certain ones stood out by outpacing others with their number of certified companies.
In particular, the food and beverage industry is the most B-certified industry in the United States. This industry has 192 listed B Corporations. Cabot Creamery, Ben & Jerry's and New Belgium Brewing are notable examples on this list.
The marketing and communications services industry took second place in the ranking, with 111 total certified corporations, while the personal care and IT software and web design industries also took top spots.
Conclusion
The number of Certified B Corporations is steadily growing across the United States as more companies recognize the value in transparency, sustainability, and perhaps most importantly, accountability. Becoming B certified means becoming an advocate for change, a mission that has inspired us at GCU to continue to bring forth in our classrooms and campus.
To learn more about how you can advocate for change throughout a successful career in business, see how you can earn your master's in business at GCU.
Retrieved from:
1 Certified B Corporation in Sept. 2021
2 Data.World in Sept. 2021
Scroll back to top