Best Cities for Internships Across the United States
If you're like many college students, searching for a summer 2020 internship might not be at the top of your to-do list just yet. Despite what you might think, however, now is the time to start thinking about your summer plans. Though it may seem early, here at Grand Canyon University we believe it's never too soon to start planning for your future. After all, how you spend summer break can greatly impact where you end up after graduation.
One of the best ways to set yourself up for post-grad success is to spend your summers interning. Though it might not seem as exciting as lounging by the pool or hanging out with your friends, internships are the best way to gain relevant experience in fields you hope to one day work in.
With all of this, and our students, in mind, we decided to conduct a nationwide internship analysis. To do this, we analyzed Indeed internship listings in the top 50 US cities to determine the most prevalent internship type, the average employee rating of companies that offer internships and the percentage of internships that are paid – all by city.
Interested to see what we found? Read on.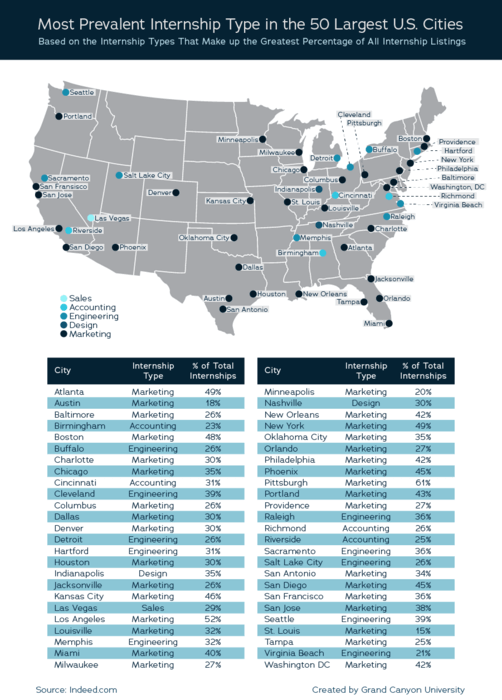 When it comes to deciding where to start your internship hunt, it's important to keep in mind what field you hope to gain more experience in and what cities might have the greatest pool of relevant internships to offer you.
If your goal is to work in marketing, for example, you might find landing an internship to be easy. As it turns out, marketing is the most prevalent field for internships in numerous cities across the US. From San Francisco, San Jose and Portland on the West coast to Philadelphia, Washington DC and Charlotte out East, there is no shortage of marketing internships across the country.
And if you're a marketing major who has always dreamt of living in the Big Apple, be sure to apply for a few New York City internships. Given that nearly half of all New York City internships are marketing-related, there's no better place for an ambitious marketing student.
But if you're more interested in, say, engineering, there are still countless internships out there calling your name – you just have to know where to look. Sacramento, Seattle and Salt Lake City are among the top West coast cities for engineering internships. For those of you in the Eastern part of the country, we recommend starting your search in Boston, where engineering internships account for 48% of all internships.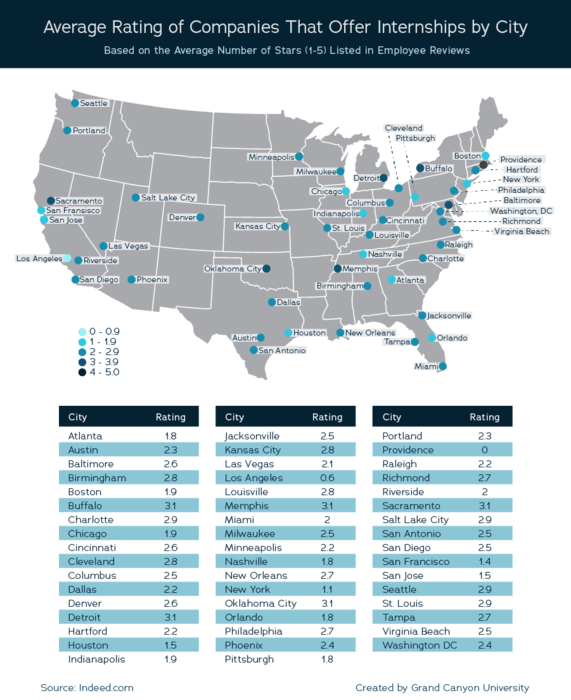 Beyond the sheer number of relevant internships a city has to offer, it's worth considering the average employee rating of companies that offer internships in each city. Despite what you might think, some cities have much higher average employee ratings than others. Memphis, Oklahoma City, Sacramento, Buffalo, Baltimore and Detroit, all of which have 3-star ratings, are the top cities in terms of average company ratings.
But if you value workplace happiness above all else, it might be best to steer clear of internships in Los Angeles and Providence, where ratings fall below the 1-star mark.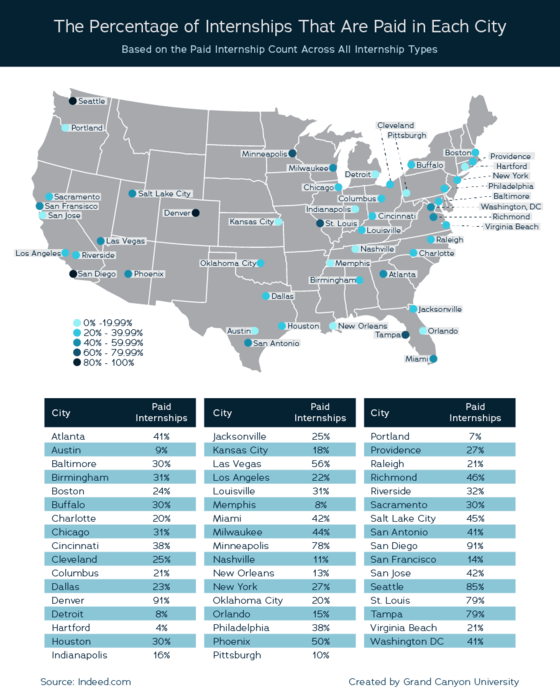 It's no secret that for most college students, the greatest determiner when it comes to accepting an internship is whether or not it is paid. With this in mind, we also decided to look into internship pay in cities across the country.
So, what are the best cities for paid internships, you ask?
Denver, Seattle and San Diego, where 80 to 100 percent of all internships are paid, top the list. But if you're not into the idea of interning in one these cities, you should consider looking in Minneapolis, St. Louis or Tampa, as 78 to 79 percent of all internships in these cities are paid.
For some, however, finding a paid internship isn't financially necessary. If this is you, it might still be worth looking in other cities like Portland, San Jose, Pittsburgh and Austin, where paid internships are much less common.
We hope this inspires you to start your internship hunt sooner rather than later. Who knows? Maybe you're just an application or two away from a summer spent gaining valuable work experience in a new, exciting city!
To learn more about how you can join a community of likeminded students in making change in the world, click the Request More Information button on this page.
Scroll back to top