The Best U.S. Cities for Spring Break
The Best U.S. Cities for Spring Break
Spring break is one of the most anticipated weeks of the year for college students across the nation. It's known for extravagant getaways and it's often used as an opportunity to de-stress and recharge before finishing out the semester.
But which cities are truly the best spring break destinations? Well, look no further because Grand Canyon University's (GCU) partner, Grand Canyon Education, analyzed 27 different U.S. cities and ranked them based on several factors including average hotel cost, drink cost and weather to get all the answers.
Methodology
We started by crafting a list of cities that were associated with spring break destinations across multiple reputable travel sites. We then assigned every city with a score of 0-10 for each of the seven factors, with 10 being the best possible score and zero being the worst.
These scores were then subjectively weighted and averaged together to create a final overall score between zero and 50 for each city. All the websites and data referenced fall within the December 2021 window.
Here are the factors and weights we decided on as well as the sources we pulled the data from:
Ranking factors:

Average Weekly Cost of a Hotel Room
Cost of a Cocktail
Cost of a Beer
Average Temperature
Average Precipitation
Number of Bars Per Capita
Walkability Score
Cost of Inbound Flights
The 10 Best U.S. Cities for Spring Break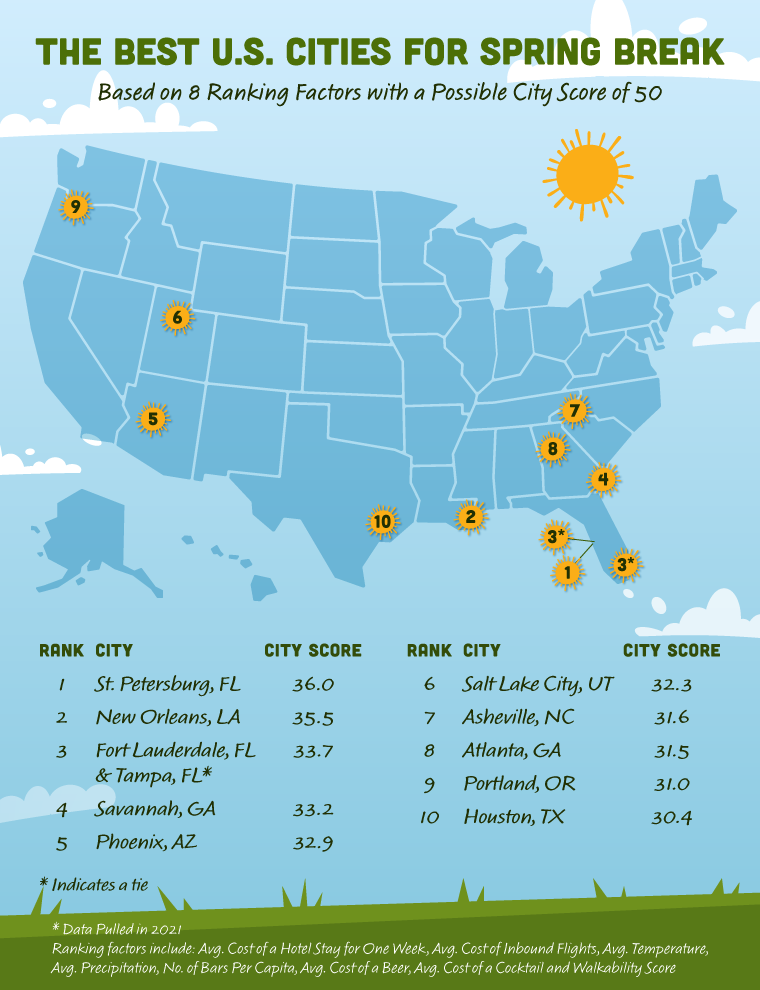 And the best spring break city in the U.S. is… St. Petersburg, Florida! While a Florida city being number one might not come as a surprise, St. Petersburg does seem like an underdog when compared to other Florida cities like Miami and Orlando. But when you find out that St. Petersburg has the fourth most bars per capita, the fifth cheapest beer, and the fifth cheapest cocktails (tied with Fort Lauderdale, Phoenix, Asheville and Houston) out of all the cities on our list, suddenly it does seem like one of the best spring break destinations.
To our surprise, the previously mentioned cities, Miami and Orlando, didn't even make our top 10 best spring break destinations, but fellow Florida cities, Tampa and Fort Lauderdale, tied for third with a matching overall score of 33.7 out of 50.
Florida wasn't the only southern state to have at least one city in the top 10. New Orleans, Savannah, Asheville, Atlanta and Houston all made the cut, while the rest of the list was rounded out by western cities, including Phoenix, Salt Lake City and Portland. What's particularly surprising about these eight cities is that five out of eight cities are not on the beach! Perhaps choices like Houston and New Orleans are close enough to beaches that spring breakers are willing to make the short drive to the beach. This interesting fact could also be indicative of millennials and gen-z taking this time off to visit cool places rather than the beach, like the mountains of Asheville or Atlanta's bustling downtown scene.
The 10 Worst U.S. Cities for Spring Break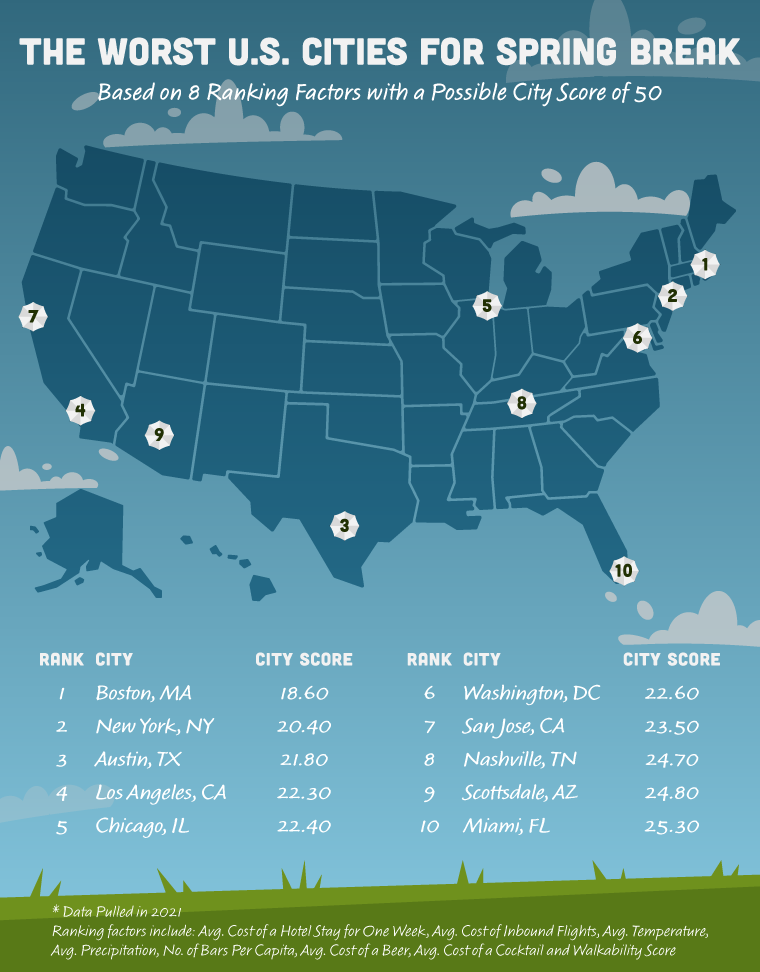 When you're trying to decide where to go for spring break, one of the first U.S. cities you can cross off your list is Boston. With the fourth most costly average week-long hotel stay, the seventh most expensive beer (tied with Portland, Miami and Chicago), eighth most expensive cocktails (tied with Orlando) and a low average temperature, Boston is a great city: just not for spring breakers.
Not only did Miami not make the top 10, it made the bottom 10. While it's only our tenth worst spring break city, having the third most expensive average week-long hotel stay, the most expensive beers and cocktails, this isn't a good look for The Magic City when it comes to picking your next spring break destinations. Luckily, Miami's great weather and high bars per capita keep it pretty far away from the worst cities on the list.
We did not find any regional trends in our bottom 10 spring break cities as they are spread fairly even across the country. One thing to note, however, is the three most populous American cities (NYC, Los Angeles and Chicago) all made the bottom 10. One big reason for this is their inflated big-city prices. Take the cost of drinks for example. Chicago and Los Angeles are tied with Washington D.C. and Scottsdale for the fourth most expensive cocktails, while NYC has the second most expensive cocktails. NYC and Los Angeles are tied with Washington D.C., Scottsdale and Philadelphia for the second most expensive beer.
Scores by City
If you want to peruse the hard numbers for each of the 27 cities yourself, all of the data we gathered and referenced throughout this blog post are in the table below. You can clearly see how each of the popular spring break cities rank compared to one another, which should help you decide where to go for your next spring break vacation.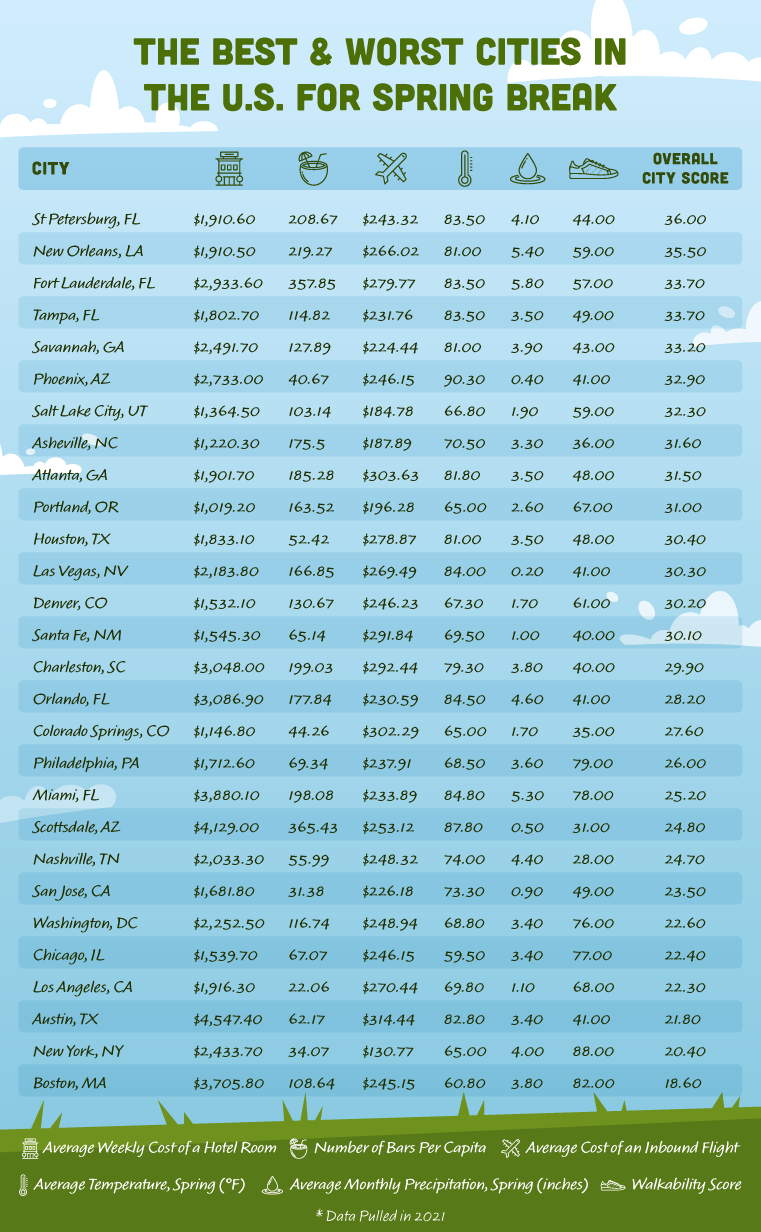 Closing Thoughts
While Boston may not have been your first pick for your spring break travels before reading this study, hopefully you're more prepared to pay the higher prices if you still plan on sticking to the more popular destinations like Miami or LA. Or maybe we convinced you to change plans and pay St. Petersburg or Savannah a visit instead.
Even though almost any college student would prefer an early spring break to their typical classes and books, it's important to remember that pursuing higher education is a choice. You're choosing to gain knowledge. You're choosing to expand your worldview. And of course, you're choosing to earn that degree. GCU is one of the best, yet simultaneously most affordable, private Christian universities in the country, with nine distinct colleges, NCAA Division I athletics and a wide variety of course offerings. Plus, we made the top 10 list of the best places to spend spring break! Learn more about our degree programs today.
GCU would like to draw your attention to the ongoing severity of the COVID-19 pandemic. COVID-19 has negatively impacted millions of people in varying degrees and your safety when traveling is of the utmost importance. Use your best judgment if you are planning a spring break getaway, adjust your plans accordingly and always check the latest CDC travel guidelines7 and restrictions based on your destination of choice.
References:
1 Expedia in January 2022
2 Expatistan in January 2022
3 U.S. Climate Data in January 2022
4 Yellow Pages in January 2022
5 Walk Score in January 2022
6 Bureau of Transportation Statistics in January 2022
7 Centers for Disease Control and Prevention, Travel in January 2022
Scroll back to top