An Analysis of America's Billionaires
Who hasn't pondered what life would be like with a billion dollars? It's easy to fantasize about private jets, multi-million dollar homes and total financial freedom to spend your time doing whatever makes you happiest – and these daydreams aren't just in our heads. The dream of big-time wealth comes alive through television shows like Succession and pop music about being rich. As a whole, our society collectively obsesses over billionaires' luxurious lifestyles.
But what about the billionaires themselves? If we take a deep look at the wealthiest Americans, we can further understand what backgrounds the ultra-wealthy come from, what life decisions drove their success and how they might continue to build their wealth. Maybe by analyzing their patterns, we can all glean some insight into reaching our personal financial goals.
Curious about those possibilities, we, along with help from Grand Canyon Education, decided to analyze America's top billionaires' lives to identify standout moguls and understand trends that might help spot a future billionaire. After all, the business-minded students in GCU's undergraduate, master's and doctoral business programs might be next! 
To build our insights, we analyzed the Forbes 400 List of the Richest People in America1 to find the top 50 U.S. billionaires, according to net worth. After compiling the list, we looked at different demographic factors for each billionaire like age, gender, educational background and even their first jobs. Ultimately, we found some extremely eye-opening trends in the breakdown of America's wealthiest people.
Check out the data below!
America's Top 20 Billionaires Ranked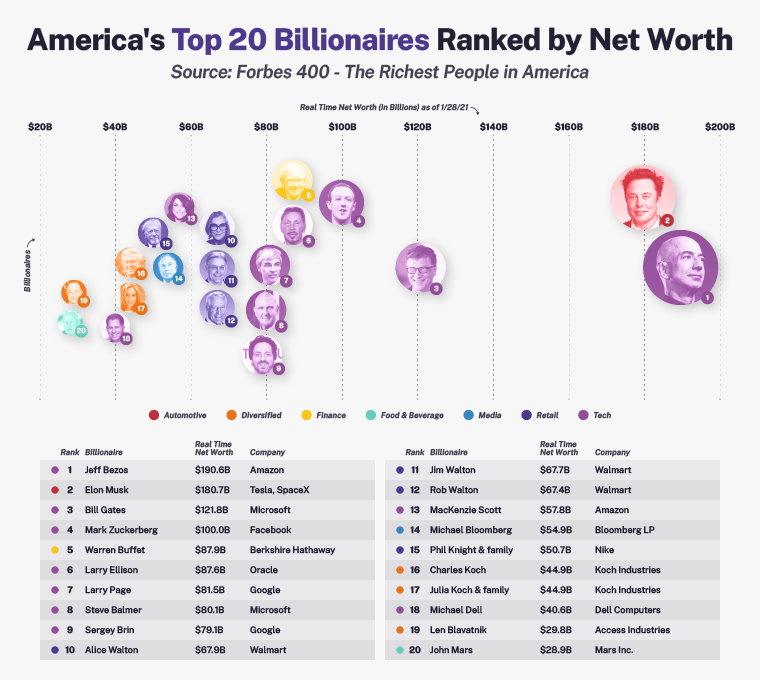 The top spot goes to Jeff Bezos, the founder of Amazon, who rode the wave of e-commerce to the bank. Bezos' net worth totaled $190.6 billion (as of Jan. 28, 2021) at the age of 57. As Amazon continues to expand into different markets like entertainment and even grocery stores, his wealth shows no signs of slowing down.
Among the top 20 billionaires, the vast majority are men in the tech and retail industries. Some other notable names at the top of the list include Bill Gates, Elon Musk and Alice Walton. Interestingly, many of the billionaires in the top 20 have turned their personal brands into household names, with so many Americans' knowing individuals like Bill Gates not just for their company affiliations but for their charity work, political activity and celebrity status.
America's 10 Youngest Billionaires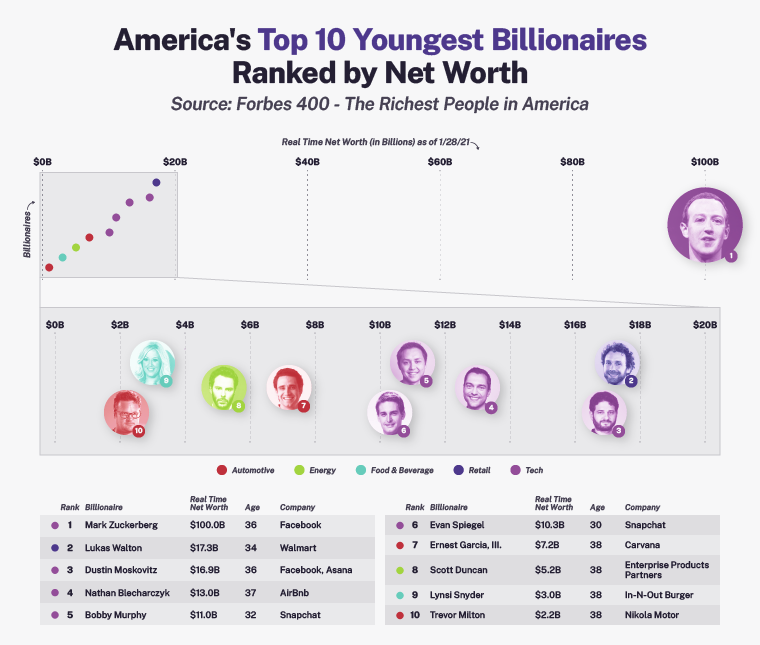 Even though Bezos' pre-retirement-age wealth accumulation is wildly impressive, we also wanted to take a look at the youngest billionaires on the list.
At 30 years old, America's youngest billionaire is Evan Spiegel, the co-founder and CEO of Snapchat. This successful social media app famously rocked the stock market by trading up 44% on the opening day of their IPO.2 As of Jan. 28, 2021, Speigel's net worth is $10.3 billion (a number still only 10.3% of Zuckerberg's total net worth).
Interestingly, only one of the top 10 youngest billionaires was a woman, Lynsi Snyder, the In-N-Out franchise owner. While female executives continue to break the billionaire glass ceiling3 more and more, young billionaires' statistics speak to gender inequality in accessing extreme wealth.
Summarizing America's Top 400 Billionaires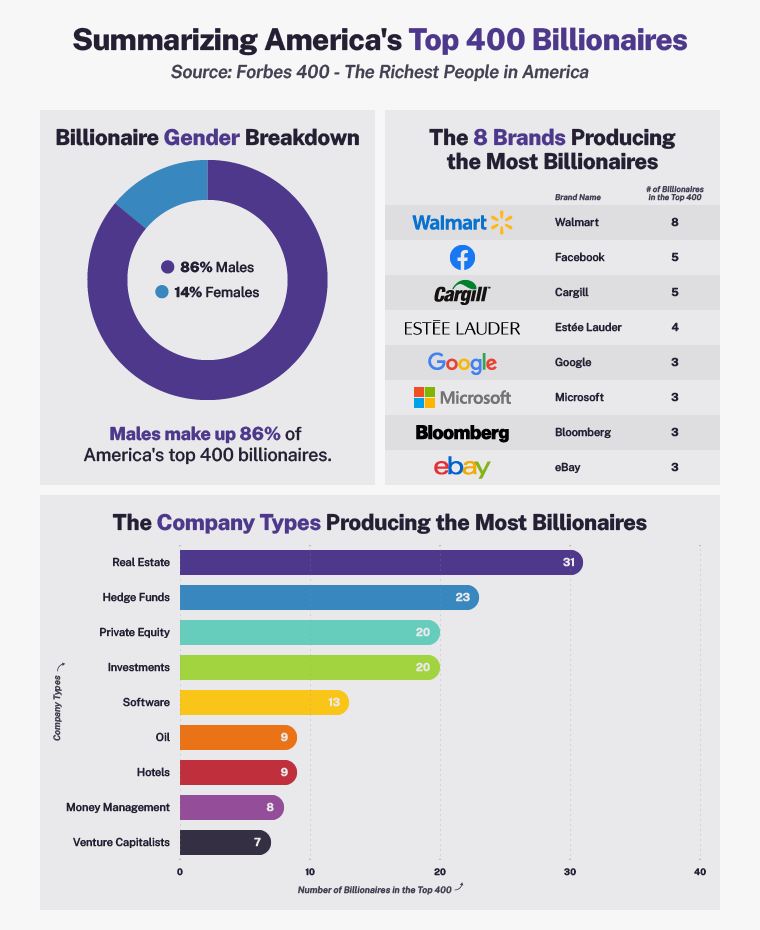 To get a broader understanding of trends in American billionaires' lives, we extended our analysis to the complete list of 400 billionaires.
First, we looked at the gender breakdown. We found that 86% of America's top 400 billionaires are men. Notable names include Bezos, Musk and Gates as previously mentioned. Despite the percentage discrepancy, there are a few women near the top of the list. For instance, Alice Walton assumed her billionaire status having inherited the Walmart fortune from her father – as did her brothers Jim and Rob – and enjoys work as an art curator.4 Another top female on the list, Mackenzie Scott, helped Bezos start Amazon in 1994, and received the bulk of her fortune in a divorce settlement from Bezos. Scott has notably donated billions of her wealth to marginalized communities and local community centers and colleges.5 Jacqueline Mars, along with her brother John and their late brother Forrest Jr., inherited their stakes in Mars Inc. in 1999.6
We also looked at the brands that produced the most billionaires. After all, putting yourself in a thriving business environment is a great way to achieve success. The company most associated with billionaires is Walmart, again due to the Walton family's distribution. A lesser-known brand associated with billionaires is Cargill, an agricultural and bio-industrial corporation associated with five of the lists' billionaires.
The industries that produce the most billionaires include real estate, hedge funds and private equity. These industries helped build immense wealth for some of America's billionaires like Warren Buffet and Thomas Peterffy.
The finance industry notoriously has close ties to wealth; however, many of the most wealthy billionaires from the Forbes 400 were associated with both the technology and retail industries. This interesting dichotomy shows that while pursuing a finance degree might open doors to a billionaire-dense sector, building great products and services may be the secret to achieving the most extreme wealth.
Summarizing America's Top 50 Billionaires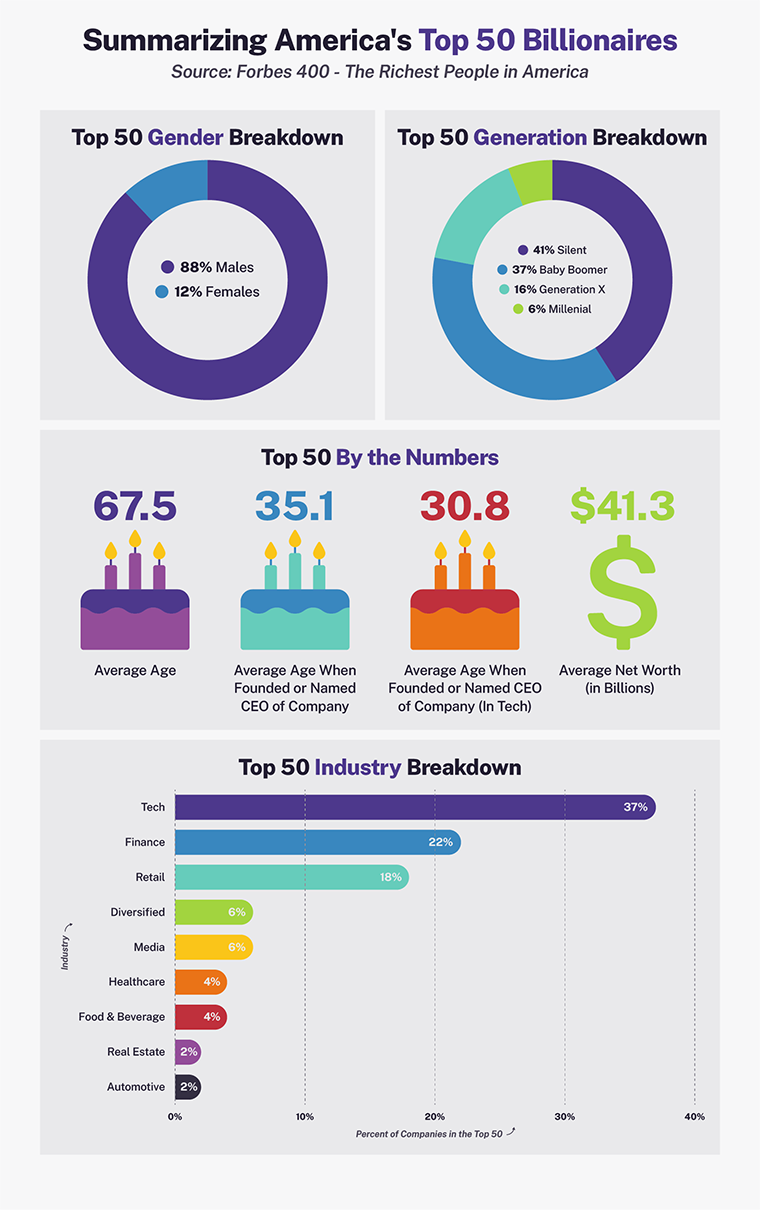 As major American industries change, we also may see generational waves of wealth change. Of the wealthiest Americans, the vast majority of billionaires are from the silent and baby boomer generations. For each generation, barriers to and opportunities for wealth exist. But for now, the explosion of "big tech" and "big data" may be the key for Millennials or Generation Z to achieve financial freedom. At GCU, we see our students pursuing this opportunity by enrolling in coursework in technical fields like computer science and data analytics.
We also noted that across the board, for all types of generations, the average age when billionaires were named CEOs was only 35.1. Overall, this age marks a pretty early period in an individual's career to take such reigns. An even more noticeable statistic is that in the tech industry, the average age to become CEO is only 30.8. This trend in younger individuals becoming CEOs speaks to greater power in more youthful generations than ever before.7
In terms of education, there is no one blueprint for what creates a billionaire. Only 6% of billionaires have their PhD, and 16% just completed high school. However, we noticed that 40% achieved a master's program in business administration or another field. GCU offers master's degree programs in everything from computer science to psychology for those looking to join these individuals. 
We also took note of the institutions from which billionaires received their degrees. Despite popular stories of billionaires like Mark Zuckerberg dropping out of Harvard University to start Facebook, only 14% of billionaires are college drop-outs. So, it is worth it to finish your degree program. However, we also noted that only one-third of billionaires come from the Ivy League. This vital statistic shows that influential entrepreneurs can come from any degree program style, regardless of the name on a college sweatshirt.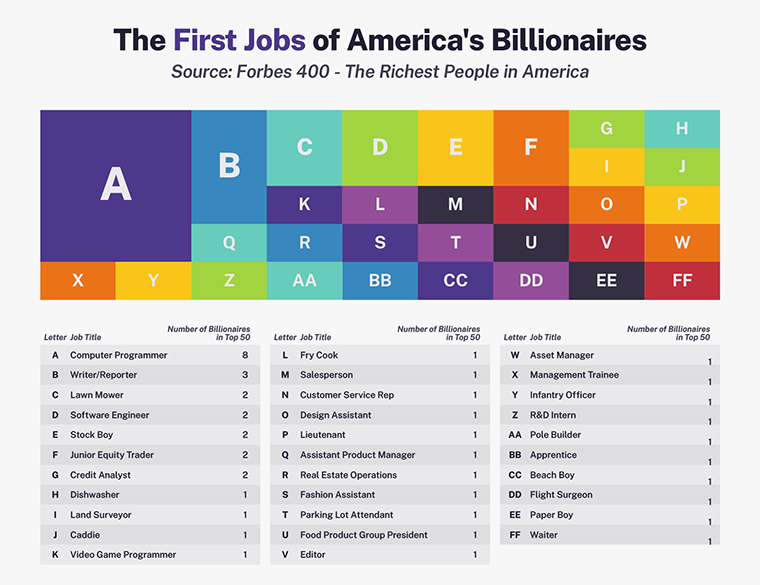 Finally, we decided to finish at the beginning. We researched America's leading billionaires' first jobs and were pleasantly surprised by the humble beginnings of many of the superrich.
By far, the most frequent first job is a computer programmer – as was the case for Bill Gates, who would go on to start Microsoft and change computers forever. However, some are far less indicative of financial success. Two of America's top billionaires kicked off their careers as lawn mowers, and others filled their first piggy banks as paperboys (Buffet), fry cooks (Bezos) and dishwashers (Dell).
Wrap Up
In the end, we had a lot of fun looking into the lives of Americas' billionaires. We saw that many of America's billionaires do include older men who pursued traditional careers in finance and investments. However, the statistics around early jobs, varying degrees of education and new money in tech indicate that a new generation of wealth is underway.
No matter what financial success means to you, you can explore your own career goals by earning a degree from GCU. Our students excel in a whole array of fields and might even make that future billionaire list. Check out our degree listings and learn more about GCU today. 
Retrieved from:
1Forbes, "The Forbes 400" in January 2021
2CNBC, "Snap closes up 44% after rollicking IPO" in March 2021
3Forbes, "Record Number Of America's Self-Made Women Billionaires" in March 2021
4Forbes, "Alice Walton Profile" in March 2021
5Vogue, "7 Things to Know About MacKenzie Scott, the Woman Who Has Donated $6 Billion in 2020" in March 2021
6Forbes, "John Mars Profile" in March 2021
7MIT Sloan Management Review, "How Tech CEOs Are Redefining the Top Job" in March 2021
The views and opinions expressed in this article are those of the author's and do not necessarily reflect the official policy or position of Grand Canyon University. Any sources cited were accurate as of the publish date.