GCU Student Leadership – Spotlight: RA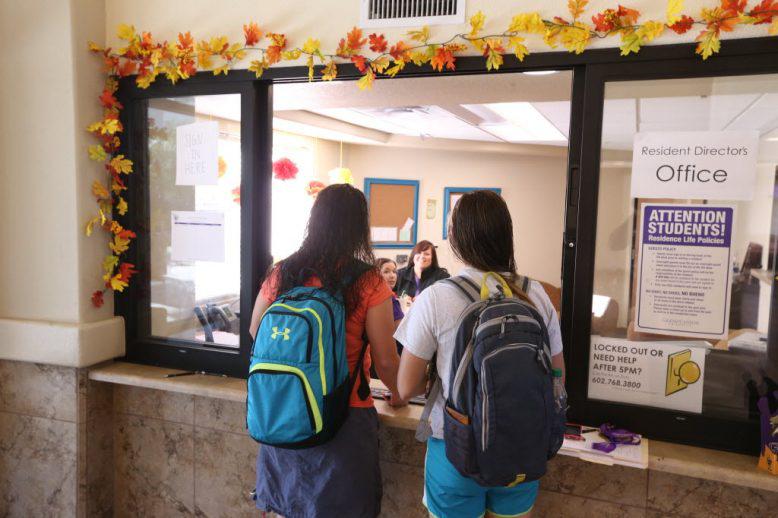 Posted on July 18, 2015
in
[ GCU Experience ]
Students on a mission to serve others and fine tune their leadership skills will find plenty of opportunities at Grand Canyon University. Whether it's as a Resident Assistant, Life Leader, ASGCU official, global mission trip volunteer or local outreach leader, there are so many incredible ways to find your purpose and leave a lasting impact.
With that, we would like to highlight the Resident Assistant (RA) position. At GCU, each floor in every dorm is staffed with several Resident Assistants. RAs help coordinate campus move-in, build a community among hall residents, provide conflict mediation and support students during times of need. Another huge plus of becoming an RA is receiving a Resident Assistant scholarship covering room and board.
Interested in exploring RA opportunities at GCU? Read on for a first-hand account from guest poster Lindsey Fatherly about her experience manning the ship of dorm life at GCU.
"When you are a RA the main goal of your position is to make sure all the students on your floor are living peacefully. Sometimes you will have to help roommates work through conflicts. You also spend time with students uplifting them on their hard days and doing fun activities with them on their good days."
"Once a month you work with a partner RA to come up with an event for your floor.  My favorite event with my floor had to be when we went to the roller skating rink in our best "Thrift Shop" wardrobe. In general though, I really enjoyed just sitting in my room with the door open for residents to stop in and tell me about their days, families, classes or anything exciting going on in their lives. My absolute favorite part of being an RA was the sisterhood I developed with the other RAs."
"Being an RA will allow you to grow in many ways. For me, I learned to live an intentional life. After this year, I recognized that everyone needs other people in their lives who care and challenge them to keep progressing. The cool thing about this lesson is once you learn to be intentional with others, you will develop true relationships that will last a life time. Being an RA has been one of the best leadership positions for my personal growth. When you focus on others, you will get a lot back in return."
Want to learn more about the campus experience at Grand Canyon University? Visit our website today or request more information using the button at the top of the page.
About
Learn the best tips to enhance your student experience and get answers to relevant questions. Come back for weekly updates on how to master living life on campus, change your major, or how to brew coffee for those early morning classes. Through our articles, we hope you can partake in a successful and enjoyable college experience. Lopes up!
---
---