Kadin Breeze on the Honors Dominican Republic Vocational Mission Trip
Interested in traveling on a mission trip while learning skills you can add to your resume? The Honors College's Dominican Republic Vocational Mission Trip may be for you! We interviewed an honors student, Kadin Breeze, who went on the trip last year. Read more about his experience.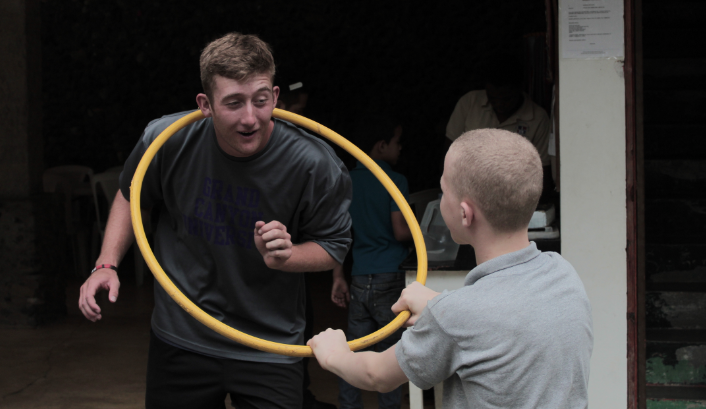 Why did you decide to go on the Dominican Republic Trip?
Before this trip, I had never traveled internationally or taken part in a mission trip. The decisive factors for me to go on this trip laid in the opportunity to serve God in an international setting, ignite my faith by witnessing worship from believers in a different culture while speaking a different language and connect with locals through a common passion for the game of baseball.
What team were you on? What was a typical day like?
I served with the men's sports ministry site. Following quiet time at our SI base which consisted of a daily devotional, a Bible teaching in the chapel and breakfast in the cafeteria, I traveled alongside my ministry site leaders Dave, Moreno and Zurdo to the nearby town of Buena Vista to visit an elementary/middle school. There we would start with a brief Bible message for each class and proceed to run physical education classes alongside the women's sports ministry team. We played sports such as volleyball, basketball and baseball and taught the fundamentals of the game. In the afternoon, we traveled a short way from the school to the local baseball field where I connected with ballplayers of various skillsets. Here, I became an assistant coach for Elohim Baseball Club, conducting drills for different positions, teaching fundamentals of the game and joining in with them, whether fielding fly balls or taking batting practice. I concluded practice by sharing a passage from the Bible with an application component. After returning to the SI base, it was time for dinner and before the night ended, group time with our GCU peers where we engaged in worship, encouraged one another and played an always-entertaining game!
What was a highlight of your trip?
The highlight of my trip came just before the end of a practice when I went for a run through the countryside with a group of pitchers who were completing their usual post-throwing routine. Here, I was in the awe of the lush green landscape and challenged by the ballplayer's endurance. We bonded through my limited Spanish-speaking capabilities, yet shared proficiency in the common language of baseball made for plenty of smiles, laughter and moments I will not forget for the rest of my life.
What was something that you weren't expecting?
I envisioned beforehand the immense impact the local community in Jarabacoa would have on me as I returned home, which it undoubtedly did. However, I could not have imagined the strength of the community created within the group of GCU students who embarked on the trip. For the most part, we entered as shy strangers and left the Dominican Republic a close-knit group of strong friends who continue to actively build upon our friendships here at GCU.
What would you say to someone who is unsure about going on the trip?
There are a multitude of reasons I could offer for going on this trip. First is the authentic community developed with the locals and with your GCU peers. In addition, you gain invaluable learning and hands-on experience in your vocation, and there is opportunity to breathe life into your faith while experiencing the breathtaking beauty of Jarabacoa (a.k.a. "the City of Eternal Spring"). I am so thankful for my enduring friendships and I hope other people get to experience this too.
This year the Dominican Republic Trip is May 13-25th. Email gcuhonors@gcu.edu to reserve your spot!
To learn more about how you can join a community of likeminded honors students in making change in the world, visit our website or click the Request More Information button on this page.
Scroll back to top