Life After College: A Survey
Life after college can be intimidating. Having the structure and safety net of classes, endless nights of studying and juggling social activities can be shocking when graduates are suddenly thrown into the real world of adult life. Many graduates often find themselves suddenly questioning major areas of their life. Am I in the right job? Should I get married? Should I buy a house?
After moving your tassel from the right to the left, walking across the stage and receiving that coveted diploma, graduates are hit with life-changing decisions around every corner.
Adulting means that you're no longer on the rigid schedule of courses and extracurriculars that you were during school. Instead, you have much more freedom to set your own timelines. But along with that freedom comes substantial responsibility in the form of bills, relationships and more.
In this campaign, Grand Canyon University's (GCU) partner, Grand Canyon Education (GCE), surveyed recent American college graduates to see how they are dealing with life after college, transitioning into full adulthood and whether they have hit a quarter-life crisis.
Methodology
We ran a survey of 1,000 respondents in March of 2022. All survey respondents were college graduates between the ages of 25 and 35. We asked questions pertaining to their career, their happiness after college, social lives and overall accomplishments to find out how recent grads are dealing with life after college.
Do you Feel Pressure to…?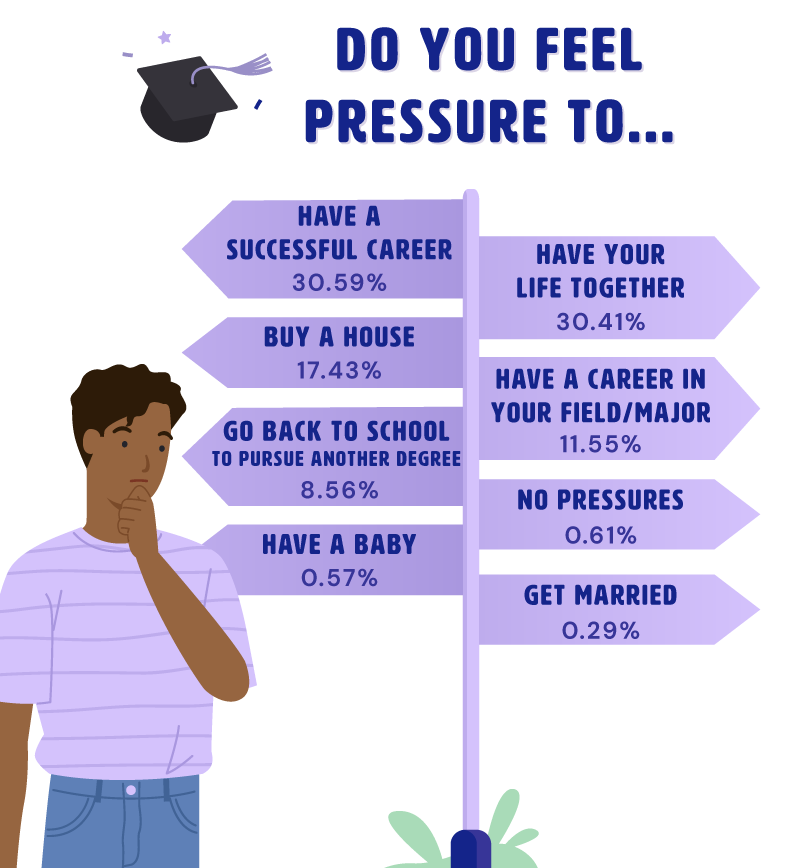 Diving into our survey results, we first wanted to know what pressures recent college graduates are feeling after earning their degrees. College is undoubtedly a stressful period of life, but post-grad comes along with its own set of anxiety-inducing obligations.
Unsurprisingly, the top stressor according to recent graduates is having a successful career. For most, increased earning potential and job security are primary motivators for attending college, so it makes sense that having a successful career would be the leading concern for the years following.1
But professional potential isn't the only thing on the minds of recent college graduates. Other top areas considered to be stressors are buying a house (according to 17.4%) and having a career in your field or major (according to 11.6%). Having your life together, or in other words, a combination of all these life stressors, is a concern for 30.4% of college graduates. Just a mere 0.6% say they experience no pressures after college.
Major life events are exciting to some but can be stressful to others. However, according to our survey, having a baby and getting married are considered to be the lowest areas of concern for young adults with college degrees. This correlates directly with how generations over time are waiting longer to start families until they are established in their careers.2
Post-Grad Accomplishments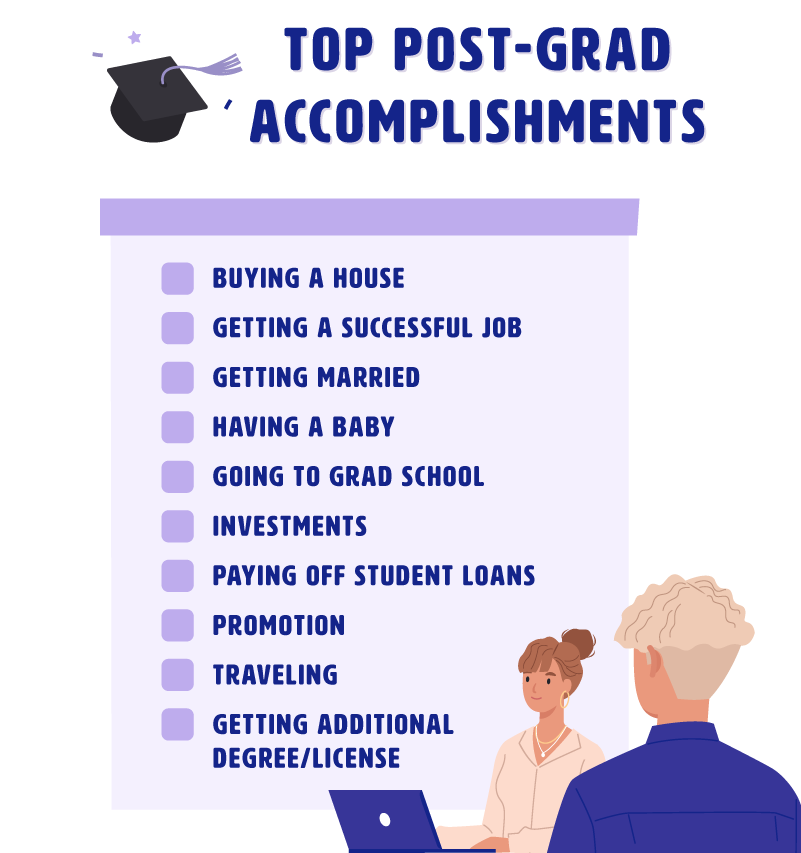 The good news is that post-grad life is not all stress. There are also many exciting achievements that people experience immediately following graduation. The first few years after college may be a roller coaster, but they're also full of several opportunities.
Today's highly competitive housing market isn't stopping new graduates from achieving their goals.3 The majority of recent graduates informed us that their biggest accomplishment was buying a house. Such a purchase is a large investment and oftentimes an indicator of stability.4 Other points of accomplishment post-graduation include getting a successful job, getting married, having a baby and going to grad school. Interestingly, these high areas of accomplishment were also some of the lowest stressors mentioned previously.
Post-Grad Living Situations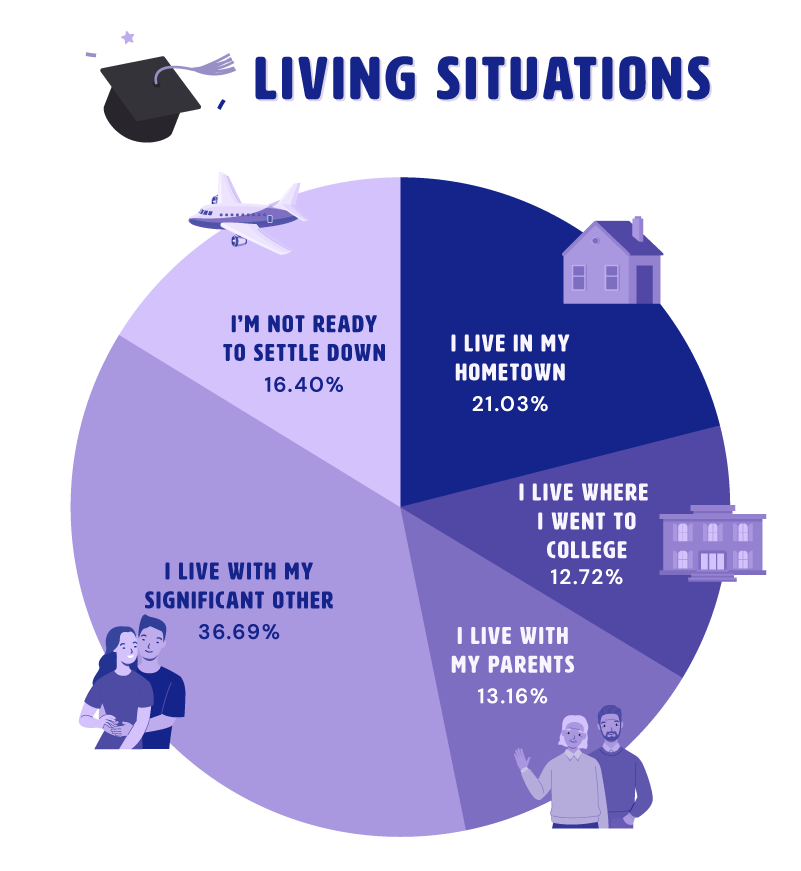 University housing – whether in a dorm room, apartment or another living space – is fun while you're in school, but getting your own space that doesn't involve a lofted bed or a roommate is one of the many perks of adult life. Even if you did have your own space or worked remotely in college, there's much more flexibility after college when you don't have to plan your space around your class schedule.
However, living completely alone isn't the route the majority of recent graduates take. Over a third of respondents (36.69%) live with their significant other. They say home is where the heart is, and that's true for the one in five graduates (21.03%) living in their hometown after earning their degree.
On the other hand, 16.40% are in no hurry to settle down yet. Whether that's because they're exploring the globe through travel or they're just not ready to commit to a specific location, we can't blame them for wanting to test the waters.
College Life vs "Adulting"

College is intended to provide the skills and resources needed to be successful in adult life. But day-to-day life looks much different for post-graduates than it does for students. Additionally, there are several emotional and social challenges associated with adult life that college students don't regularly encounter.
For example, 33% of people say that the college workload (academically) was difficult or very difficult, compared to 37.1% who share this sentiment about their post-grad workload (adulting). From another lens, 44.4% said college was emotionally challenging, compared to 56.2% who say the adult world is emotionally challenging. The further you progress into your life, the more impactful situations become (i.e. you may be dealing with conflicts with your husband or wife rather than your high school boyfriend), so we're not surprised to see this heightened pressure into adult-life.
A similar pattern trends when it comes to social challenges. One in 10 (9.57%) people say socializing in college was 'very easy'. Just 3.9% agree when it comes to post-grad. As graduates often find themselves in new jobs, new living arrangements and maybe even new towns post-graduation, making friends in a new environment is often one of the biggest challenges for adults.5
Life After College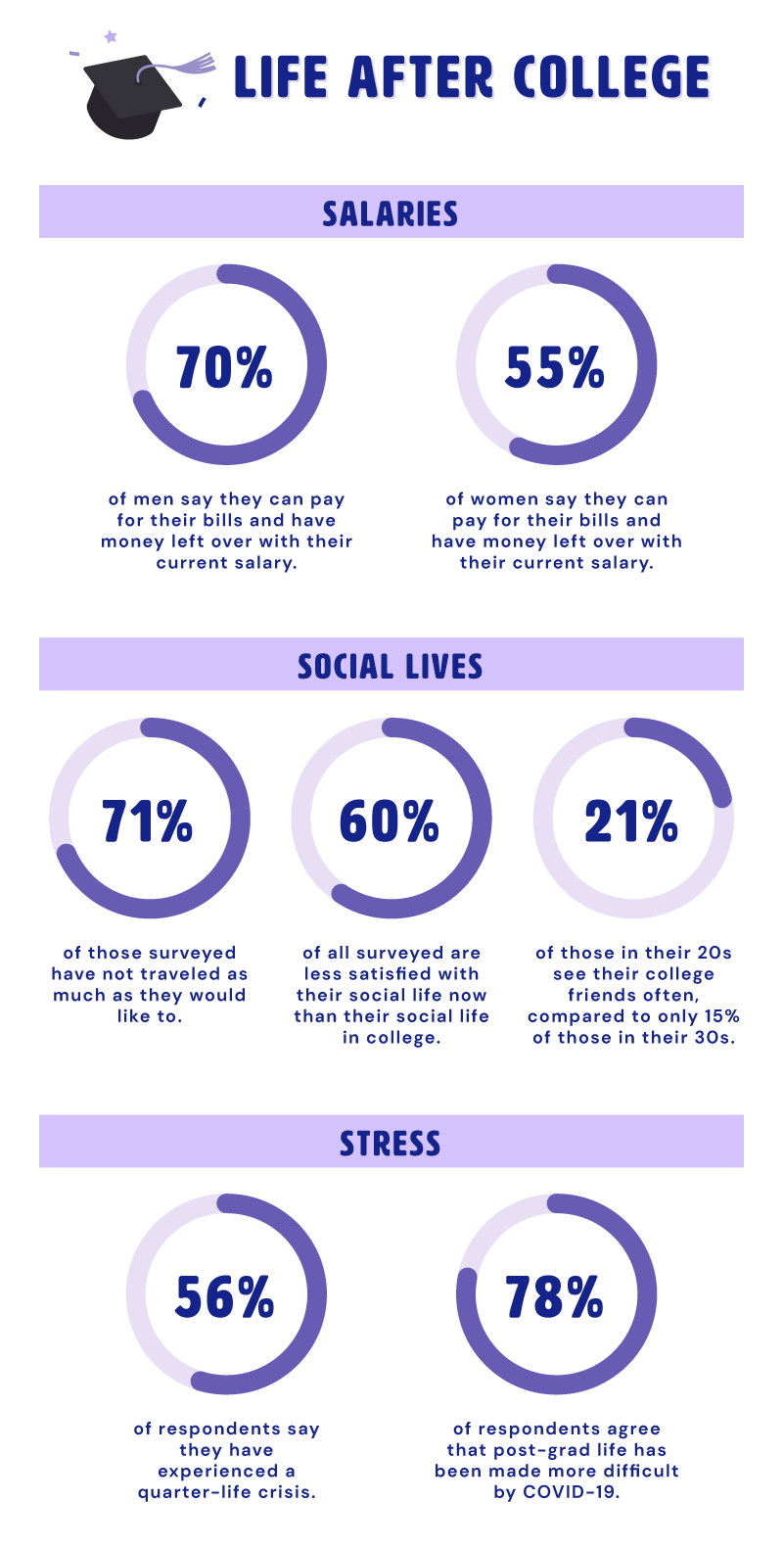 Zooming out, we wanted to take a look at the overall perspectives on life after college. Finances play a big role throughout much of life, but in different ways for those who have graduated college. For example, with the help of a stable job and decent salary after graduating, 70% of men and 55% of women feel financially comfortable after graduation college (i.e. can pay for their bills and have spending money remaining).
Beyond finances, other challenges post-graduates experience extend into broader mental health issues. For example, 56% of people say they have experienced a quarter-life crisis. A quarter-life crisis is an earlier version of the midlife crisis, where young adults often feel that their work or social interactions are not fulfilling their needs and expectations.6
Certainly the global COVID-19 pandemic has not made things easier for post-graduates. A whopping 78% of respondents say that post-grad life has been made more difficult by the pandemic. Getting out in the world and meeting new people looks much different in 2022 than it was a few years ago. However, this may be the year we learn to adapt to this new endemic reality in the ways we live, work, travel, attend school, socialize and continue to enjoy life.
Closing Thoughts
Ultimately, graduating college is incredibly bittersweet. Entering adulthood is an exciting period of transition. While it may seem scary and overwhelming at first, the accomplishments and achievements that you create will make everything worth it.
It's unnerving to step outside of your comfort zone as a new graduate, especially when the consistent routine of college is no longer a part of your schedule. But similar to the transition to adulthood, the tough challenges are what makes the journey worthwhile.
However, if you fall into the 8.6% of recent graduates who miss the hustle and challenge of college life, or maybe you're interested in returning to the classroom in hopes of a potential promotion or career change, GCU can help you pursue your goals. With a graduate degree from GCU, you will be able to work toward education and career goals while maintaining a sense of balance. Find a master's degree or doctoral degree that works for you and your schedule with both online and on-campus programs.
Additionally, GCU offers several alumni resources to support students by helping you stay connected to the GCU community and continue to pursue your purpose. Whether you need career support or want to connect with other alumni in your area, GCU is here for you. If you miss the challenge of school or want to pursue a higher education, apply today and head back to the classroom!
Retrieved from:
1 Nerd Wallet, 7 Reasons to Go to College, Backed by Data in April 2022
2 Pew Research Center, As Millennials Near 40, They're Approaching Family Life Differently Than Previous Generations in April 2022
3 Bloomberg, U.S. Housing Costs Surge, With No End In Sight in April 2022
4 Business Insider, Homeownership Created Financial Stability for me in 5 Ways in April 2022
5 WBUR, You're not uncool. Making friends as an adult is just hard in April 2022
6 Bradley University, Understanding the Quarter-life Crisis in April 2022
The views and opinions expressed in this article are those of the author's and do not necessarily reflect the official policy or position of Grand Canyon University. Any sources cited were accurate as of the publish date.