The Most Popular Children's Books by State
Nostalgia is a powerful force. If you ask someone what their favorite book was when they were a kid, many will be able to produce an answer almost immediately. If they have kids of their own, it's probably a safe bet that the book they named is somewhere in their home now, available for their child or children to enjoy as they did.
At Grand Canyon University (GCU), we believe that reading and learning is critical for the growth of developing minds at a young age. Thinking about our own childhood favorites and the important role that these books play in an early love for reading, we got curious — are certain children's books more popular in different states? To examine this topic, GCU's partner, Grand Canyon Education, pulled and researched the data to find out which children's book is the most popular in every U.S. State and reported the findings below.
Methodology
We used Time1 and Publishers Weekly2 to put together an initial list of 44 of the most popular children's books of all time (these were the books that had enough search volume to ensure conclusive results), then pulled Google Trends data from November 2020 to November 2021 to see which book is the most searched for in each state.3 Books that target an older audience, like the Harry Potter series, were not considered children's books for the sake of this study. Read on to see what we found!
The Most Popular Children's Book in Every U.S. State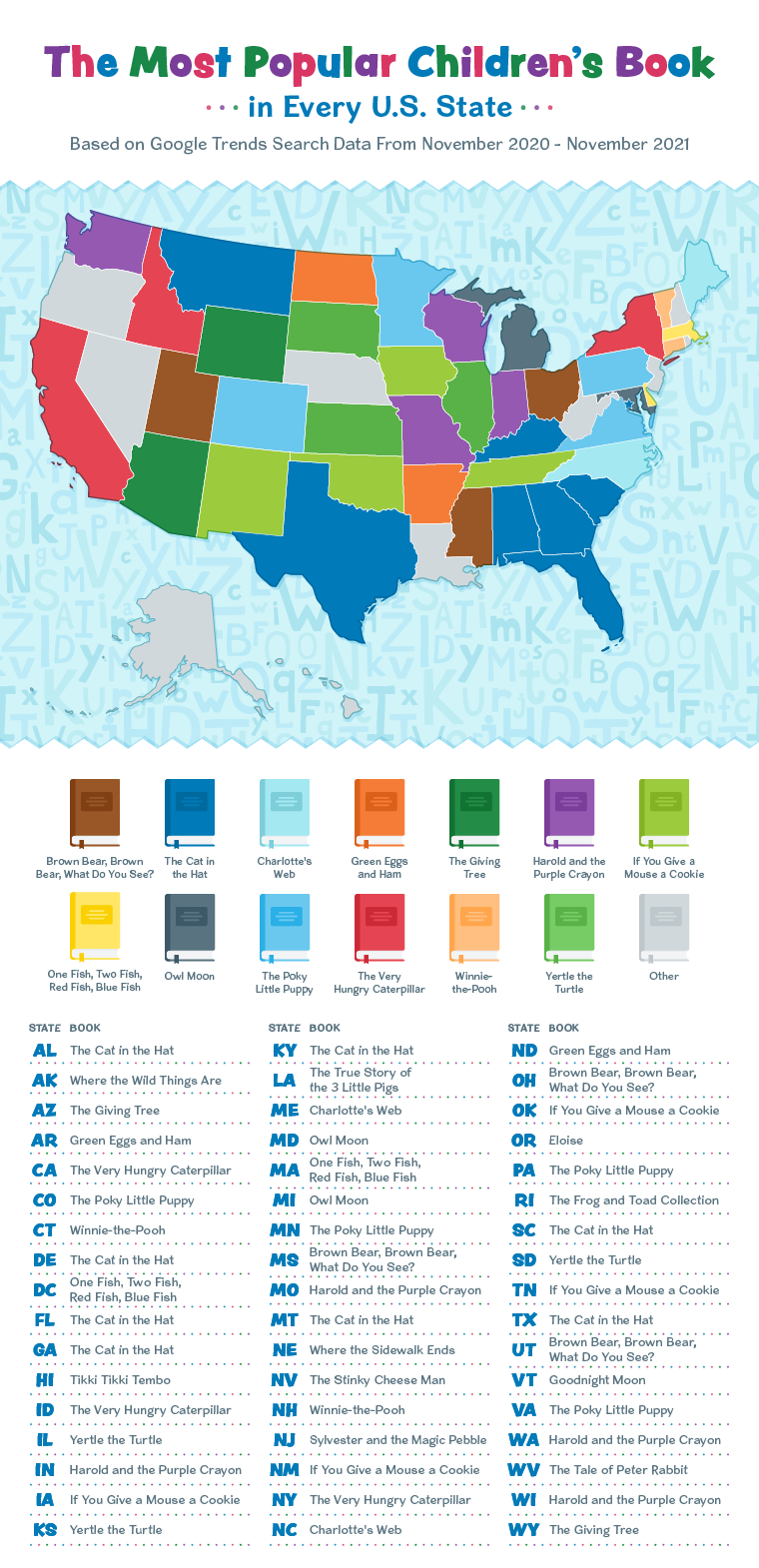 Out of the 44 eligible books, 23 were the number one choice in at least one state. Seuss reigned supreme in the south, with Alabama, Arkansas, Florida, Georgia, Kentucky, South Carolina and Texas all sporting Dr. Seuss books as their most popular, but these states weren't the only ones getting loose with Seuss. Midwestern states Illinois, Kansas and South Dakota all had Seuss's "Yertle the Turtle" as their pick, and North Dakota ate "Green Eggs and Ham" for breakfast, lunch and dinner.
Out west, California, Idaho and Utah all searched books illustrated by Eric Carle the most, and northeastern states Connecticut and New Hampshire both share an apparent love for "Winnie the Pooh."
The Most Popular Children's Book Overall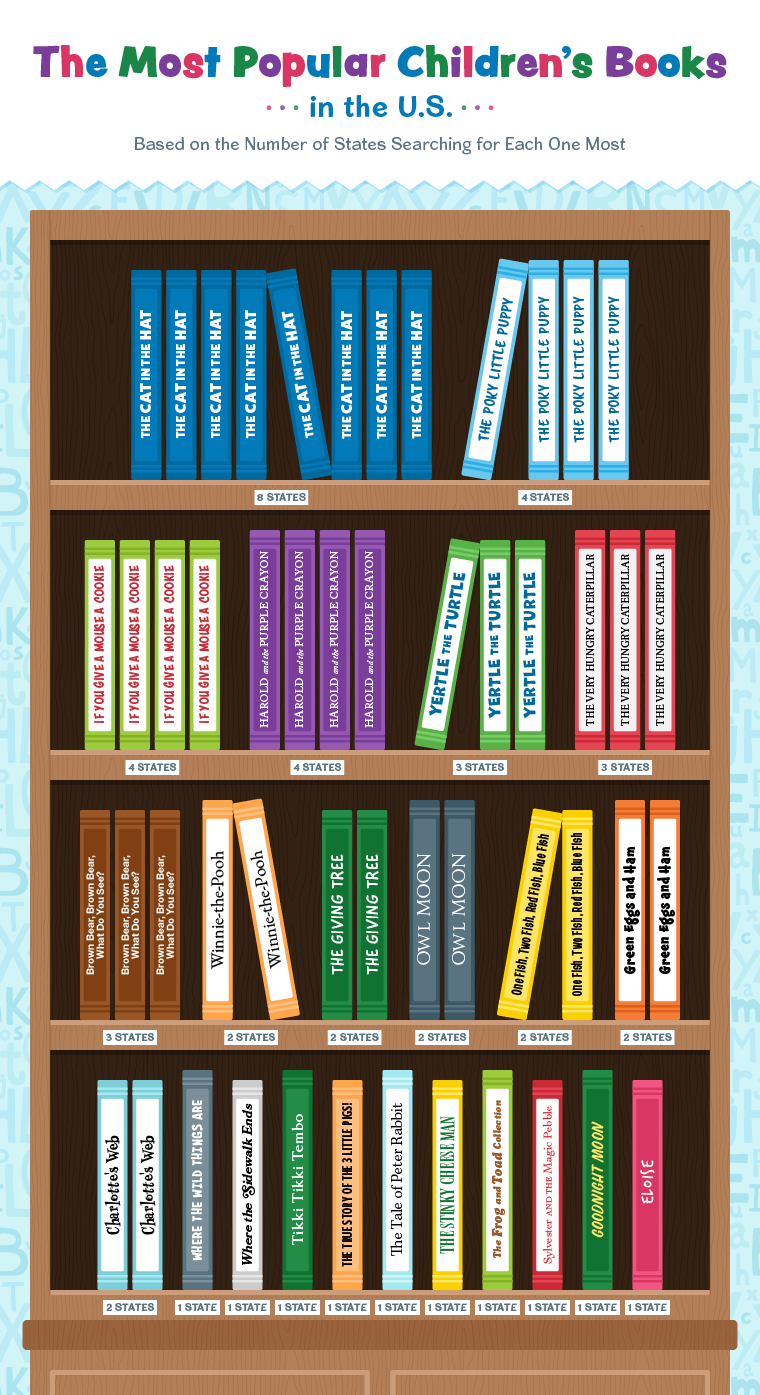 Perhaps his most popular book ever, Seuss' "The Cat in the Hat" beat "The Poky Little Puppy," "If You Give a Mouse a Cookie" and "Harold and the Purple Crayon," which all tied for second place. The headwear-loving feline doubled the victories of these other books. That said, each of the top four books did quite well considering only seven books won in more than two states total. Specifically, six books won two states, and 10 books won just one state. And don't forget that that leaves 21 books from the original list with no state wins at all!
One thing that stands out when you look into the numbers is the publishing dates of the most popular books overall. Out of the four most popular children's books in the U.S., three were published in 1957 or earlier, while "If You Give a Mouse a Cookie" was published in 1985.
This makes sense, as books that have had a longer time to sell have also had a longer time to be read and connected with, and all three of "The Cat in the Hat," "Harold and the Purple Crayon" and "The Poky Little Puppy" sharing an age of somewhere between 60 and 70 years old indicates that these classics have likely been passed down by one or even two whole generations already!
Closing Thoughts
We had fun determining the most popular children's book in every state and hope we were able to highlight the importance of education from an early age. If you're still not convinced though, a study composed by the Annie E. Casey Foundation found that 83%, or 6.6 million low-income American children, are at an increased risk of dropping out of high school because they can't read proficiently by the end of third grade.4
If you want to be part of the solution, Grand Canyon University offers master's degree programs that focus on reading education: one at an elementary level and one at a secondary level. Both programs are available in-person or online and put you in a position to help students directly, or to find a job in social services, community organizations, or education welfare organizations.
As with reading, it's never too early to prepare for later education. Start looking into taking that next step in your academic career today with GCU.
Retrieved from:
1 Time, The 100 Best Children's Books of All Time in December 2021
2 Publishers Weekly, All-Time Bestselling Children's Books in December 2021
3 Data was pulled on November 10, 2021. Data is updated in real-time.
4 Annie E. Casey Foundation, Early Warning! Why Reading By the End of Third Grade Matters in January 2022
The views and opinions expressed in this article are those of the author's and do not necessarily reflect the official policy or position of Grand Canyon University. Any sources cited were accurate as of the publish date.