The Most Popular Cuisines in the U.S.
America is often described as a melting pot of cultures, beliefs and cuisines.1 From classic American fares such as burgers and fries to traditional Greek, Indian or Cuban dishes, Americans have access to a diverse range of cultural staples. Some college campuses are even stepping up to offer more diverse types of food for students.2
Late-night study sessions on college campuses require fuel to power busy students through finals week, ranging from milkshakes to moussaka or even a hearty bowl of pad thai. Social media sites have provided a platform for college students to showcase their creative late-night cravings, sharing tips for budget-friendly meals and innovative on-campus cafeteria hacks.
As everyone's favorite cuisine differs across college campuses and beyond, Grand Canyon University (GCU) in partnership with Grand Canyon Education (GCE) investigated the most popular cuisines across U.S. cities.
No matter what your favorite cuisine is, keep reading to discover a world of flavors that will tantalize your taste buds.
In This Favorite Cuisine Guide:
Methodology — Finding the Most Popular Cuisine in the U.S.
In order to evaluate the most popular cuisines in various U.S. cities, we started with a list of 50 of the most populous metropolitan statistical areas (MSAs), according to the Census.3 Our analysis focused on the 10 most popular international cuisine categories, according to Statista.4 We also added in traditional American, bringing our total up to 11 cuisines.
Our top 11 list includes the following ethnic foods:
American
Chinese
Cuban
Greek
Indian
Italian
Japanese
Korean
Mexican
Thai
Vietnamese
We used Yelp's category feature to pinpoint restaurants in specific cuisine categories and identified the number of 5-star restaurants, according to Yelp reviewers in each city for each cuisine.5
In order to adjust for population, we also calculated the number of restaurants within each cuisine, with respect to the MSA population. Keep reading to learn the most popular cuisines in each city and which ones will satisfy your cravings.
The Top Ethnic Foods in 50 U.S. Cities
From Korean to Mexican and Italian, we wanted the "deep dish" on which types of food were favored in 50 of the most populated cities across the U.S.
We found that Mexican food dominated the charts and secured the most 5-start restaurant reviews in 44 of the 50 cities analyzed, including Phoenix, Arizona (GCU's home base)!
Nothing beats fresh salsa, refried beans and carne asada tacos. At GCU, we couldn't agree more, which is why we offer three Mexican eateries on campus, including Taco Thunder— a Mexican restaurant that specializes in serving up delicious street tacos.
Other cities caught our eye for their go-to ethnic foods. Virginia Beach, Virginia, favored American cuisine. This makes sense as Virginia Beach is known for its seafood and throws a yearly she-crab soup competition.6 She-crab soup is similar to lobster bisque, but it's made with crab roe, which are female crab eggs (hence the name). It also originated in Charleston, South Carolina, in the early 1900s.7
Some cities in the Northeast and Midwest are hotspots for Italian restaurants, including places like Hartford, Connecticut, Cleveland, Ohio, and Boston, Massachusetts. This may seem out of character for these cities; however, Hartford, Cleveland and Boston are all home to Little Italy neighborhoods with a thriving Italian restaurant scene.8,9,10
Buffalo, New York's, top-rated cuisine is a tie between Italian and Indian. Places like the New Jewel of India, located in Buffalo, offer rich ethnic foods like chicken tikka, lamb curry and fish masala — yum!11 Buffalo also hosts a three-day Italian Heritage Festival, which brings attention to its robust Italian dining scene.12
Korean and American cuisine reigned supreme in Baltimore, Maryland. Baltimore is home to Little Korea, a neighborhood with restaurants serving Korean recipes including soups, casseroles and rice dishes.13
Cities with the Most 5-Star Restaurants and the Most Popular Foods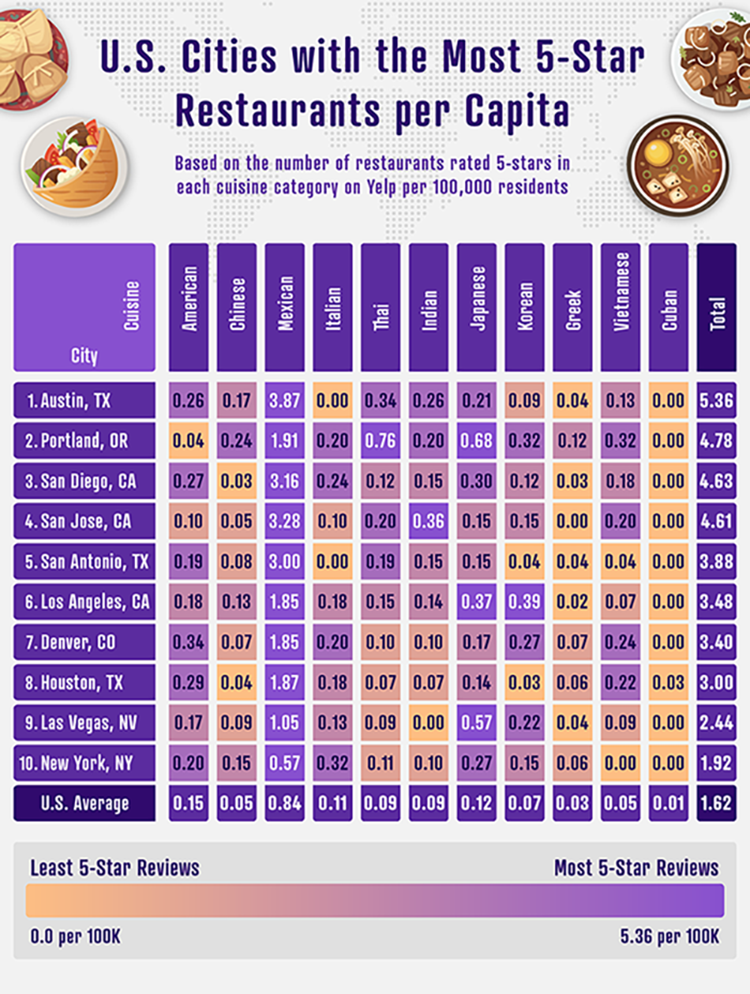 If you're a self-proclaimed foodie, then you may be looking for the perfect city to eat your way through. Or, perhaps you're on spring break and looking to take a trip to the most iconic cities with the best types of foods. We unpacked the U.S. cities with the most 5-star restaurants per 100,000 residents so you can find good eats near you. Just be sure to make reservations ahead of time.
Austin, Texas, ranked No. 1 with 5.36 5-star restaurants per 100,000 residents across 11 different types of cuisines and also dominated the Mexican cuisine category as the go-to spot for top-rated Mexican food. Tex-Mex, a variation of authentic Mexican food stemming from Tejano culture and immigrants from Northern Mexico, is the preferred culinary choice among Texans.14
Portland, Oregon, ranked No. 2 with 4.78 5-star restaurants per 100,000 people. For those who appreciate high-quality Thai, Japanese, Vietnamese, Chinese and Greek food, Portland is the ideal city.
Portland-themed businesses, such as pubs and coffee shops are popping up in Japan, highlighting the long-standing relationship between Japan and Oregon.15 Thousands of Japanese visitors travel to Portland every year to experience its unique food culture.16
Both San Diego (4.63) and San Jose (4.61), California, ranked No. 3 and No. 4 on our list, respectively as U.S. cities with the most 5-star restaurants per capita. San Jose also ranked the highest for Indian cuisine while San Diego ranked highest for Mexican food.
San Jose, which is known as the Capitol of Silicon Valley, features a booming tech industry, which by nature, brings new immigrants to the city.17 This could be one reason why San Jose has developed into a rich food scene for Indian cuisine.
San Antonio, Texas, ranked No. 5 with 3.88 5-star restaurants per capita while Los Angeles, California, ranked No. 6 with over three 5-star restaurants per capita. Los Angeles was the highest favored for Korean eats. Los Angeles serves all types of food with a Korean twist, including Korean BBQ, Korean tacos and even Korean desserts.18
If you have a craving in particular for classic American cuisine, then you'll want to head to Dallas, Texas, which had the most top-rated American restaurants. Delicious foods like apple pie and biscuits and gravy might be two big reasons why American food is among Dallas' favorite cuisine.
Outside of our top 10 cities, we found other interesting insights. For example, Tampa, which placed 33rd ranked highest for Cuban cuisine and had the most Cuban restaurants per capita (0.22) compared to Miami, which only had 0.15 and placed 43rd. Interestingly, more Cubans live in Miami compared to Tampa, but that doesn't stop Tampa from catering to this cohort.19
Closing Thoughts on Favorite Cuisines in the U.S.
We hope you've added a new city to venture to with some of the most popular cuisines and restaurants! At GCU, we have an appreciation for all types of cuisines — from baklava to masala dosa and everything in between.
We know busy college students need fuel to keep going, which is why we encourage our students to try new ethnic foods and feature diverse dining options on campus. You can try options like Italian, Mexican, American and more at several eateries around campus! We also promote healthy eating with on-campus options like Panera Bread and Pita Jungle. Or, if you want to take your healthy lifestyle to the next level, consider becoming a food scientist by earning the BS in Nutritional Science degree to help guide others on their own healthy lifestyle.
At GCU, we offer a wide range of majors and programs so you can accomplish your career goals. Interested in the food industry? We offer a Bachelor of Science in Hospitality Management so you can work in hotels, restaurants and other venues.
Retrieved from:
1 Golden Beacon USA. (2020, October 30). Why is America Called the Melting Pot? Retrieved April 19, 2023.
2 DeChellis, Joanna. (2017, February 1). College Recognizes Diversity Through Food. Food Management. Retrieved April 19, 2023.
3 United States Census Bureau. (n.d.). Census Bureau. Retrieved April 19, 2023.
4 Wunsch, Nills-Gerrit. (2022, April 26). Leading Ethnic Cuisines in the United States in 2019, Based on Google Popularity. Statista. Retrieved April 19, 2023.
5 Yelp. (2020, April 8). The Complete Yelp Business Category List. Yelp. Retrieved April 19, 2023.
6 Virginia Beach Events. (n.d.). East Coast She-Crab Soup Classic. Virginia Beach Events. Retrieved April 19, 2023.
7 Charleston Sea Islands. (n.d.). In the Kitchen: The History of She-Crab Soup. Charleston Sea Islands. Retrieved April 19, 2023.
8 CitySeeker. (n.d.). "Hartford's 'Little Italy." CitySeeker. Retrieved April 19, 2023.
9 Historic Little Italy. (n.d.). Historic Little Italy Cleveland. Historic Little Italy. Retrieved April 19, 2023.
10 CBS News Boston. (2015, February 11). A Guide to Boston's Little Italy: The North End. CBS News Boston. Retrieved April 19, 2023.
11 New Jewel of India. (n.d.). New Jewel of India. New Jewel of India. Retrieved April 19, 2023.
12 Veronica, Nick. (2023, January 5). Buffalo's Galbani Italian Heritage Festival Announces 2023 Dates. WIVB4. Retrieved April 19, 2023.
13 Dupuy, Andrew N. (2021, December). Get to know Baltimore's little, Little Korea. BHCA. Retrieved April 19, 2023.
14 Bethune, Meredith (2019, April 17). What's the Difference Between Tex-Mex and Mexican Food? Serious Eats. Retrieved May 16, 2023.
15 Korfhage, Matthew. (2023, January 7). The Dream of Portland is Alive in Japan. Willamette Week. Retrieved April 19, 2023.
16 Travel Portland. (n.d.). Japan. Travel Portland. Retrieved April 19, 2023.
17 Tsai, Luke. (2021, October 20). San Jose Is the Bay Area's Great Immigrant Food City. KQED. Retrieved April 19, 2023.
18 Los Angeles. (n.d.). Korean Most Popular Guides. Los Angeles. Retrieved April 19, 2023.
19 Cuban Studies Institute. (n.d.). Facts and Figures. Retrieved April 19, 2023.
Approved by Executive Director of Office of Communications and Public Relations on May 17, 2023.
The views and opinions expressed in this article are those of the author's and do not necessarily reflect the official policy or position of Grand Canyon University. Any sources cited were accurate as of the publish date.