The Most Popular Medical Drama in Every State
There's no flatline for medical dramas in the U.S. For decades, viewers have been glued to following the intense narrative of doctors, nurses and aides. Fictional medical drama TV shows even influence career decisions, providing motivation to some.
From waiting room chaos to steamy work romances to surgery room tragedies, this genre has become a staple of television, making long-lasting impressions on their audiences. There is no doubt doctors and nurses are some of our favorite TV characters, but which medical dramas are Americans binge-watching at home? Read on to learn the most popular medical drama series in each state and the most beloved medical dramas overall.
Methodology
To find out which medical drama series America is most devoted to, Grand Canyon University's (GCU) partner, Grand Canyon Education (GCE), used sources such as Ranker,1 IMDb,2 Movie Web,3 and others in order to gather a list of the top medical dramas. We evaluated shows from the United States, eliminating any series that went off air prior to 2000, in order to represent the most popular series from this century. From there, we analyzed Google Trends search volume from Jan. 1, 2012, to Jan. 1, 2022 for 80 shows under the medical drama category.
The Most Popular Medical Drama in Every U.S. State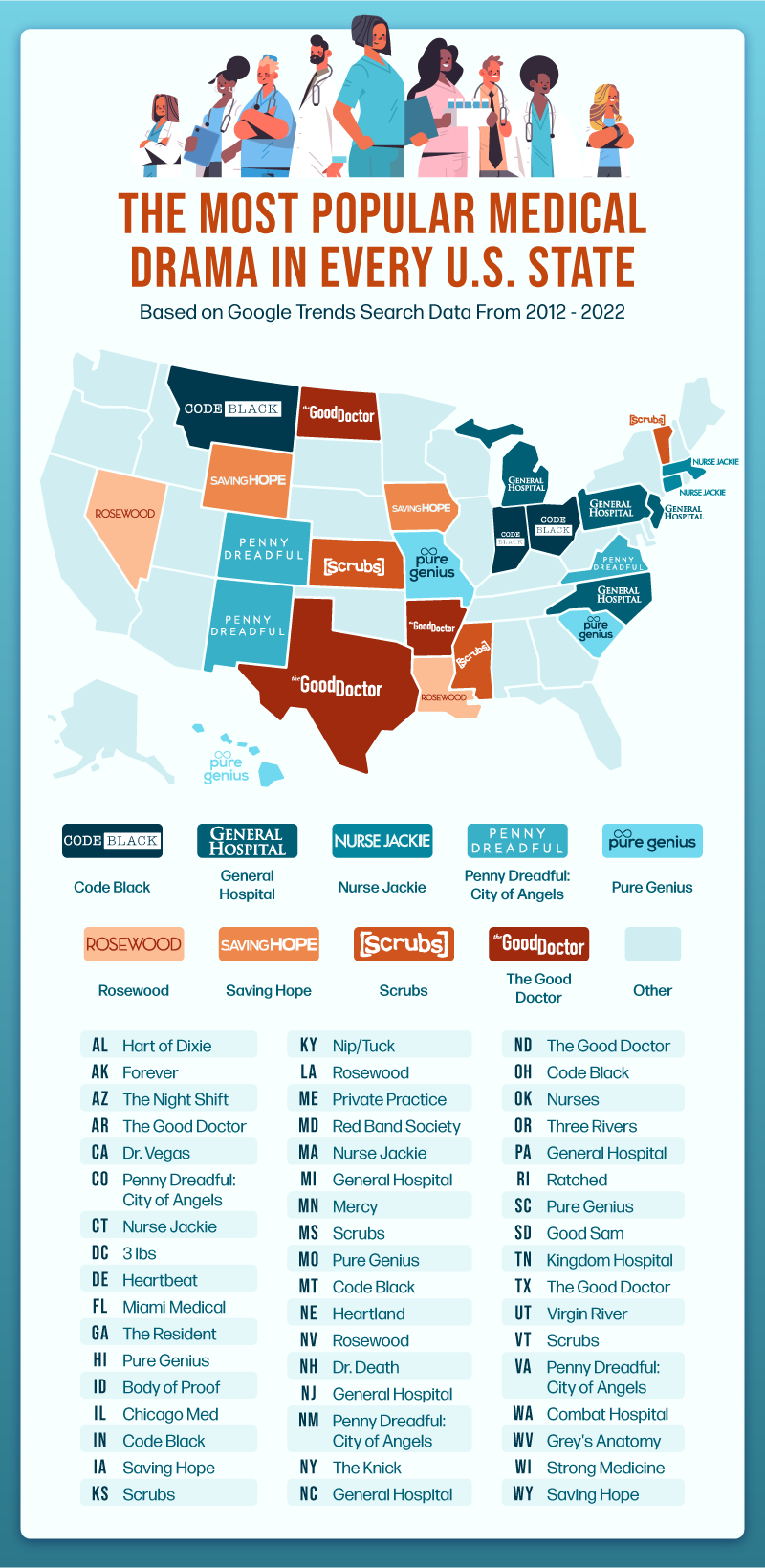 Which medical dramas are Americans prescribing to their televisions? From procedural medical dramas to sitcoms, each fictional doctor's office has delivered memorably, enthralling moments. America's most popular medical drama, "General Hospital" on ABC, proves that. The long-running soap opera is the number one patient pick in four states.
"Code Black," "Penny Dreadful," "Pure Genius," "Scrubs" and "The Good Doctor" are tied with the same Google Trends search volume from three different states, while "Nurse Jackie," "Rosewood" and "Saving Hope" are tied with the same number of votes from two different states. With life-or-death situations around every corner, other instant-drama shows America loved were "Hart of Dixie," "The Night Shift," "Body of Proof," "Nip/Tuck" and "Grey's Anatomy."
The Most Popular Medical Drama Overall

Making its debut in 1963, "General Hospital" is not only the U.S.'s favorite medical drama series, but also the longest-scripted and longest-running soap opera in production.4 Viewers in Michigan, New Jersey, North Carolina and Pennsylvania are hooked on watching families, friends, enemies and lovers experience life-changing events on the everlasting show.
Despite "Code Black," "Penny Dreadful: City of Angels," "Pure Genius" and "Scrubs" being off the air for varying years, these four medical drama series tied as the second most popular medical drama show in the U.S., along with the more recent ABC hit, "The Good Doctor." While these shows are no longer producing new episodes, they are still available to enjoy via streaming services and re-runs on cable, which likely explains the continued interest.
Based on an award-winning documentary, "Code Black" follows the staff of an extremely busy emergency room. Viewers in Indiana, Montana and Ohio are addicted to sitting at the edge of their seats as they watch the understaffed fictitious Angels Memorial hospital cope with lack of sufficient resources.
TV bingers in Colorado, New Mexico and Virginia are enticed by the addicting story of "Penny Dreadful: City of Angels," tying for the second-most watched medical drama TV show in the U.S. The dark fantasy isn't your typical medical drama series. After a few years off television screens, the universe of Penny Dreadful came back with this spin-off, set in Los Angeles in 1938. Inspired by Mexican-American folklore, the story follows a detective and his partner investigating a brutal murder that threatens to spark social unrest.
Instead of grabbing the nearest tissue to console themselves after a tear-jerking episode, TV audiences in Kansas, Mississippi and Vermont are holding onto their sides. "Scrubs," a medical drama that mixes comedy with serious tragedy, shows what happens in a hospital daily, not just in an emergency. Set in the fictitious Sacred Heart Hospital, the show followed the professional life of a young doctor who struggles to move his medical career forward.
Inspired by an award-winning South Korean drama of the same name, "The Good Doctor" is another extremely popular medical drama. Fans in Arkansas, North Dakota and Texas are captivated by a young autistic surgeon, Shaun Murphy, and his unsurpassed knowledge and skill.
In third place for the most popular medical drama overall is a three-way tie between "Nurse Jackie," "Rosewood" and "Saving Hope." Similar to the second-place winners, these three series are no longer on the air, each lasting for less than a decade. Still, they've stolen the hearts of a combined six U.S. states.
Not only do Connecticut and Massachusetts share a border but they also share their love of the medical drama "Nurse Jackie." Being one of Showtime's most popular original series, "Nurse Jackie" comes in as the third most-watched medical drama. It follows a nurse who finds herself in the middle of dramatic moments while having an abundance of personal problems of her own.
Louisiana and Nevada viewers like to mix their medical dramas with crime, as "Rosewood" also tied for third. It follows the story of Dr. Beaumont Rosewood Jr., a private medical investigator who uncovers mysteries and strives for justice in his community. Ironically, Morris Chesnut, the star of this series, also played a role in the previously mentioned medical drama, "Nurse Jackie."
Rounding out in third place overall, Iowa and Wyoming are tuning their televisions to "Saving Hope." It's a heart-jerking story of a general surgeon's life crashing down after her chief of surgery fiancé slips into a coma after a car accident on the way to their wedding.
Closing Thoughts
Medical dramas, like "General Hospital" and "The Good Doctor," have proven to be some of the most compelling TV shows. So, it comes as no surprise that medicine is one of those few career fields that has inspired an entire genre of television drama.
If the powerful storylines of "The Good Doctor" and the gripping drama on "General Hospital" leave you intrigued in a career in healthcare, consider pursuing a degree in the field. GCU's online nursing program was ranked the third-most popular online nursing program nationwide in 2021 by College Factual.5 The best medical drama shows often influence viewers to pursue specific career fields because of how they're portrayed on the small screen.
If you find yourself binge watching or captivated by TV's best medical dramas, a career in medicine may be right for you. If you're not certain which nursing or healthcare degree is right for you, GCU offers the flexibility and training you need to get ahead with a quality education.
To learn more about the field, check out our nursing and healthcare blogs and click Request Info for more nursing and healthcare insight!
Retrieved from:
1 Ranker, The Best 2000s Medical TV Series in April 2022
2 IMDb, Most Popular Movies and TV Shows in April 2022
3 Movie Web, Best TV Medical Drama Series, Ranked in April 2022
4 ABC, About General Hospital TV Show in April 2022
5 College Factual, 2021 Most Popular Nursing Schools in April 2022
Scroll back to top