The Top College Basketball Fan Bases Ranked
For college basketball fans, the madness of March marks the best time of the year. This rings especially true for Grand Canyon University Antelopes Fans – we love basketball as much as the next school, if not more. Just ask the Havocs if you don't believe us.
With the NCAA Tournament getting underway across the country we started wondering which teams have the most passionate hoops fans, the ones that are most likely to turn out in droves and support their teams over the next few weeks. After doing a little research, we found that the NCAA keeps detailed attendance records for every team and conference and publishes those reports every year.
Once we started digging into those reports, we found tons of fascinating information and trends that we just couldn't keep to ourselves. We took some of the best data about the fans that are the most loyal or "mad" when it comes to their favorite Division I men's and women's basketball teams and created graphics to illustrate our findings.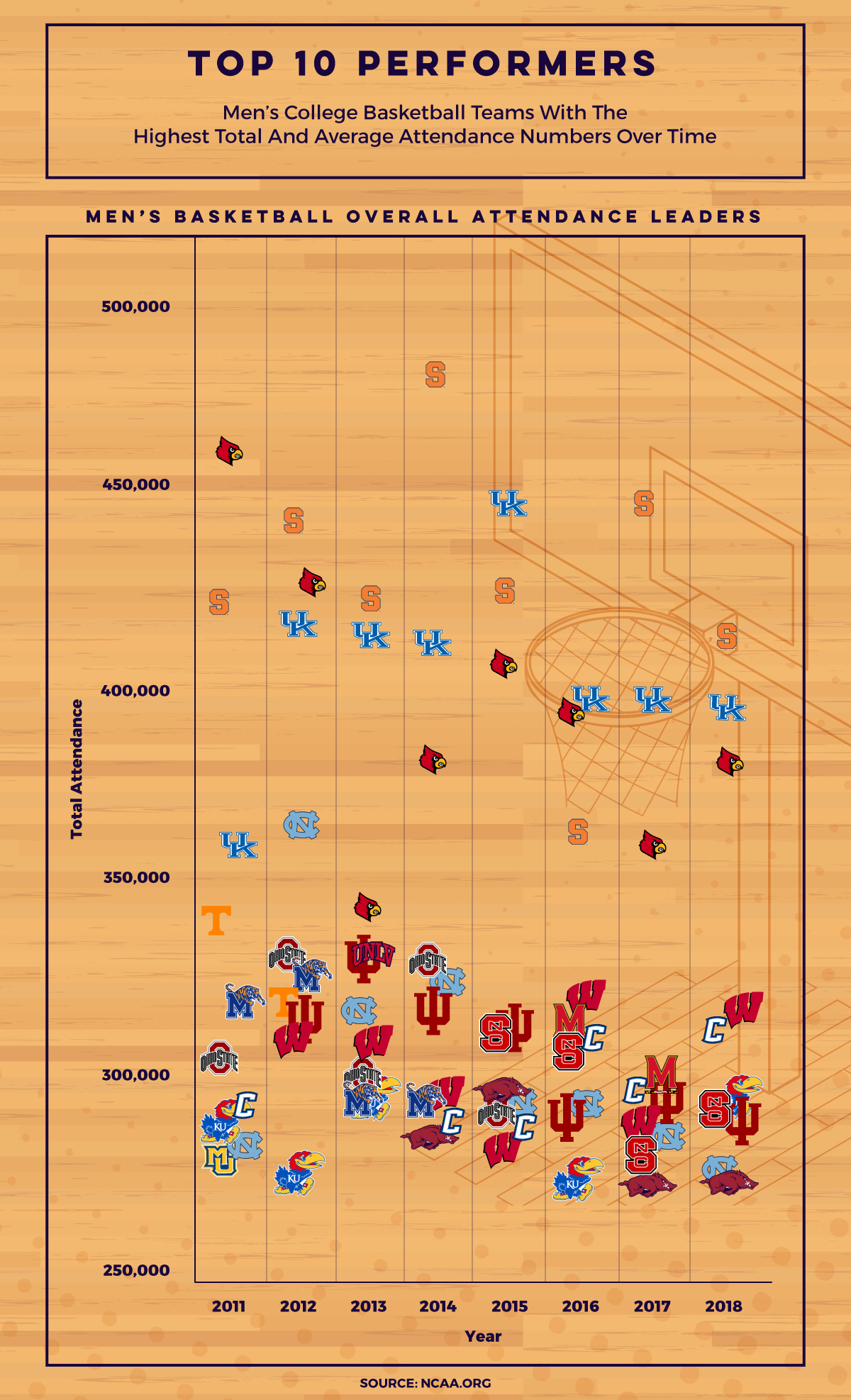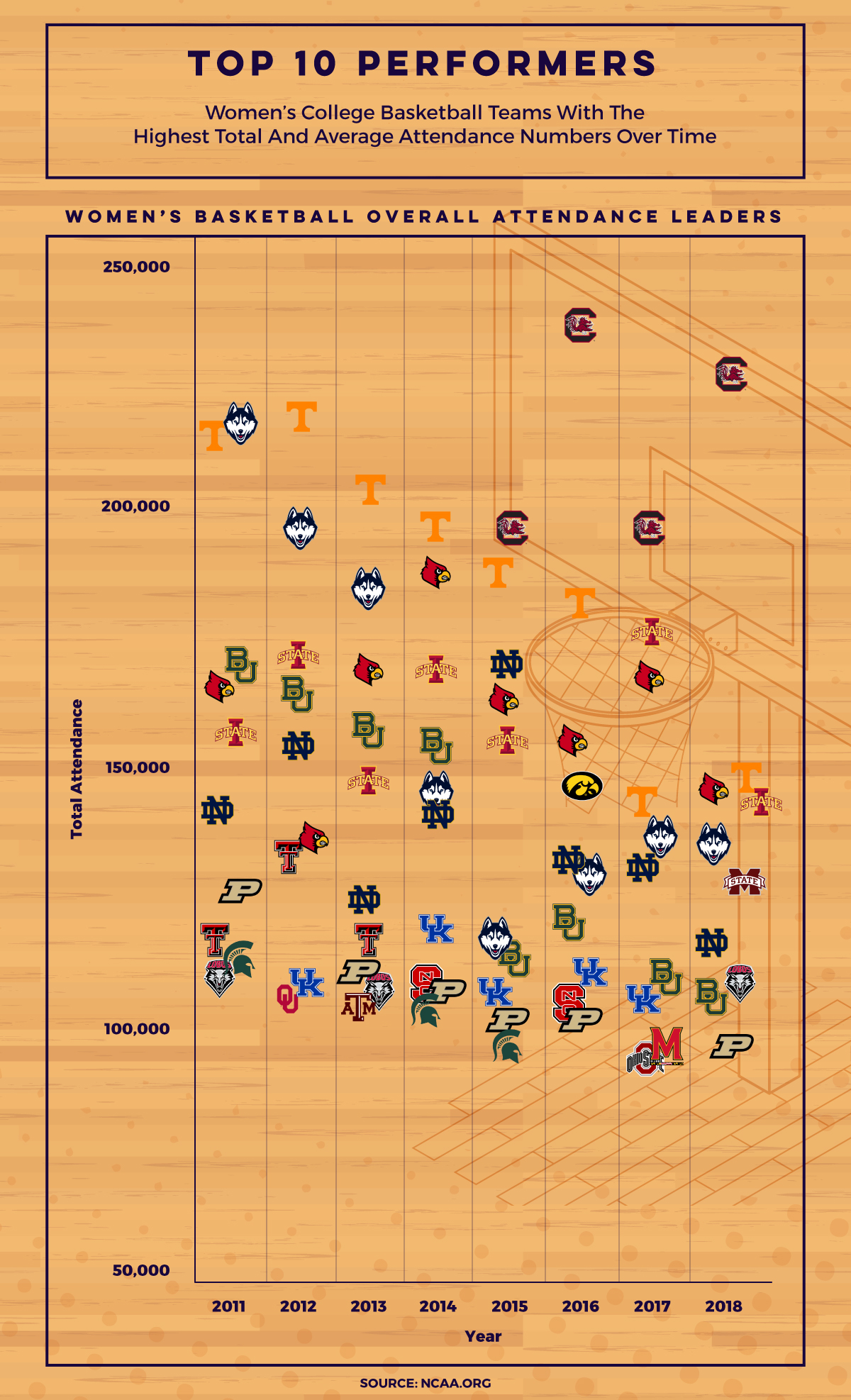 We decided to limit our evaluation to the seasons that ended between the years of 2011 and 2018. We chose the 2010-2011 season as our starting point because that is the first year where the NCAA released full data on every Division I team for both men and women.
We also decided that throughout this analysis we would spotlight two different attendance metrics: overall attendance and average attendance. Overall attendance is just what it sounds like – how many total people attended a home game for a given team or within a given conference. Average attendance represents the average number of fans that attended a home game for a team or within a conference. We chose to give these metrics their own focuses because overall numbers can be misleading. Some teams have more games on the schedule that contribute towards their cumulative attendance, so even though they have a higher total number of fans come through the gate, they may not actually bring as many people into the gym as other schools with fewer home games.
In terms of overall attendance, the Syracuse basketball program, led by legendary coach Jim Boeheim, consistently leads all men's programs when it comes to packing the gym, as they had the highest total attendance for five of the eight years we examined. Kentucky and their in-state rivals at Louisville are the only ones to unseat the Orange during that time frame. On a per-game basis, Kentucky performed even better, as more of their fans showed up on average in six of the eight years examined.
Looking at the women's side, the two most storied programs in women's basketball history, UConn and Tennessee, each show up at least once since 2011, but the last four years have been dominated by the Gamecocks of South Carolina, a team that has made four Sweet Sixteens and won a national championship in that time. The SEC rivals of Tennessee and South Carolina also split up the per-game attendance crown, with Tennessee taking it from 2011-2014 and South Carolina doing so from 2015-2018.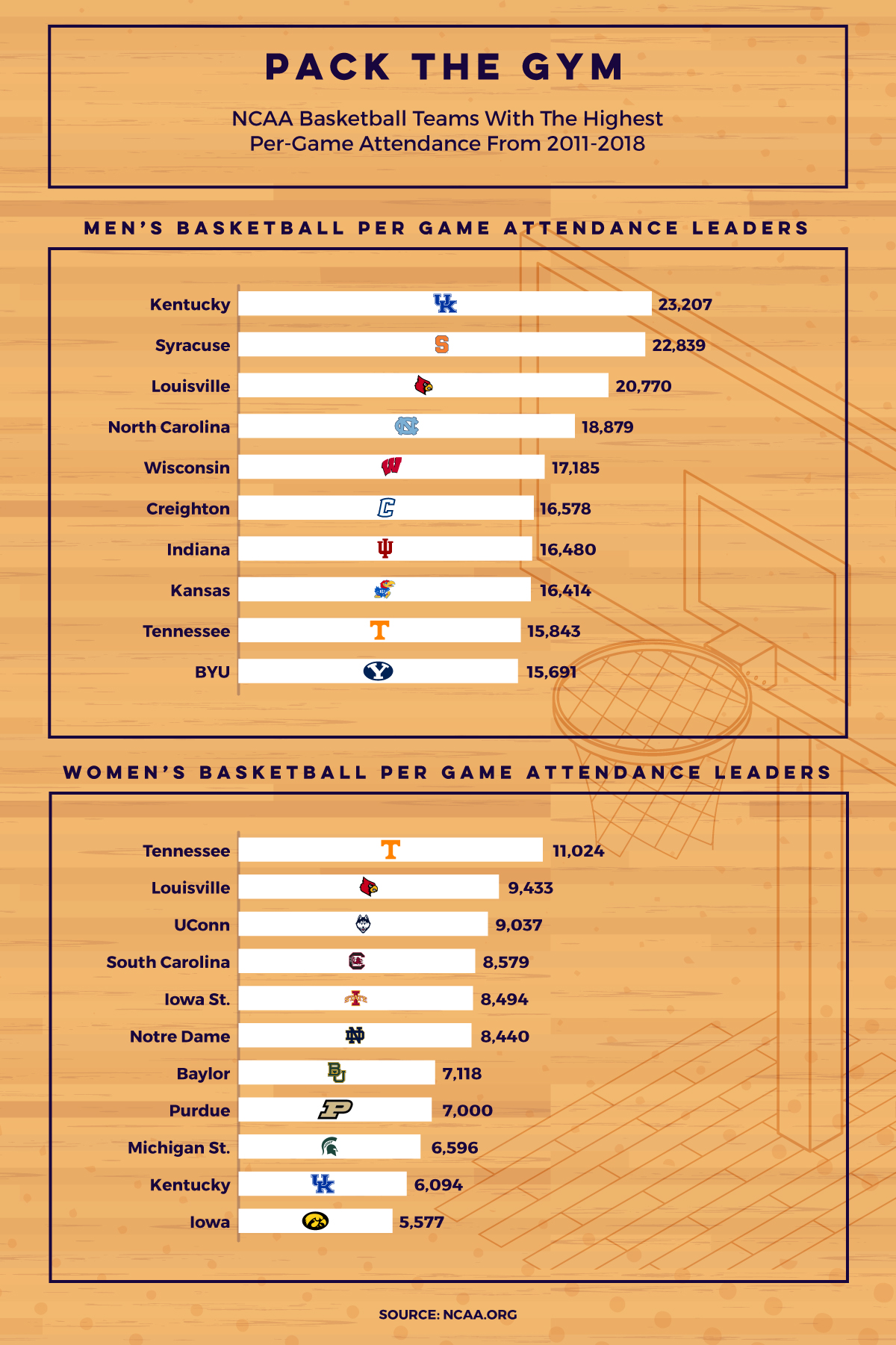 College sports fans know that being ranked in the top 25 is a big deal in many sports. In that spirit, we averaged the per-game attendance totals for every men's and women's team in Division I for all of 2011-2018 to put together top 25 lists for both.
For women's basketball, the top of both lists is identical to the schools that dominate the overall attendance year-over-year, with Tennessee, Louisville and UConn taking the top three spots, in that order. On the men's side of things, the top three are similarly familiar, with Kentucky taking first place over Syracuse and Louisville sliding into third. One thing is for sure here, no matter if it's men's or women's hoops, Louisville fans can't seem to get enough basketball!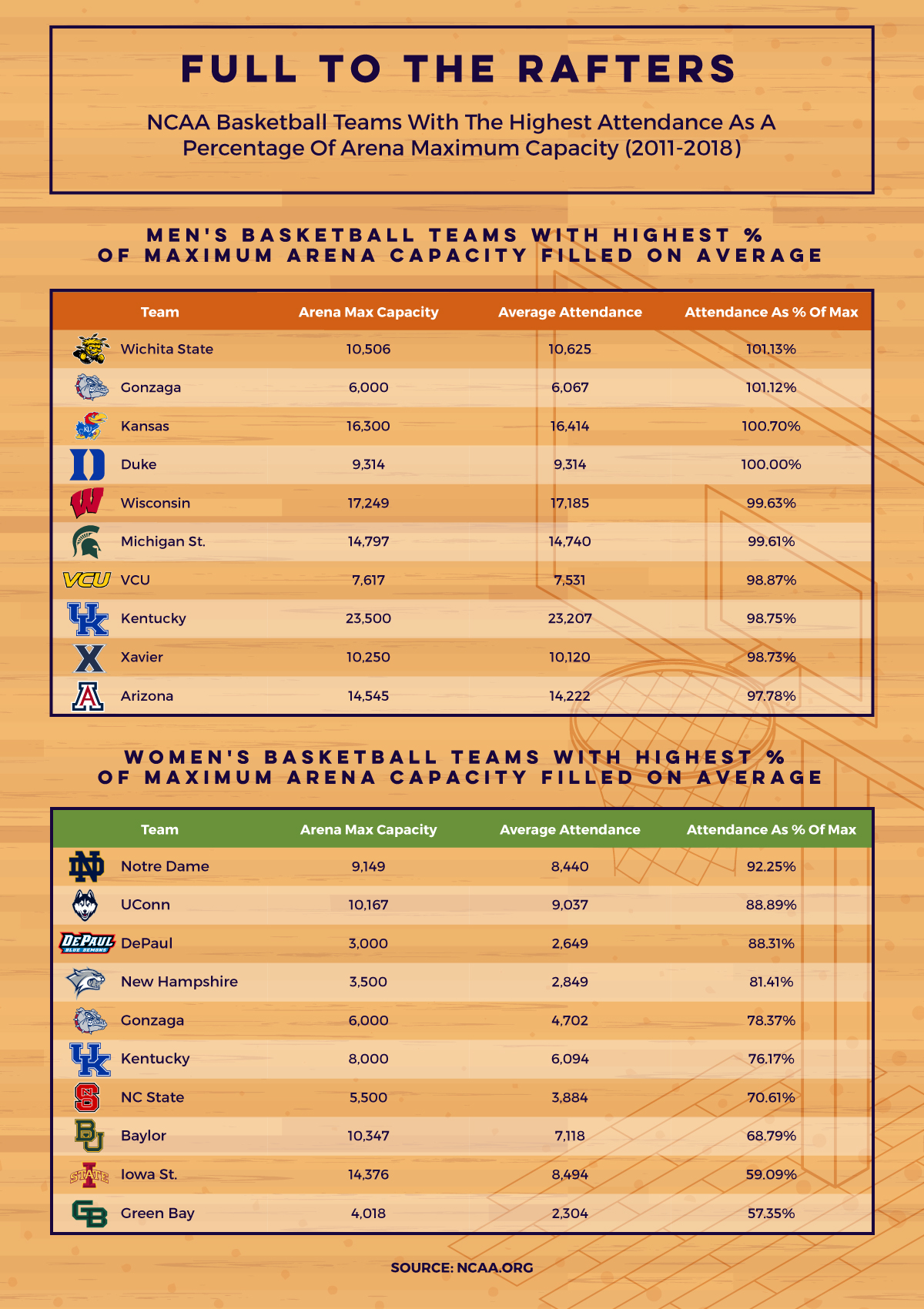 Of course, looking at attendance by overall fans and even average attendance doesn't tell the whole story as some schools benefit from having large arenas with room for tens of thousands of supporters while others play their games in smaller venues that allow fewer fans to attend but also create a suffocating effect for visiting teams when the building is packed. To take those kinds of schools and their fans into consideration, we took the 8-year average attendance for every men's and women's team and compared that to the maximum capacity for their home arenas to find which schools' fans regularly fill up the largest percentage of available seats.
On the men's side, we found four teams that averaged 100% attendance, with three actually exceeding that total thanks to fans that chose to go without a seat and watch games from standing room only areas at Wichita State, Gonzaga, and Kansas. Joining those three in the perfect attendance is Duke, which sells out the legendary Cameron Indoor Stadium night after night. For women's programs, three schools have average more than 85% attendance at their games since 2011, with Notre Dame leading the way with 92.25% of their stadium filled on average.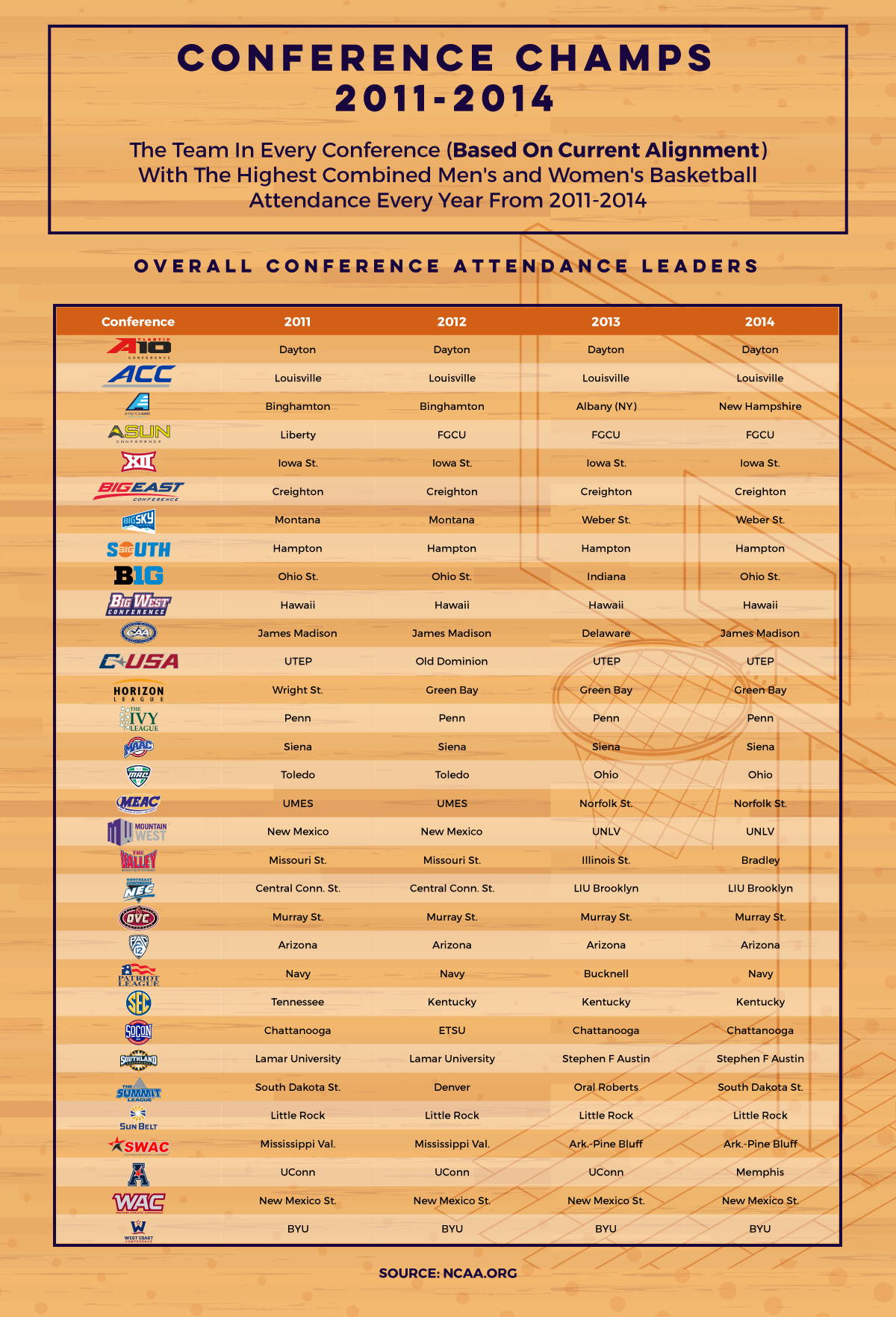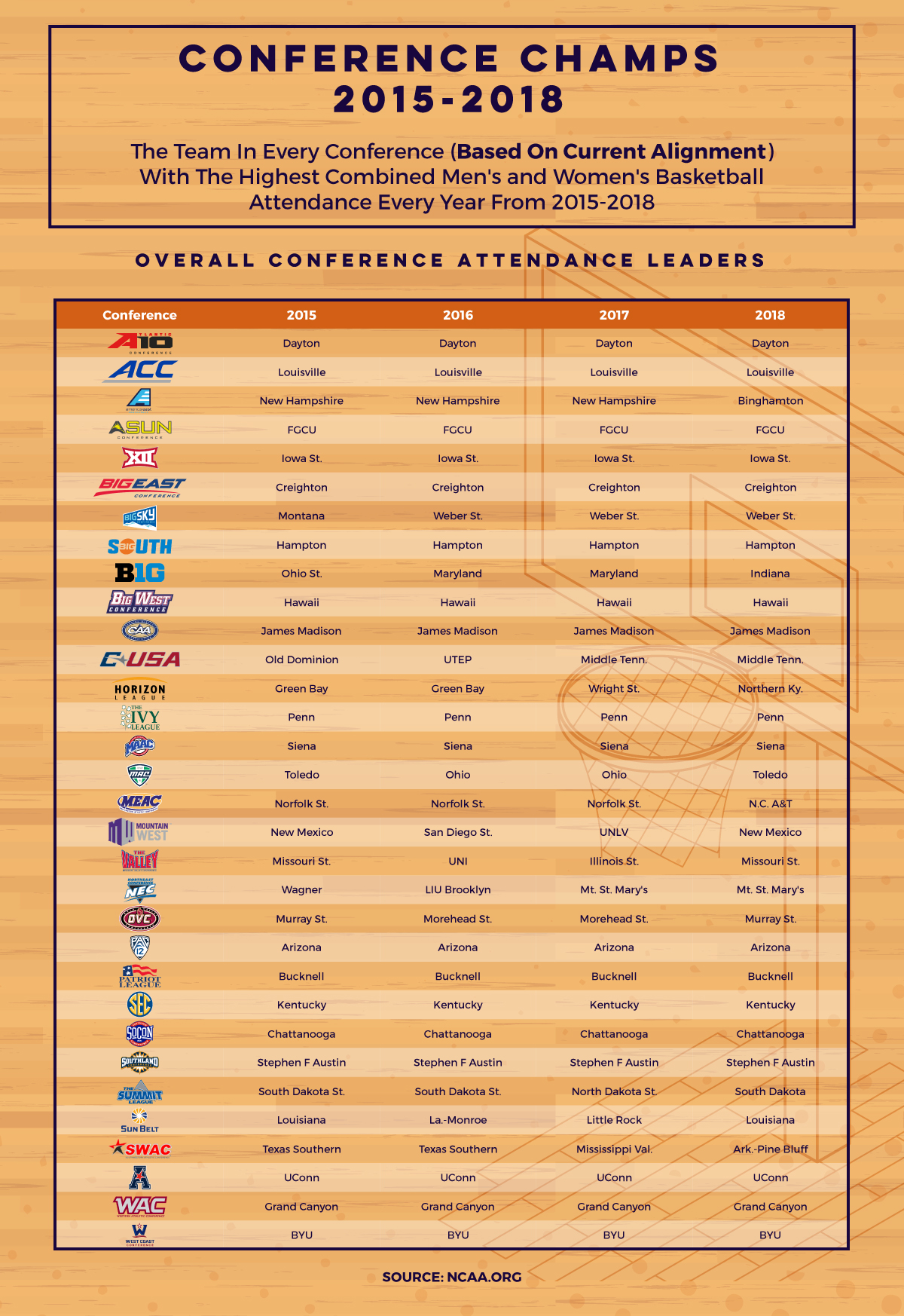 Those first couple of graphics are, by their nature, going to skew towards the biggest, most recognizable programs in the country. We wanted to broaden our horizons to some of the smaller teams and conferences, especially those with the most passionate fans compared to their conference rivals.
To that end, we found we added the men's and women's overall attendance totals together for every team in Division I to find which school in each conference had the most combined fans for every year from 2011-2018. It is worth noting that we did this evaluation based on the conference every school is CURRENTLY in, ignoring previous alignments. We'd also be remiss if we didn't point out just how often the Grand Canyon Antelopes fans have led the WAC since 2015, claiming first place every year in that time frame!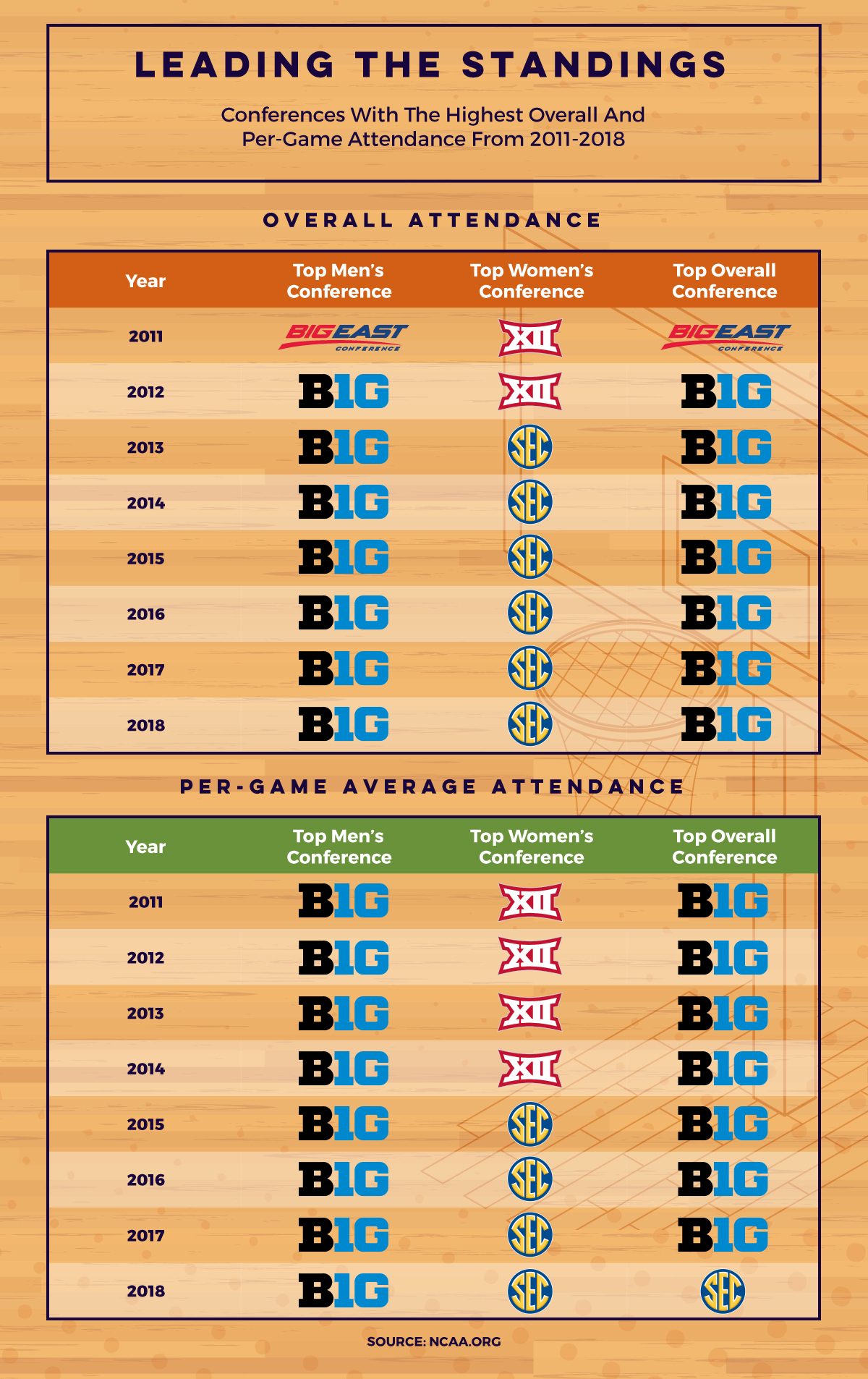 Speaking of conferences, we wanted to know which ones have the most teams with the highest numbers of loyal fans. We took the overall and per-game totals for all 32 NCAA Division I conferences and compared them with one another to find which conferences have the best fans for both men's and women's basketball, as well as overall.
In terms of total attendance, the Big Ten took seven of eight years for men's basketball while the SEC snagged six of eight for the women. That strong performance on the men's side propelled the Big Ten to the same number of overall wins in this metric.
The Big Ten did even better when looking at per-game averages on the men's side of things, where they won all eight years for a clean sweep. The women's side saw the eight years split evenly between the SEC and the Big 12. Overall, the Big Ten again took seven of eight top spots, only losing out to the SEC in 2018.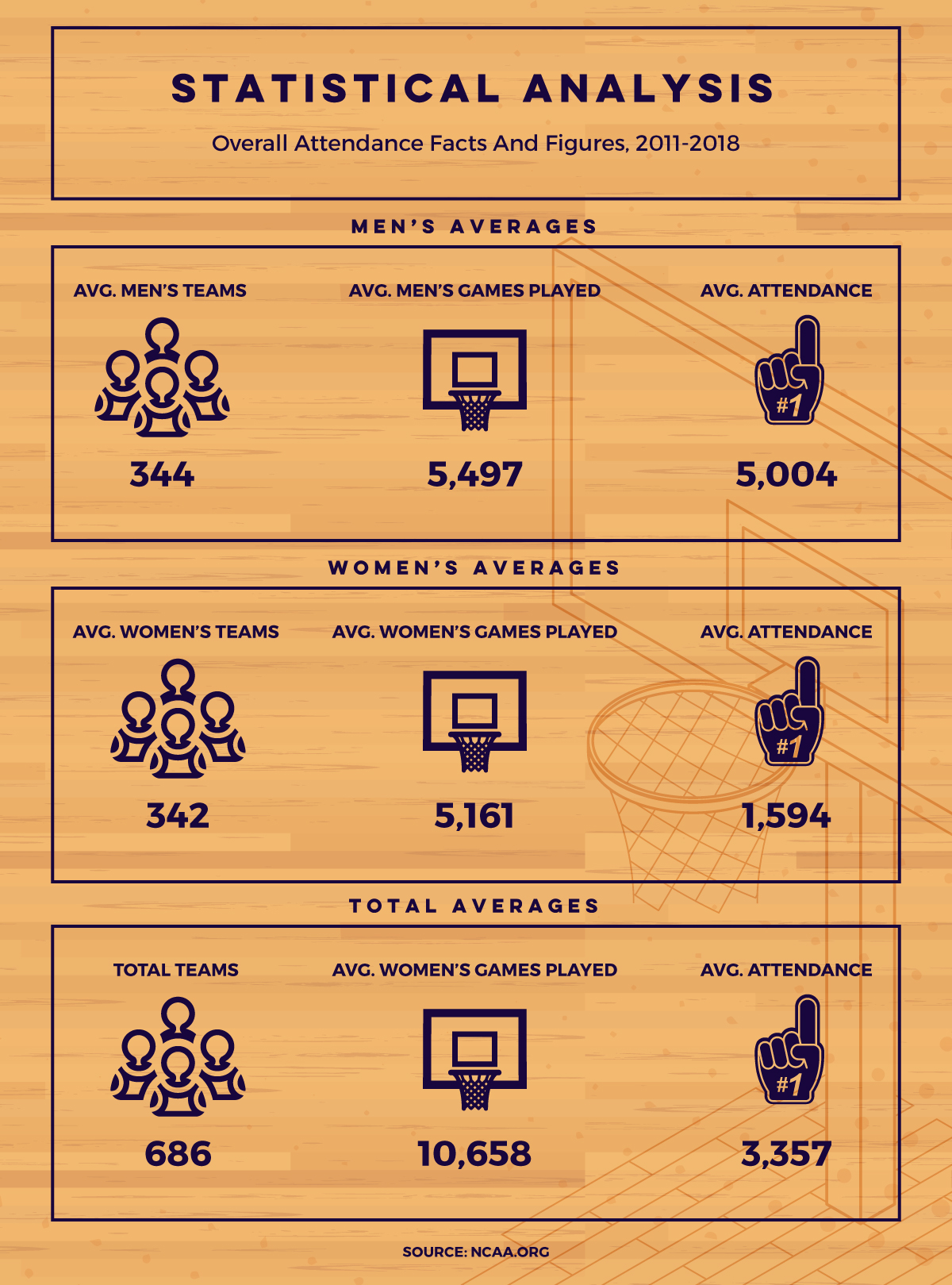 While going through this data we also noticed just how much Division I has changed and grown in the last few years, with attendance figures changing right alongside it. To help visualize this, we added up the number of men's, women's and combined teams there were in the NCAA every year, how many games they played, and how many total fans and per-game fans there were across all of top-level college basketball.
Now that you know which team's fans you can expect to see filling the stands in person and on television during the tournament, it's time to sit back and enjoy every college basketball fan's favorite month.
If you want to become a part of one of the best fan bases in all of college basketball, while also getting a top-level education, don't miss your shot to apply to Grand Canyon University today!  
Scroll back to top