Top TV Shows Among U.S. College Students
With mid-term exams officially in the books, college students across the country are taking the next few weeks as an opportunity to catch their breath. And by that, we mean they're spending far more time sprawled out on dorm room futons binge-watching their favorite TV shows than holed up in the library.
And who can blame them? When you spend hours upon hours studying for exams, writing papers and preparing projects, sometimes, you just need a break. And what better way to unwind than with an episode, or four, of your favorite TV show?
But if you've just finished binging all eight seasons of the show you weren't quite sure you'd make it through, you might be wondering: "what's next?" Between Netflix, Hulu and Amazon Prime, there are thousands of TV shows to choose from, making it tricky to pick just one.
That's why, in the spirit of making your life a little bit easier, we took the liberty of narrowing the pool of options for you by state and major. Because if the people around you are crazy about a show, odds are, you will be too.
To do this, we surveyed nearly 900 college-aged people between the ages of 18 and 25 from all around the country. We asked them what they studied in college, what their favorite show is, what state they are from, how they watch their favorite show and then graphed the results.
And we must say, some of our findings might surprise you.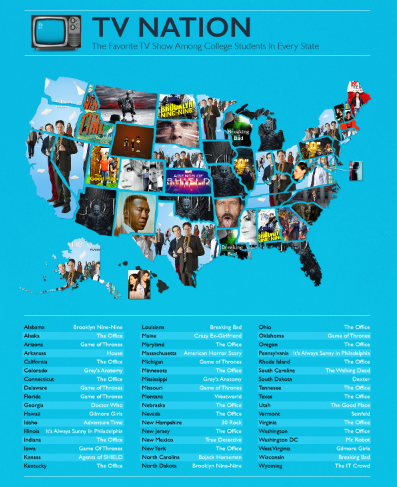 It's not really a secret that college kids love
The Office,
but evidently, if you attend college in the Western part of the country, your appreciation for this NBC sitcom is on an entirely different level. In Washington, Oregon, California and Nevada,
The Office
is the most widely appreciated show among college students. So, if you attend a West Coast college, but haven't seen
The Office
yet, you should give it a shot.
If you go to school in Florida, Oklahoma, Arizona, Delaware, Iowa, Michigan or Missouri, however, you might prefer Game of Thrones instead, as this is the top show among college students in these states. The popularity of Game of Thrones might have a little something to do with the fact that many colleges in these areas provide students with free HBO Go subscriptions.
Are you more into comedy-dramas like Weeds or Jane The Virgin? Then you should consider watching Gilmore Girls, especially if you attend a school in West Virginia or Hawaii, where this early 2000's com-dram peaks in popularity. Who knows? Maybe seeing Rory Gilmore's ivy-league study habits will inspire you to start prepping for finals early this year.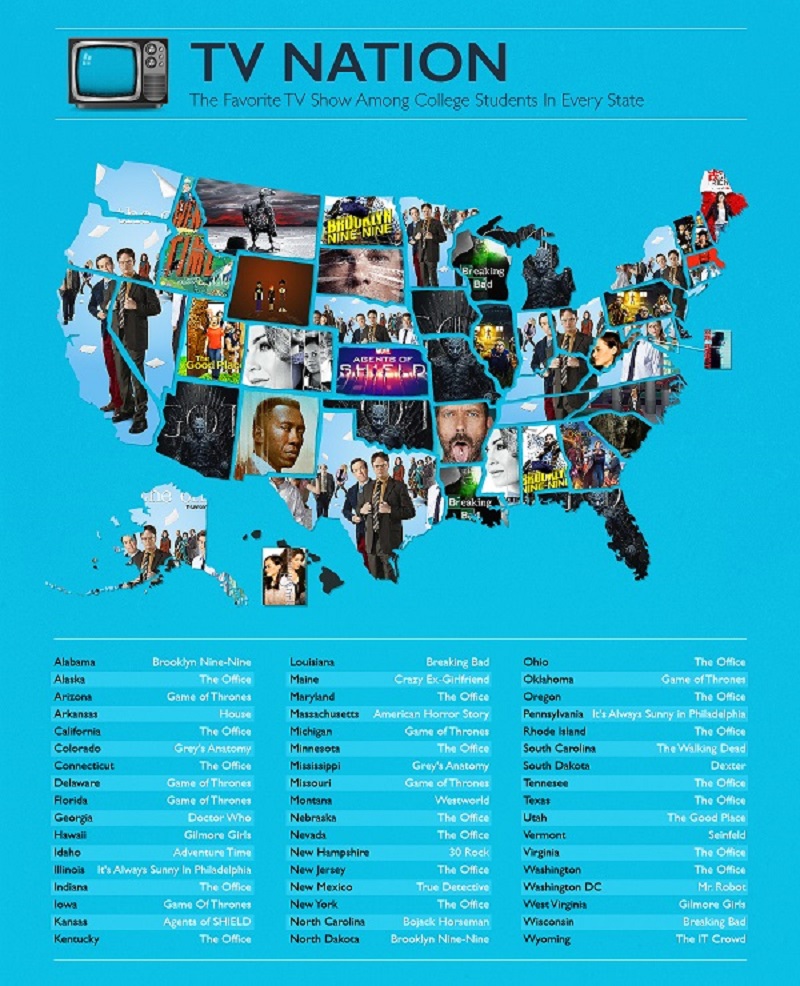 Not sold on the viewing preferences of college students in your state? Don't worry. Your major might be a better indicator of what shows should be on your Netflix queue.
If you're a business, communication, animal science, math or science major, for example, it looks like The Office might be the show for you. Just be careful not to set too high of expectations for your first post-grad job. Unfortunately, we can't all have Michael Scott as a boss and Jim Halpert as a deskmate when we graduate.
Are you an engineering or computer science student? Well, the people have spoken and the time has come for you to watch Game of Thrones. This Emmy-winning drama is also quite popular among humanities, health and art students, so if you're looking for a crowd-pleaser to watch with friends of all majors, you might've just found a winner.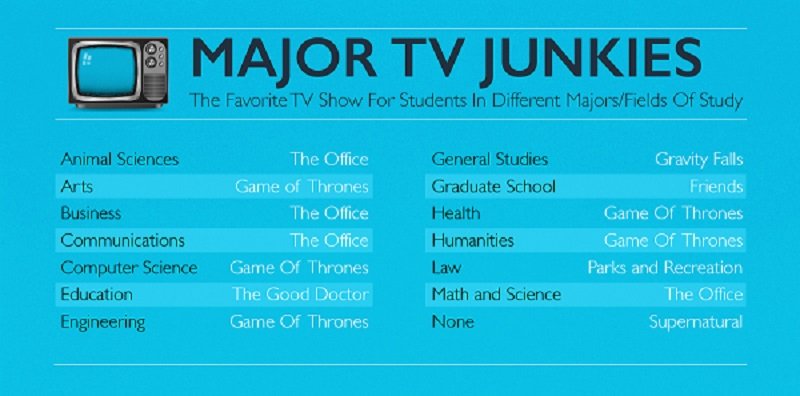 All in all, it's not too much of a surprise that The Office and Game of Thrones are the top two shows among college students across the country. But how do these, and other popular shows, fare differently with men and women?
Well, as it turns out, The Office is slightly more popular among college-aged women, as is Game of Thrones among college-aged men. That being said, it should be noted that the margins of difference here are quite small.
As for other gender differences, it really boils down to this: women seem to prefer Parks and Recreation, Grey's Anatomy and Brooklyn Nine-Nine, whereas men prefer It's Always Sunny in Philadelphia, Breaking Bad and Bojack Horseman.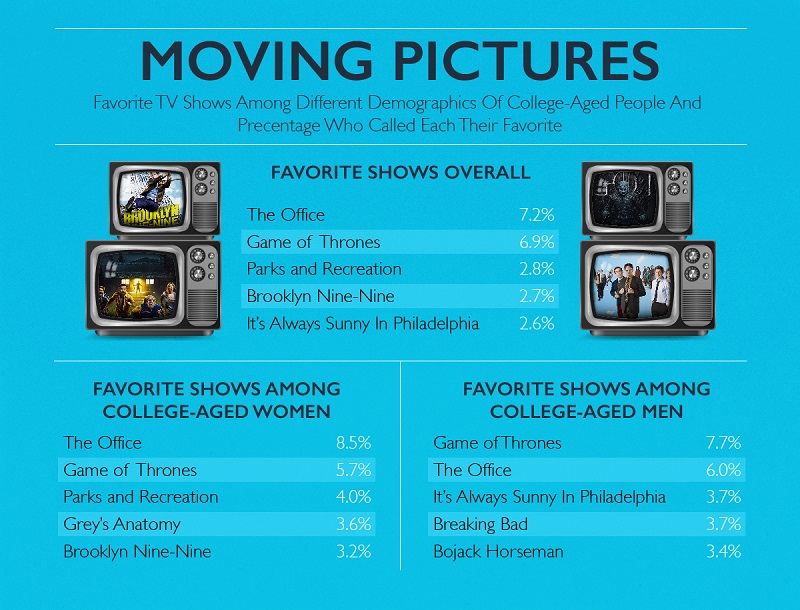 Given that Netflix is the most popular streaming service in the world, it's not all that surprising that it's also the top service among college-aged people, with 46% saying it's their go-to for watching TV. After Netflix comes Cable and Hulu, which are the second and third-most preferred services among college students, respectively.
With the prevalence of quick, easy, and relatively cheap streaming services that allow you to watch whatever you want whenever you want, it only makes sense that DVDs are on their way out, preferred by just 2% of college-aged people. It was a bit more curious, however, that HBO Go/Now, which offers access to the widely-loved fantasy drama, Game of Thrones, received such little support from the college-aged population. The only explanation we can come up with for this one is the price point, which at 15 bucks a month, is double that of a Netflix subscription. Understandably, this might be a deal-breaker for many college students, unless their university has partnered with HBO to offer this streaming service to them for free.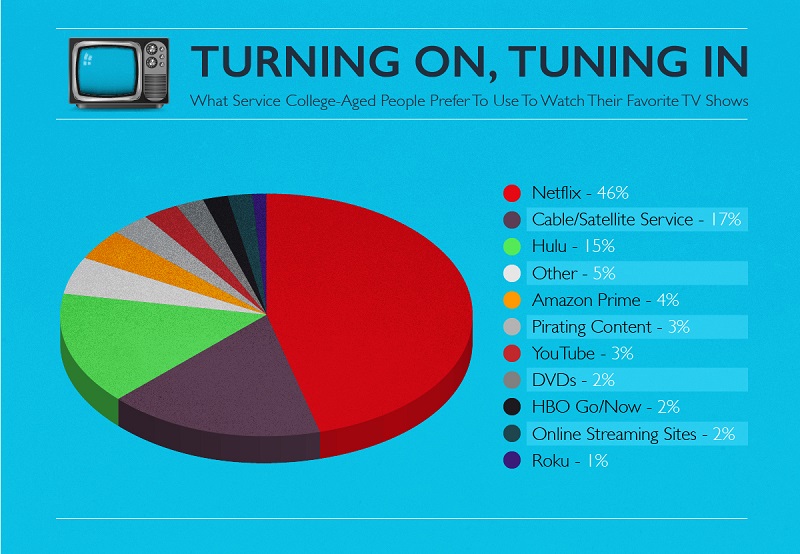 How do your TV show preferences compare with those of others in your major? Do they align with your state's favorites? And what is your go-to TV service? Feel free to share in the comments below!
To learn more about how Grand Canyon University places an emphasis on personal and academic enrichment, visit our website or use the Request More Information button on this page.
The views and opinions expressed in this article are those of the author's and do not necessarily reflect the official policy or position of Grand Canyon University. Any sources cited were accurate as of the publish date.