What Can You Do with an Athletic Training Degree?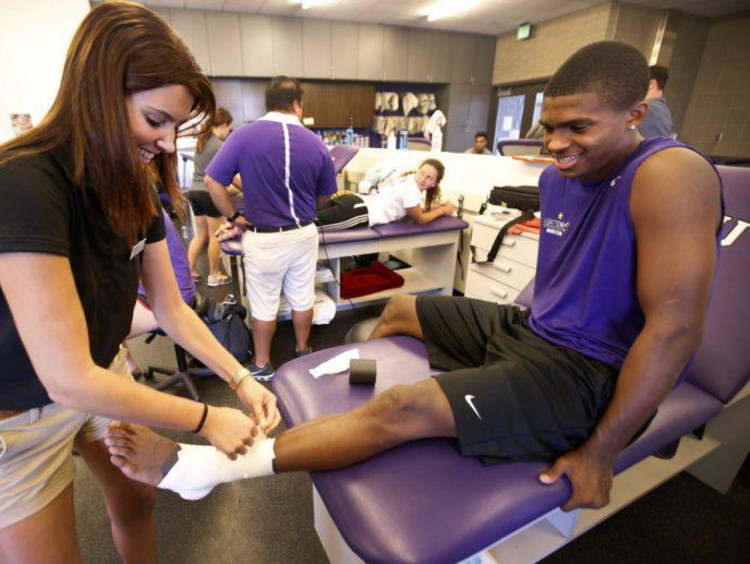 Grand Canyon University's College of Nursing and Health Care Professions has been preparing students to fill evolving roles in health care for nearly 35 years. One of the many programs that we offer to help our students prepare to work as a highly qualified professional in a growing field is the Bachelor of Science in Athletic Training. GCU's athletic training degree prepares you for the Board of Certification exam, and certified athletic trainers can work in many settings. Read on to learn about some career outcomes to consider after earning this degree.
Professional Sports and Sports Medicine
It's a common misconception that athletic trainers and personal trainers share a career. There is a notable difference in the skillset, education and job duties between the two. Athletic training degrees use a medical education model that includes both clinical and didactic training. The formal athletic education that students in this program receive can include acute care of illness and injury; clinical examination and diagnosis; and prevention and health promotion.
Occupational and Industrial Settings
Athletic trainers must complete an accredited professional program, which can be at the bachelor's or master's levels. In your training, you can expect to learn about psychosocial strategies and referral, therapeutic interventions and professional development and responsibility. This degree program can prepare you for a career in a wide range of occupational and industrial settings.
Physician Offices and Hospital Emergency Departments
Athletic trainers can work with physicians and other health care professionals to provide clinical evaluation and diagnosis, injury and illness prevention, wellness protection and emergency care. The education that you receive in this program may cover evidence-based practice and healthcare administration, and can prepare you to work in many medical settings.
Are you ready to learn more about Grand Canyon University's Bachelor of Science in Athletic Training? If so, then please visit our College of Nursing and Health Care Professions page or use the Request More Information button at the top of this page.