How Piano Students Learn to Overcome Performance Anxiety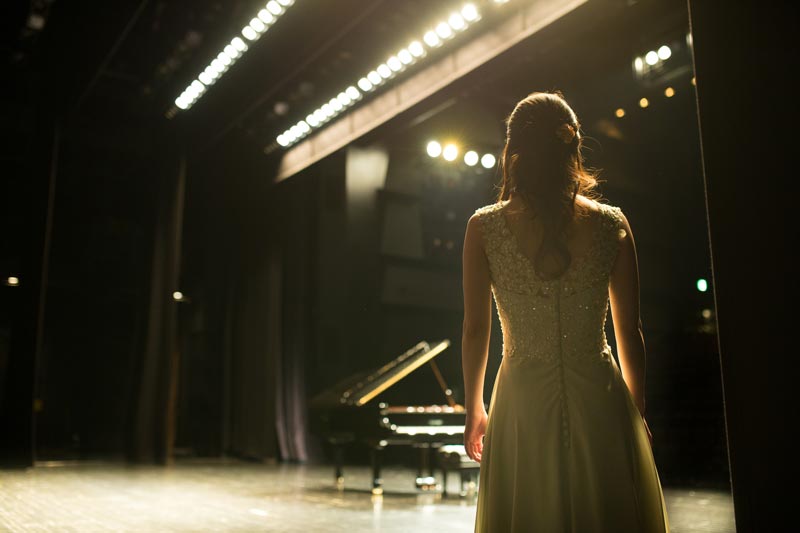 Posted on October 14, 2019
in
[ Performing Arts & Digital Arts ]
Playing the piano is an emotional undertaking. To become truly great, it takes years of rigorous instruction and intensive practice. Becoming a pianist who performs in front of large audiences requires more than just technical skills. A pianist is a performer on stage who must give the audience a show they will never forget.
For some pianists, the fundamentals and techniques come easily. They can read scores, transpose music and play even the most complicated pieces. But sometimes for those pianists who spend more time practicing rather than performing, getting on stage can cause anxiety. They may be technically ready, but emotionally they have a ways to go before they feel comfortable on stage.
Luckily there are ways to overcome performance anxiety and give the best piano performance of your life.
Strategies for Pianists Dealing with Performance Anxiety
1. Don't Over Practice
This may seem counterintuitive, but over-practicing may get you to a spot where you become overconfident in your abilities. You may take things for granted and not focus on what needs to be done during the actual performance. If you go into a performance knowing that your mind needs to be in the game in order to do your best, you will not have as much room for anxious thinking. Being present enough to focus on your skill and technique can stop you from overthinking beyond your capabilities.
2. Walk Through the Experience
Before a big performance talk through the experience with someone who has been there. Imagine what you might hear before you get on stage. Think about what things you will see as you walk on stage toward your piano. If possible, go to the performance venue and do a physical walkthrough of your performance. Thinking about the sights, sounds and smells before you go on stage can give your mind something sensory to focus on rather than worrying or catastrophizing about certain aspects of your performance.
3. Practice Centering Yourself
Just before each performance, it is important to take the time to get your mind in the right place. Find a focal point for your eyes. This can be somewhere on your sheet music or somewhere past the piano. Tell yourself the first thing you will do when you begin to play. Take a deep breath to calm yourself physically and get rid of muscle tension. Shift in your seat until you have found your best posture. Finally, when it is time to begin, do not hesitate, just trust yourself and go for it.
If you are eager to become a performing pianist, join the Bachelor of Arts in Music with an Emphasis in Piano Performance degree program at Grand Canyon University. You will learn technical and performance skills that will make your career flourish.
If you're interested in pursuing a career in animation, learn more about the programs within the College of Fine Arts and Production and check out our website or click the Request More Information button on this page.
About College of Fine Arts and Production
The performing arts at GCU includes multiple programs in Dance, Music, and Theatre. Within this area, we offer opportunities for students to learn their art through the many productions and concerts that highlight our year. Advertising and Graphic Arts, Digital Design, and Digital Film are the dynamic programs that comprise GCU's Digital Arts. In all of these disciplines our students work side by side with our instructors as they learn and develop skills that will help them prepare for success in their given career.
---
---