The U.S. Cities with the Best Tutoring Opportunities
While the pandemic impacted many facets of American life, the challenges facing those in education required new interventions to help students get back on track. In the wake of the pandemic, the U.S. Department of Education released a plan to recruit 250,000 new tutors and mentors to fill any gaps in students' education, shedding light on why tutoring is important.1
The benefits of utilizing tutors are tremendous, as students can work toward higher GPAs, increased confidence and tailored learning plans in one-on-one tutoring sessions. While it's true that tutors can earn a little extra cash on the weekend, it's now being recognized as a full-fledged career for tutors to make a living. In fact, the market for private tutoring estimated at $123.8 billion in 2020, projected to reach an estimated $201.8 billion by the year 2026.2
With the growing tutoring market in mind, Grand Canyon University (GCU), in partnership with Grand Canyon Education (GCE), determined which cities were best for those looking to get into the tutoring profession by analyzing the overall number of tutor jobs available (full-time, part-time, on-site and remote), as well as both the hourly and salaried tutor wage across 100 of the largest U.S. cities.
We used the U.S. Bureau of Labor Statistics and LinkedIn to determine our findings.3,4 Whether it's just a side gig or a hobby that turns into a full-time job, certain cities are more tutor-friendly than others. Keep reading to discover which cities are penciling tutors into their study plan.
In This Tutoring Options Guide:
Methodology to Find the Best City to Be a Tutor
To determine which cities offer the best tutoring options, we started by analyzing eight factors for 100 of the largest U.S. metropolitan statistical areas based on population, according to the Census.5 Baton Rouge, Louisiana, Bridgeport, Connecticut, Charleston, South Carolina, and Poughkeepsie, New York, were excluded due to insufficient data. The data collected considers tutors on all levels, including elementary, middle, high school and college, as well as public and private tutors.
We first pulled data from the sources listed in the below table for each city in our analysis. Based on the ranges associated with each factor, we translated the raw data into a score on a scale from zero to five, with five indicating the most favorable conditions for tutors and zero indicating the least favorable.
These scores were then weighted based on their relevance to tutors. For instance, annual and hourly wage were weighted the highest (2.5), because compensation has the most dramatic impact on an individual's life. The number of tutor job positions available follows with a weight of 2, as more jobs available indicate more opportunities. The number of tutor jobs per 1,000 jobs was assigned a weight of 1 because this may also indicate opportunity but is affected by other industries in the city. Finally, the number of full-time, part-time, onsite and remote positions each received a weight of 0.5 — while these are important considerations of a job, their attractiveness is dependent on personal preference.
Each of the factor weights were multiplied by the aforementioned scaled factor score and added together. The final city score is based on the total weights (10) times the highest possible factor score (5) for a possible total score of 50. A perfect score of 50 would indicate the best city to be a tutor, based these factors. Below is a complete list of the factors analyzed, sources used and weights assigned. Keep reading to learn why tutoring is important and the cities where tutors are flourishing!
To determine the best cities to be a tutor, we compared each U.S. city across these criteria and weighted each:
| Ranking Factor | Source | Weight |
| --- | --- | --- |
| Average Tutor Wage | BLS3 | 2.5 |
| Median Tutor Hourly Tutor Wage | BLS3 | 2.5 |
| Number of tutor jobs available | LinkedIn4 | 2 |
| Tutor Jobs per 1,000 Jobs | LinkedIn4 | 1 |
| Number of full-time positions | LinkedIn4 | 0.5 |
| Number of part time positions | LinkedIn4 | 0.5 |
| Number of onsite positions | LinkedIn4 | 0.5 |
| Number of remove positions | LinkedIn4 | 0.5 |
The Best U.S. Cities to Be a Tutor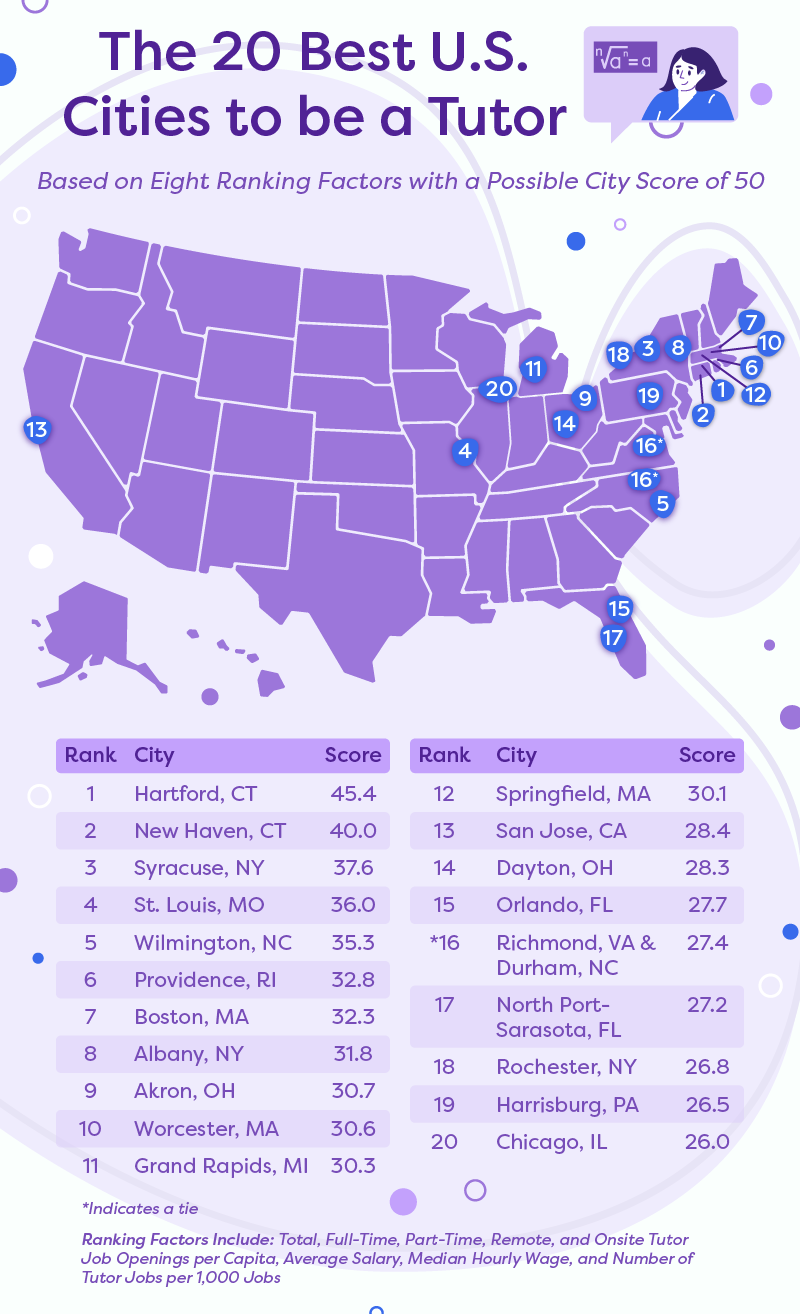 Certain cities across the country offer higher average tutor salaries with more full-time, part-time, on-site and remote tutor positions than others, giving tutors a leg up in select cities.
If you're passionate about providing one-on-one tutoring opportunities in a specialized area, then consider our list below of top cities to be a tutor if you're interested in starting out in the industry! Leading off our list, Hartford, Connecticut received a strong score of 45.4 out of 50.0 with 1,072.45 tutors per 100K people and 1,053.4 remote tutor positions available per capita.4
The Urban Alliance, a volunteer after-school tutoring program located in East Hartford, helps students to finish their homework, provides them encouragement, and assists them with crafts, games and Bible lessons.6 The city recognizes the need for one-on-one tutoring, as Hartford schools have seen a drop in test scores during the pandemic, which may be one reason why tutors are finding work in this city.7
Next on our list is New Haven, Connecticut, which received a score of 40.0 out of 50.0. New Haven boasts an average tutor salary of $50,800 and an hourly median tutor wage of $22.60.3 It ranks high on our list for full-time (966) and remote (979) tutor positions per capita. New Haven Reads, a tutoring program that offers free one-on-one literacy tutoring for students in need, provides a vital resource for New Haven public schools that are undergoing an educational crisis with less than a quarter of students on grade level with ELA (English Language Arts) and only 12% on grade level in math.8,9
Tutors can call Syracuse, New York, their new home, as it received a score of 37.6 out of 50 and offers some of the best tutoring opportunities. Syracuse, features 889.5 remote tutor positions per capita and 876.9 full-time tutor positions per capita.4 Students in Syracuse are no stranger to remote teaching as school districts switched to online learning due to staffing shortages.10 These staff shortages could provide more reason for tutors to flock to the area to supplement any gaps in students' education.
If tutoring or teaching is on your radar look no further than GCU's teaching degree programs, which will allow you to meet the educational needs of students.
St. Louis, Missouri, offers some of the best tutoring opportunities, as the city received a score of 36.0 out of 50 with 11.30 on-site tutor positions per capita and a median tutor hourly wage of $23.53.3,4 St. Louis is seeing a decline in student enrollment, forcing school districts to rely on small schools, tight budgets and creative teaching models — the perfect place for tutors to get involved and offer in-home tutoring services.11
Comparing Tutor Pay Around the U.S.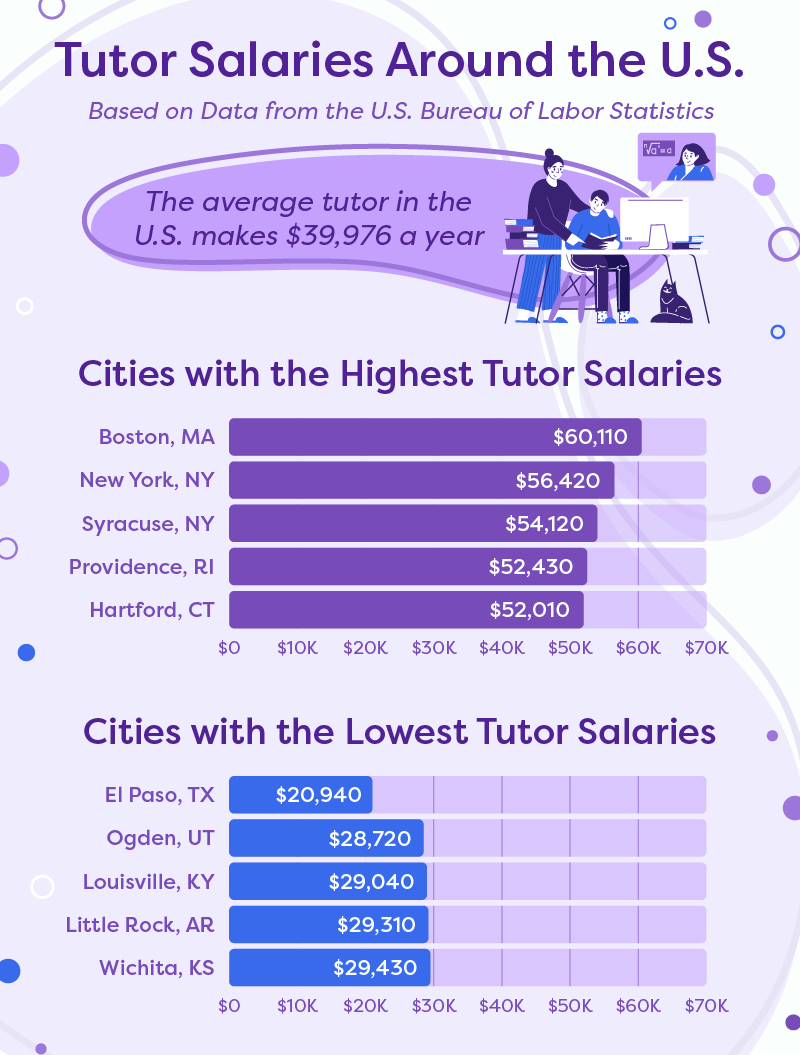 As tutors can travel anywhere across the U.S. map for employment, we wanted to discover the cities with the highest and lowest compensation where tutors are most likely to financially thrive.
Pack your bags and head to Boston, Massachusetts, which boasts the highest tutor salary at $60,110 per year — while the average salary across the cities we analyzed sits at $39,976 per year.3 According to WalletHub, Massachusetts is the most educated state in the U.S., which could pose one reason why tutors are valued in The Bay State.12
The Big Apple, a.k.a., New York, New York, has the second highest tutor salary at $56,420.3 New York is home to many wealthy families who can provide the best education for their children, often competing for limited private school openings.13
Teachers Who Tutor, a tutoring service headquartered in NYC, employs teachers and private tutors both online and in-person to teach a variety of topics, including foreign languages, history, test preparation and more, creating one solution for students falling behind in school.14
Next on our list is Syracuse, which features a top tutor salary of $54,120 per year.3 Some schools in Syracuse are cutting school short by one hour to supplement bussing shortages, perhaps leading parents to seek out in-home tutoring services.15
Cities with the Lowest Tutor Salaries
Tutors may want to avoid El Paso, which has the lowest tutor salary per year at $20,940.3 Students in El Paso experience a digital divide, which could make it difficult for students to access broadband services and devices — both vital aspects for remote tutoring sessions.16
Solid financial tutoring opportunities are limited in the Beehive State, as Ogden, Utah, has the second lowest tutor salary at $28,720.3 Limited funding to school districts and poor teacher retention rates may be one reason why tutors experience lower salary rates there.17
Louisville, Kentucky, has a tutor salary of $29,040 per year.3 Unfortunately, budget cuts for state education have negatively impacted areas of professional development and access to new textbooks, which could explain why tutor salaries are also taking a hit.18
Closing Thoughts On the Best Tutoring Options
Whether public schools are suffering from teacher shortages or college students simply needing a little extra one-on-one learning through in-home tutoring services, there are so many reasons why tutoring is important. Tutoring can be impactful in helping you not just pass your classes but also allowing you to thrive in your academic journey.
Interested in becoming a tutor yourself? Learn how to become a private tutor or enroll in one of GCU's online college degrees, which offer valuable online resources so you can complete college on your own schedule. Earning a degree in areas, such as education, business or mathematics opens the door for tutoring job opportunities.
The Learning Lounge at GCU is staffed by exceptional GCU students who specialize in math, science, reading and writing — offering in-person or online tutoring with a passion to serve others and help future leaders succeed.
Retrieved from:
1 U.S. Department of Education, U.S. Department of Education Answers President Biden's Call to Action to Spur Academic Recovery in September 2022
2 GlobeNewswire, Global Private Tutoring Market Report 2022-2026: Growing Emphasis on STEM Education Continues to Drive Growth in September 2022
3 The earnings referenced were reported by the U.S. Bureau of Labor Statistics, Occupational Employment and Wage Statistics for tutors and mentors as of May 2020. Due to COVID-19, data from 2020 may be atypical compared to prior years. The pandemic may also impact the predicted future workforce outcomes indicated by the BLS. BLS calculates the median using salaries of workers from across the country with varying levels of education and experience and does not reflect the earnings of GCU graduates as tutors and mentors. It does not reflect workers' earnings in one city or region of the country. It also does not reflect a typical entry-level salary. The median income is the statistical midpoint for the range of salaries in a specific occupation. It represents what you would earn if you were paid more money than half the workers in an occupation and less than half the workers in an occupation. It may give you a basis to estimate what you might earn at some point if you enter this career. You may also wish to compare median salaries if you are considering more than one career path.
4 LinkedIn, LinkedIn, in September 2022
5 United States Census Bureau, Metropolitan and Micropolitan Statistical Areas Population Totals and Components of Change: 2020-2021 in September 2022
6 Urban Alliance, After-school Program Tutor (Hartford North End) in September 2022
7 Hartford Courant, 'Concerning, very concerning': Hartford schools find already-low test scores dropped during pandemic in September 2022
8 New Haven Reads, Tutoring in September 2022
9 Fox 61, New Haven Public Schools undergoing "educational crisis' in September 2022
10 Advance Local Media, Syracuse schools switch to remote learning at 5 schools because of staffing shortages in September 2022
11 St. Louis Post-Dispatch, As fewer kids enroll, St. Louis city and county see increase in small schools in September 2022
12 WalletHub, Most & Least Educated States in America in September 2022
13 New York Post, Inside the sordid world of tutoring kids of NYC's 1 percent in September 2022
14 Teachers Who Tutor, Private Tutoring Services for K-12 Students in September 2022
15 Advance Local Media, Syracuse schools cut an hour from the day at some buildings to deal with busing problems in September 2022
16 El Paso Matters, Here's how a Texas border city is closing its digital divide in September 2022
17 Utah.gov, Let's Go Learn in September 2022
18 KY Policy, State Funding for Education Has Been Stagnant for Many Years, But the 2022-2024 Budget Presents a Unique Opportunity to Begin Reinvesting in September 2022
Approved by the Executive Director of Communications on 11/02/22.
The views and opinions expressed in this article are those of the author's and do not necessarily reflect the official policy or position of Grand Canyon University. Any sources cited were accurate as of the publish date.