Welcome home, Lope! Living on campus provides you with both convenience and the opportunity to enjoy a traditional student experience. Grand Canyon University offers suite-style residence halls and apartments for new and returning students. When you live in GCU's campus housing, you have access to heated pools, numerous on-campus restaurants, and convenient proximity to amenities like GCU Arena, the 18-hole GCU Golf Course, and the Jerry Colangelo Museum. GCU is ranked as having the #6 best college dorms in America, #24 best college food in America, and the #18 best college campus in America.1,2,3 Campus living at GCU is designed to maximize your educational journey with a welcoming environment here in The Grand Canyon State.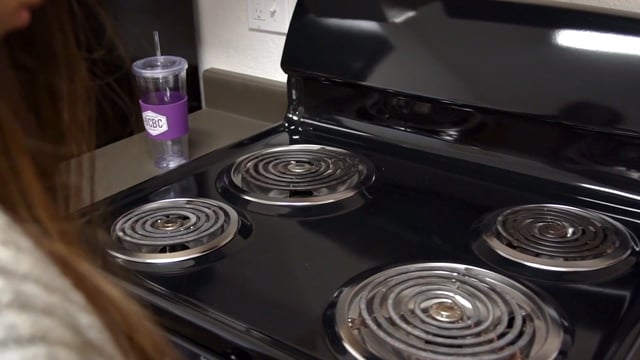 Visit GCU's vibrant campus in the heart of Phoenix to see the many amenities available to students.
GCU Housing Options for Students
GCU student housing gives you the benefit of living with peers going through the same experiences as you. Check out the residence halls and apartment options below to see layouts and what is provided in each room.
Apartments at GCU
Enjoy your own individualized space with one of our apartment living options. Each on-campus apartment is furnished with a Twin XL bed and a desk, it also has a fully equipped kitchen and an outdoor recreation area for student activities. There are multiple floor plans to choose from to best fit your needs. Find out more about all our apartment living options, including the housing costs, requirements and selection process.
Residence Halls at GCU
Our fully furnished residence halls give you all the comforts of home in a safe environment. Each residence hall includes a floor plan of either double occupancy (two students per room) or triple occupancy (three students per room). Features include a laundry facility on each floor, breakout rooms for studying and spacious living room areas. Learn more about which residence hall option is right for you and the costs and requirements for on-campus living.
Department of Housing Operations
GCU's Department of Housing Operations manages the housing reservations and logistical needs of both the new and returning residential community on campus. Housing Operations oversees the planning of living area allocation and growth, the creation and maintenance of the online housing selection processes, as well as the communication and accountability of housing policies and deadlines.
Department of Residence Life
GCU's Department of Residence Life is committed to providing students with a living environment that not only keeps our community safe, but offers countless unique opportunities for personal, professional and spiritual development. Residence Life encourages student development by facilitating the roommate matching process, maintaining a student conduct process that focuses on restorative justice and individualized care, and emphasizing a community that values healthy relationships, servant leadership and self-awareness.
1 Retrieved from Niche.com in November 2021
2 Retrieved from Niche.com 2022 Best College Food in America in August 2021
3 Retrieved from Niche.com 2022 Best College Campuses in America in August 2021