Christian Identity and Heritage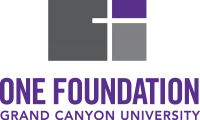 GCU's identity and mission have remained deeply rooted in "the faith that was once for all delivered to the saints" (Jude 3) for nearly 70 years. As an interdenominational university, GCU's community is a product of the wonderful diversity of traditions and denominations that have grown out of the roots of biblical Christianity. Yet in the midst of this rich diversity, the university has consistently cultivated unity around the core doctrines and common practices of the faith.
Our work on campus and within the community flows from a vibrant faith and concern to honor and emulate Jesus Christ in all we say and do. Our Christian convictions, Christ-focused curriculum and service beyond the classroom provide a foundation that is the bedrock of our community and basis for work together. This foundation simultaneously serves as a reminder of who we are and a statement about who we strive to be. This one foundation continually guides our learning and working communities toward faithfulness, excellence and service to God and our neighbors.
Learn More About One Foundation