What Business Students Learned During Career Week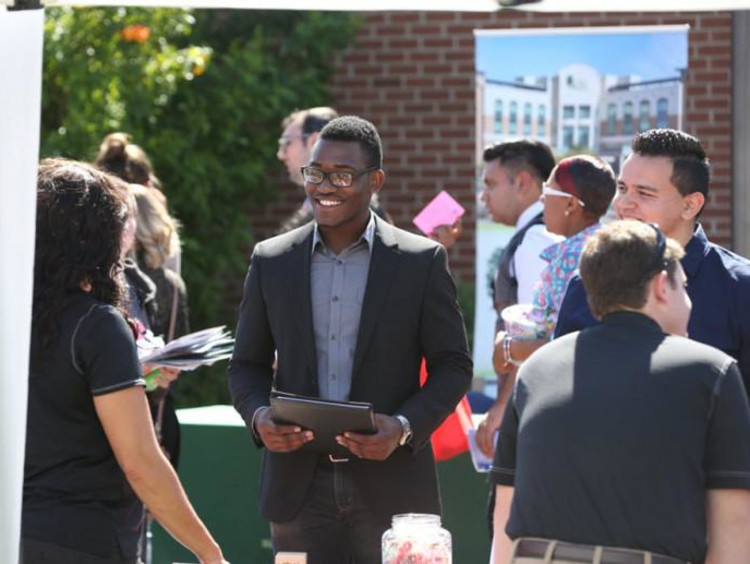 Career Week at Grand Canyon University took place in early March. A number of businesses visited GCU, providing students and graduates with an opportunity to find their future job. The Office of Career Services also hosted events throughout the week to help students on their job search.
Learn more about the week's events and pick up some of the same tips that the students learned throughout the week!
How to Network
More than 150 businesses and organizations descended on GCU's main campus during Career Week to help students and alumni network and get information about available internships and full-time jobs. Professionally dressed applicants learned quite a few lessons about networking and building report.
Networking is an essential skill to have when searching for a job or internship. When meeting people associated with the field, business or career you want to be involved in, present an effective "elevator speech" that is well-rehearsed and prepared. An elevator speech is a short explanation of who you are, what you do and what your goals are. It is also a good idea to have a resume or business card available to easily exchange contact information.
Business Etiquette
To help students learn how to appropriately participate in interviews or business meetings outside of the office, Career Services held a mock-tail reception and etiquette dinner during Career Week. It is important for job applicants to make a good first impression by presenting a strong handshake and displaying respect while dining and mingling with distinguished professionals. If you find yourself in a business setting at a restaurant, be sure to confidently shake the hands of all the individuals at the table, introduce yourself if necessary and remember the host's name. The host takes the lead at formal dinners, so do not sit at the table, put your napkin on your lap or order your food until the host has done so. In addition, having good posture, saying please and thank you, and maintaining eye contact can go a long way in impressing the host.
How to Polish Your Resume and Interview Skills
Career Services hosted resume reviews and mock interviews to help students sharpen their skills. When writing your resume, be sure to know its purpose. Your resume should accurately reflect you, so clearly list your work experience, support your qualities and strengths with evidence, and keep it condensed. Remember that your resume is available to help you sell yourself and stand out from the rest of the other applicants. Once a potential employer has reviewed your resume and decides to schedule an interview, present yourself confidently and do not let your nerves take over. The most common mistakes applicants make during an interview are not making eye contact, having little knowledge of the company and failing to smile. If you avoid these mistakes, then you will be one step closer to landing your dream job!
Grand Canyon University offers degree programs to prepare students with the necessary knowledge and skills to find a fulfilling career. To learn more about the benefits and opportunities available to GCU students and graduates, visit our website today!
More about Jessica:
Jessica Meyer is a senior at Grand Canyon University. She was raised in Tucson, AZ, but recently moved to Phoenix to attend traditional classes at GCU. Jessica is majoring in marketing in the Colangelo College of Business. It is her first and last year studying at the main campus, and she wishes her time at GCU could last longer! She loves GCU so much, that she hopes to continue to work for GCU's marketing department after graduation. When she's not studying or working on campus, she likes to practice and perform with her dance team and spend time with her friends and family.