Finding Tatum's Purpose: First Friday
By Tatum Sorrelman
Many events take place in Phoenix that are great, fun experiences, including First Friday downtown. First Friday is an art walk on Roosevelt Row on the first Friday of every month. The event offers many different things to see, like artists, musicians, food trucks and vendors.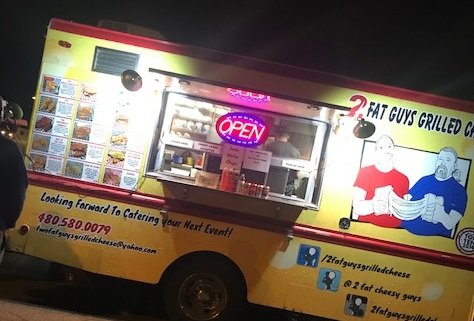 I went on the first Friday of January and had a blast. As soon as I walked onto the street, I was greeted by friendly, smiling faces. Everyone was having a good time and the street was lined with beautiful artwork. It was amazing to see different artists and their collections of unique pieces.
I was really touched hearing stories shared by artists, too. Being able to look at their artwork and hear what they had gone through to create it was so moving. Many artists had artwork for sale. It is cool because not only does purchasing artwork give you an amazing piece of decor for your home, but you also have a physical memory of your First Friday experience.
The musicians were really talented and their music set the mood for the entire night. One musician that I especially enjoyed was a little boy who could play the drums like a pro. He was only around 7 or 8 years old and played the drums to songs that take immense talent and practice. No wonder he attracted such a large crowd!
First Friday was family friendly with great vibes. Parents and children enjoyed the atmosphere and being together. There were plenty of food trucks—and of course I got delicious food and ate as I strolled along the street.
My experience at First Friday was fantastic. It gave me a chance to immerse myself in Phoenix culture. Experience First Friday for yourself! I know this will not be the only time I go.
First Friday is a great way for college students to experience what Phoenix has to offer. Keep checking back for more of my GCU journey right here on the GCU Blogs Network!
Scroll back to top