High School Juniors and Seniors: Advantages of Early Commitment and Registration at GCU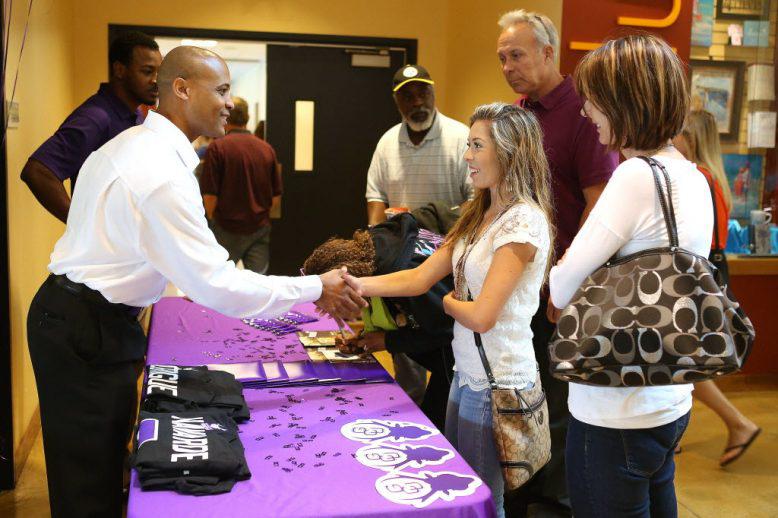 Posted on July 29, 2015
in
[ GCU Experience ]
The transition from high school to college can be an overwhelming experience, which is why Grand Canyon University encourages high school students to start applying to colleges early.
GCU makes the college application process easy and beneficial by providing high school juniors and seniors with the opportunity to enroll in GCU with an early decision and even lock in a scholarship.
Not only does an early commitment to GCU enable a future Lope to enjoy the remainder of their high school experiences without the stress of college visits and applications, they can take advantage of the following available benefits exclusive to GCU.
Scholarships: High school seniors can secure the GCU scholarship program for the following academic year by registering early. The academic scholarship program awards aid for academic merit, priority registration and enrollment in a computer science, information technology or engineering degree program. Students who attend a private Christian high school in a partnership with GCU may be able to receive an annual scholarship as well.
Learn more by visiting gcu.edu/CampusScholarships
Stay Ahead of Peers: High school students who apply and submit their transcripts early have the opportunity to participate in the GCU debt-prevention plan and register for housing and classes early. Students can reserve their favorite residence hall, register their top course choices and arrange their ideal schedule.
Lope Life: Students who enroll in GCU early officially become Lopes. Students receive an official GCU student I.D. and are invited to exclusive GCU events where we can welcome you to Lope Life!
Additional Advantages: The most fun part of submitting your application and transcripts early is previewing college life at GCU for free at Discover GCU. Students do not have to be registered at GCU to attend, but they must be admissible, so the earlier you apply, the sooner you can attend. Get the REAL college experience at Discover GCU – a free overnight event where high school students meet future Lopes and current students, move into a suite-style residence hall, tour campus and engage in all that GCU has to offer, from campus dining to athletic events.
For more information visit our website or contact us today by pushing the Request More Information button at the top of the screen!
About
Learn the best tips to enhance your student experience and get answers to relevant questions. Come back for weekly updates on how to master living life on campus, change your major, or how to brew coffee for those early morning classes. Through our articles, we hope you can partake in a successful and enjoyable college experience. Lopes up!
---
---