The Most Popular Virtual Meeting Platform in Every State
Just as some kids today never knew that black and white televisions existed, so too will future generations be wide-eyed at the thought of actually going to work or driving somewhere to attend a college class in person. While that idea may sound extreme, individuals like Mark Zuckerberg are developing virtual reality and augmented headsets to bypass the in-person hangouts and in-office meetings, so even if you're miles apart, you can still feel like you're in the same room together.1
Advancements in technology and new virtual meeting platforms are making it possible to work from home, attend college classes online and hang out with friends in different states. With online meeting platforms set to reach a climactic $16 billion evaluation by 2030, it's no wonder Americans are jumping on the virtual platform meeting bandwagon.2
Remote work has been rising since the pandemic with 25% of all professional jobs in North America projected to be remote by the end of 2022.3 Some are even choosing to quit their jobs instead of returning to the office — drawing a clear line in the sand.4 And it's not all talk. Remote work has real benefits too like cutting down on commute time, a lower risk of catching sickness from coworkers, more time for fitness and higher job satisfaction.5
With all the buzz surrounding video conferencing technology today, Grand Canyon University (GCU), in partnership with Grand Canyon Education (GCE), wanted to discover the most popular online meeting platforms across the U.S. Read on to find out which virtual meeting platform is the most popular in your state and if remote life is an option you could envision for yourself in the future.
In This Best Virtual Meeting Platform Guide:
Methodology
To discover the best virtual meeting platforms in every U.S. state, we created a list of 34 search terms from sources such as PC Mag, Tech Radar and Forbes among others.6,7,8,9,10,11,12,13 Next, we recorded Google Trends data for each platform from August 2021 to August 2022. Find out whether Zoho Meeting, Gatheround, BigBlueButton or another online meeting platform will come out on top!14,15,16
Popularity of Video Conferencing Technology By the Numbers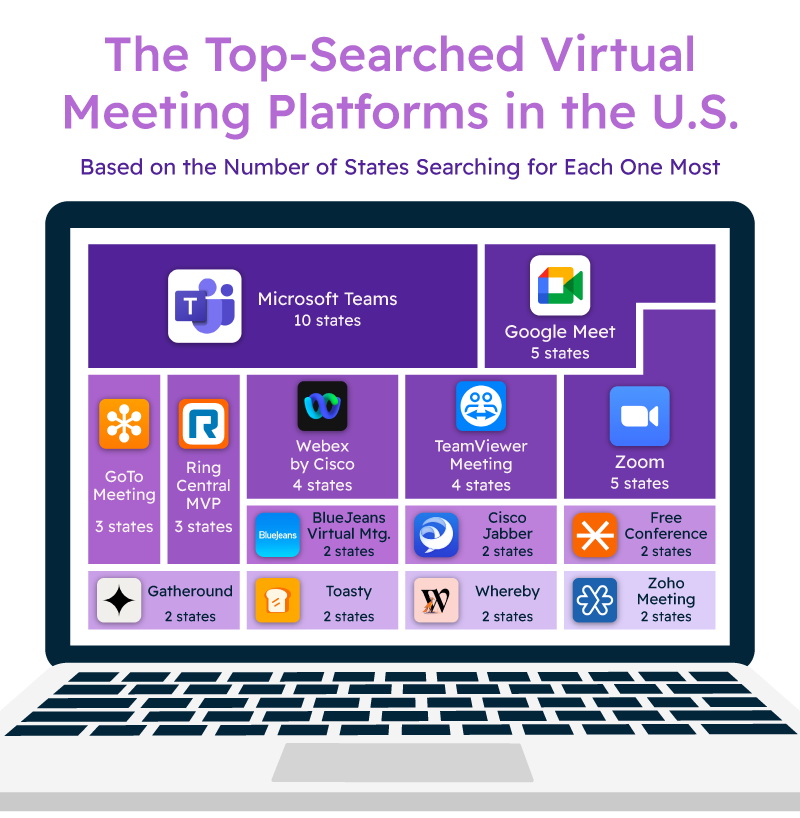 Video conferencing platforms have endless uses — from online college courses to job interviews, remote work or simply social hangouts. When it comes to the best virtual meeting platforms, we wanted to see which ones came out on top overall.
Leading the pack for virtual meetings is Microsoft Teams, a fan favorite across 10 states, including places like Arizona, Texas, Illinois, Ohio, Pennsylvania, Virginia and Wisconsin.17 Texas, Illinois and Arizona had the most remote job opportunities in 2021, which could be one reason why residents are interested in this online video platform.18
Close behind, Google Meet tied for second place along with Zoom, garnering the attention of five states — Kentucky, Maryland, Nevada, New Mexico and New York.19 Google Meet has a Meet Party function that allows users to celebrate during their video chats and is a great platform to virtually bring the whole gang together.20 Nevada, New York and Maryland are some of the most fun states in America, perhaps prompting residents to lean toward this entertaining platform.21
Third place belongs to TeamViewer Meeting tied with Webex by Cisco, reeling in four states each.22,23 TeamViewer Meeting had the highest search interest in Delaware, North Dakota, Rhode Island and South Dakota. Rhode Island is home to some of the most telecommuters, which may be one reason why TeamViewer Meeting's video conferencing technology is on their radar.24
Webex by Cisco captured the attention of Alaska, Hawaii, Mississippi and North Carolina. One exciting feature Webex by Cisco provides is the ability to host a virtual event with up to 100,000 attendees worldwide.23
Quarantine concerts became all the rage in 2020 when artists would live stream concerts to fans via Instagram Live and other online apps.25 States like Hawaii are certainly getting on board with companies like Theatrix Hawaii, which is able to host concerts, corporate meetings, and other live-streamed events, perhaps spurring interest in Webex by Cisco.26
Each State's Most Searched Virtual Meeting Platform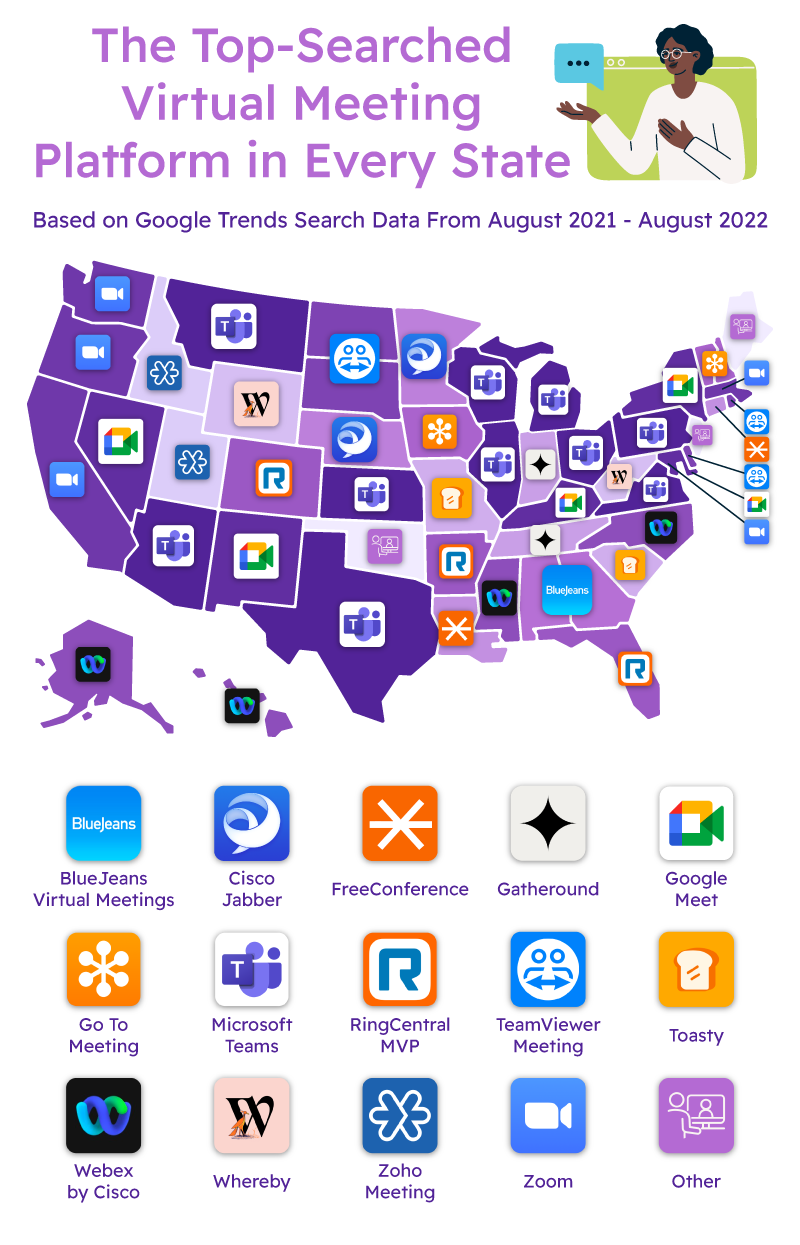 The scores are calculated, and some virtual meeting platforms are here to stay!
BlueJeans Virtual Meetings was a fan favorite in Alabama and Georgia and is beloved by virtual workers in those states. BlueJeans Virtual Meetings offers webinars, intelligent workspaces, transcription capabilities and telehealth virtual care visits.27
While Zoom became a household name over the pandemic — who could forget the lawyer whose filter turned him into a cat while on a Zoom call.28, 29 Surprisingly, it was the top platform in only five locations including California, Washington D.C., Massachusetts, Oregon and Washington.
Zoom's stock rose during the pandemic, going from $89 a share on Feb. 7, 2020, to $559 a share in October.30 It later fell as other more creative video conferencing technology took over the market in the past year with more attractive bells and whistles to offer its users. Washington D.C., Massachusetts and Washington are some of the best places for work-from-home jobs, which could be why remote workers leaned toward the Zoom meeting platform in those states.31
Toasty was beloved by both Missouri and South Carolina.32 Toasty is an online meeting platform with interactive polls, questions and innovative artwork games. Both Missouri and South Carolina have some of the highest employment rates, which means they may be keener on video conferencing technology with built-in icebreakers that let them avoid those awkward introductory questions in place of something more engaging for their new hires.33
Whereby had the highest search interest in both Wyoming and West Virginia.34 This online meeting platform allows users to integrate emojis and YouTube videos into live video meetings — who said a cute puppy video doesn't uplift office morale? Wyoming and West Virginia place in the top five states that are home to some of the happiest workers, which may be one reason why they had a high search interest for Whereby's amusing platform.35
Closing Thoughts on Virtual Meeting Platforms
As many universities are switching to online classes, it's no wonder that Americans are turning toward top-notch online meeting platforms to try and replicate the in-person experience.36 While not everyone is keen about learning remotely, many features of these video conferencing tools are allowing teachers to optimize their lessons and enhance the student experience.37, 38
National Center for Education Statistic's IPED data pointed out that half of all college students are now signing up for at least one online course — a theme that doesn't seem to be letting up anytime soon.39 And with graduation on the horizon, a study from College Pulse found that 56% of college students would prefer a hybrid mix of remote and in-office work after graduation.40
At GCU, we offer an enhanced online learning experience with affordable tuition rates, flexible course schedules, some of the best virtual meeting platforms and online scholarship opportunities so you can get the most out of your college degree without skipping a beat. Online students receive personalized academic guidance and peer connectivity all by simply opening their laptops. Interested in the flexibility of hybrid programs? We also offer hybrid learning for students interested in both online courses and in-person classes.
Retrieved from:
1 CNBC, Mark Zuckerburg showed these prototype headsets to build support for his $10 billion metaverse bet in September 2022
2 GlobeNewswire, Video Conferencing Market to Reach Valuation of US$ 16 Bn By 2030; Finds TMR Study in September 2022
3 Forbes, Remote Work Is Here To Stay And Will Increase Into 2023, Experts Say in September 2022
4 CNBC, 64% of Workers Would Consider Quitting if Asked to Return to the Office Full-Time in September 2022
5 The New York Times, What if You Don't Want to Go Back Into the Office? in September 2022
6 PC Mag, The Best Video Conferencing Software for 2022 in September 2022
7 Tech Radar, Best video conferencing software for 2022 in September 2022
8 Forbes, Best Video Conferencing Software Of 2022 in September 2022
9 G2, Best Video Conferencing Software in September 2022
10 500 Conference, 8 Best Virtual Conference Platforms in 2022 in September 2022
11 The Digital Workplace, 8 Fantastic virtual meeting platforms that aren't Zoom in September 2022
12 DGI, The 7 Best Video Conferencing Software Platforms for 2022 in September 2022
13 Finances Online, Top 10 Online Meeting Platforms for 2022 in September 2022
14 Zoho Meeting, Online meeting software in September 2022
15 Gatheround, Crack the culture code in September 2022
16 BigBlueButton, Open Source Virtual Classroom Software in September 2022
17 Teams, Video Conferencing, Meetings and Calls in September 2022
18 CNBC, The 10 best states to look for a remote job in right now, according to new research in September 2022
19 Google Meet, Secure video conferencing for everyone in September 2022
20 Chrome Web Store, Meet Party in September 2022
21 WalletHub, Most Fun States in America in September 2022
22 TeamViewer Meeting, Anywhere videoconferencing with everywhere security in September 2022
23 Webex by Cisco, One app for everything in September 2022
24 Commercial Cafe, How the Pandemic Transformed Working: States & MSAs with Most Telecommuters in September 2022
25 VOX, How "quarantine concerts" are keeping live music alive as venues remain closed in September 2022
26 Theatrix Hawaii, Hawaii Livestreams & Virtual Events in September 2022
27 BlueJeans, Premium Video Conferencing in September 2022
28 Zoom, One platform to connect in September 2022
29 The New York Times, 'I'm Not a Cat,' Says Lawyer Having Zoom Filter Difficulties in September 2022
30 Quartz, Zoom is worth less than it was before the pandemic in September 2022
31 Employee Benefit News, 10 best and worst states for work from home jobs in September 2022
32 Toasty, An interactive virtual meeting experience without equal in September 2022
33 World Population Review, Employment Rate by State 2022 in September 2022
34 Whereby, Beautiful, simple video calls in September 2022
35 LoveMoney, The US states with the happiest and unhappiest workers revealed in September 2022
36 World Economic Forum, What next for higher education after COVID-19? in September 2022
37 Axios, Teens dislike online learning in September 2022
38 English Evolution Learning, The Benefits of Teaching in the Zoom Classroom in September 2022
39 Phil on EdTech, Alternative View: More than 50% of US Higher Ed students took at least one online course in 2019-20 in October 2022
40 College Pulse, College Students Think Remote Work is Here to Stay in September 2022
Approved by the Executive Director of Communications on Nov. 1, 2022
Scroll back to top